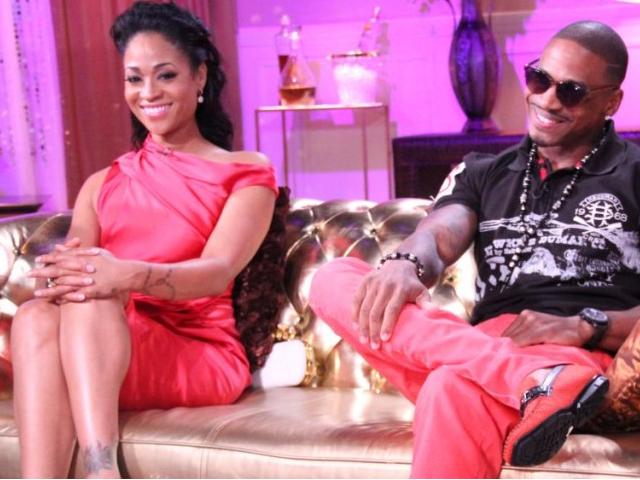 By: Amanda Anderson-Niles
Mimi Faust is probably getting the least love when it comes to the Love And Hip Hop Atlanta cast. And that's simply due to her history with obvious industry womanizer Stevie J., who has cheated on Mimi on a grand scale, and even gotten his own artist Joseline Hernandez pregnant. Throughout the season, despite all of that, we've seen Mimi try repeatedly to make the relationship work, and time and time again, we've seen Stevie J. continue to plot obvious ways of keeping both women in his life. But there did appear to be hope for Mimi on the season finale, as we watched her pack up her bags and tell Stevie J. that she had finally had enough. Unfortunately, it was clear though from the many photo ops that Mimi was still seeing Stevie J. to some extent, as she was even caught on camera having dinner with him recently. Many are confused as to why she keeps hanging around, especially since Stevie J. admitted recently that he wouldn't if the tables were turned.
And on the first part of the Reunion show, it was clear by some of her answers that Mimi still wants to work things out with Stevie J. despite Joseline's pregnancy, and Stevie J.'s obvious disrespect he's shown to her throughout the season. And apparently people's criticisms and disgust of her inability to move on is starting to get to Mimi because she had an epic meltdown and Youtube rant the other day, as she decided to address her "haters" in a tirade that was laced with so much profanity, many started to wonder if she was intoxicated or on some kind of drug.
But in a new clip, which has been labeled as a sneak peek of part two of the Reunion, it appears that Mimi shows her true feelings about Joseline and Stevie J's relationship. In one part of the clip, it seems as if Mimi is jealous that Joseline was able to get more out of Stevie J. in 6 months, than she had ever gotten from him in 15 years. In particular, it seems like Mimi is jealous that Joseline is the bigger star of the show, and she's mad that Joseline's career has taken off faster than hers. She also ends up getting into a pretty big argument with Joseline, and it gets pretty heated when Joseline exposes Mimi's weakness and lack of spine when it comes to Stevie J.
To sum it all up, Mimi ends up playing herself, again by some of the things she says in this segment.
Check out the clip below: