By: Amanda Anderson-Niles
The first season of Love And Hip Hop Atlanta may have wrapped up, but it appears that the drama is far from over with the cast members and their story lines. K. Michelle came busting on the reality television scene with an explosive revelation of a past abusive relationship with a music executive that ended with her career hanging by a thread. One of the most shocking allegations K. Michelle made is that Memphitz abused her and then used her budget money to pay for Toya's engagement ring. And ever since K. Michelle went public about the relationship and the allegations on Love And Hip Hop Atlanta, she's been going back and forth with Toya on Twitter, beefing with Toya's friends, Rasheeda, and even igniting more public humiliation at the hands of Memphitz on his Instagram account.
And as we reported not too long ago, just one day after the reunion show, Memphitz's handlers have confirmed that he has filed suit against VH1 and the creators of Love And Hip Hop Atlanta, Monami Entertaniment, LLC.
Although Mona Scott Young has yet to respond to the suit that was reportedly filed today, it appears that not only did K. Michelle confirm it, but it appears that she isn't concerned. And rumor has it, Mona isn't either. And this is why many are saying this is most likely nothing but a PR move for Memphitz to at least appear to be fighting against the allegations made against him.
I guess that makes sense as most people have stated that Memphitz may not have a case because K. Michelle never mentioned him by name on the show or even in her interviews.
Regardless, here was K Michelle's tweet and perhaps response to the suit: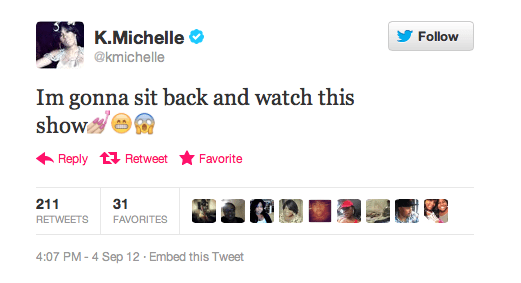 We'll just have to see how this all plays out.