By: Amanda Anderson-Niles
Ciara has already made it pretty clear that she's single and for the most part, she claims she's happy her exes have moved on and settled down with other ladies. In her more recent interviews. while she won't confirm who her song very emotional "Sorry" is for, many have speculated that the song is about 50 Cent. And this is a logical assumption considering that Ciara has been secretly dating him on and off for a few years. But although the two may have had the history, things just didn't work out, and 50 is said to have moved on to a new chick. And the new chick is some an urban  model named Daphne Joy.  Ironically, many people find it pretty dirty that 50 never claimed Ciara in public, but he seems to be going out and about with Daphne in public and red carpet events.
Perhaps Ciara noticed that too because she shaded her on Twitter last night. Or perhaps Ciara saw the photo Daphne posted on Twitter, an interesting shot of her posing  in what many are speculating is 50's Bentley.
To make matters worse, Ciara "stans" instigated things even more once Daphne posted the photo, which eventually led to Ciara throwing shade on Twitter.
Starting the beef off, Ciara shades through some classic Aaliyah lyrics :

Ciara's stans insitigate: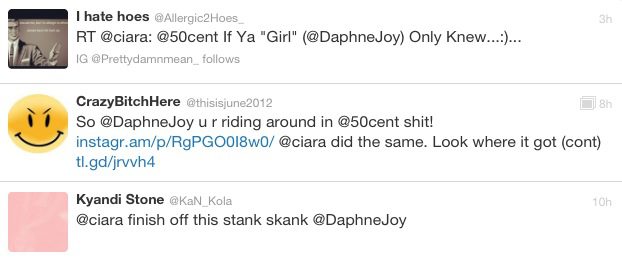 "Turnt up," Ciara shades yet again:

Daphne Joy claps back and lets Ciara know she wasn't moved by the shade: