By: Amanda Anderson-Niles
Lil Wayne has taken his anger issues to a whole new level. The rapper who is known to be a huge lover of sports has reportedly snapped over his "beef" with the Miami Heat organization. As we reported recently, he was kicked out of a Miami Heat game the other day, but reports suggested it was because he was making shooting like hand gestures to a Miami Heat fan during the game. Regardless, he took to his Twitter account anyway and claimed he was kicked out just because he was cheering for the Lakers. Over the weekend, in one of his performances, he decided to come for the players of the Miami Heat during an on stage rant. In the rant, he claimed that he slept with Chris Bosh's wife Adrienne.
He said:
"You let them n*ggas know I'm from the streets so this ain't no Twitter beefin or no online beef, just take it to the motherfu*king streets, n*gga. F*ck all them n*ggas. F*ck LeBron, f*ck She-Wade, f*ck Chris Bosh, f*ck all them n*ggas, man. And, and, and, I f*cked Chris Bosh wife."
The rapper claims he is furious because the Miami Heat organization was able to have him banned from all NBA games.
Regardless, it appears that although D-Wade, Chris Bosh, and LeBron James have been silent on the matter, Bosh's wife Adrienne and D Wade's boo Gabrielle Union have decided to address Lil Wayne in very subtle and classy tweets.
Adrienne Bosh kept it grown and let some retweets speak for her (read from the bottom up):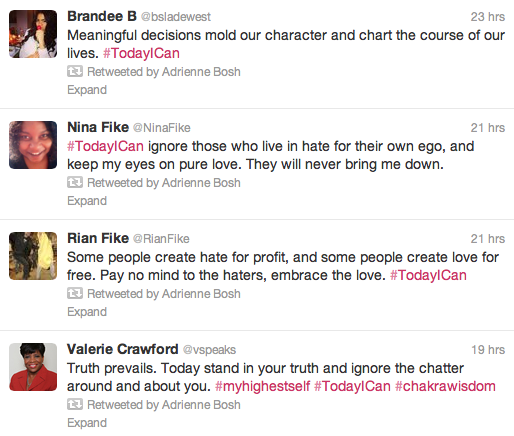 Gabrielle Union followed suit:
Are we the only ones that love how they kept it grown?
In related news, Lil Wayne's refusal to apologize for those disrespectful lyrics regarding Emmett Till have led to an online petition. The petition is urging the rapper to apologize to the Till family for his hurtful lyrics. You can sign the petition here.