By: Amanda Anderson-Niles
Reality star and R&B singer K. Michelle is no stranger to controversy. So far she's pretty much had a beef with most of her cast mates from Love and Hip Hop Atlanta, with her more recent beef being the one she has with former friend Mimi Faust. K. Michelle's falling out with Mimi is a result of K. Michelle confessing that she thinks she thinks her new man Nikko might be on the "down low." Mimi didn't appreciate K. Michelle's comments and after confronting the singer backstage at her concert, K. Michelle than proceeded to slap her in the face with flowers. As a result of getting into with most of the stars of Love and Hip Hop Atlanta, K. Michelle claims that season two will be her last on the hit series. Now she's ready to focus more on her budding music career, which continues to look promising as she inked a record deal with Warner Bros. several months ago.
Despite all the beefs, messy romances, and Twitter rants; K. Michelle can still take a moment out of her crazy schedule which nowadays consists of recording her upcoming studio album and do something good for some of her fans.
The other day on Twitter, the singer made on offer to pay 6 months of daycare bills for a single mother who could manage to hunt her down at a Lenox Mall in Atlanta. One of her fans took her up on the offer and was thankful that K. Michelle stayed true to her word.
Read the tweets from the bottom up: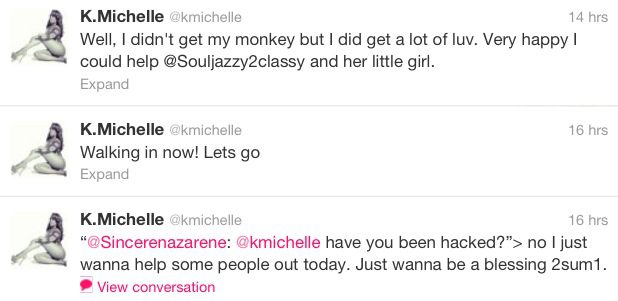 Dope.