By: Amanda Anderson-Niles
Royce Reed may be done with "Basketball Wives" but her time on the reality show has pretty much secured her time in the spotlight for now. Besides her ongoing beef with her boyfriend Dezmon's baby mama, she's always running into some kind of drama on her social media accounts. The other day was no different, as another controversy popped off when she uploaded an innocent photo of her son doing splits and showing off his flexibility.
It didn't take long for the negative comments to come either. In the comment section, some people suggested he was a hop and a skip away from being gay, while others just flat out said he already was. Here's some of the comments:

It didn't take long for Royce to peep some of the negative comments, and the former reality star decided to address the critics. While some people suggested her son Braylon is just mimicking what he sees his mom do because his father isn't around as much, Royce made it clear that she doesn't want to limit her son's interests just because most of society isn't as open-minded: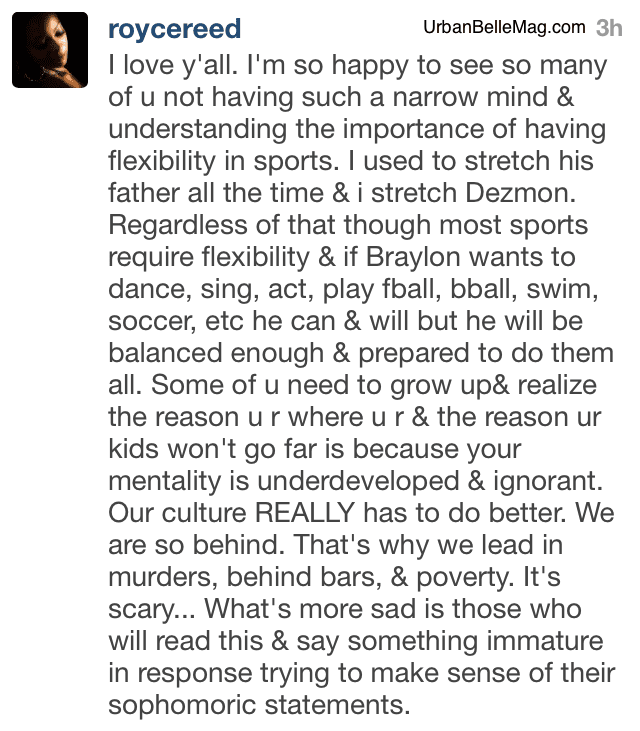 The photo prompted a pretty interesting debate and many of Royce's supporters felt it's pretty insane for anyone to think a child could end up becoming gay because of their interest in flexibility. Especially when so many athletes do stretch routines before practice and as a method to training. But what are your thoughts?