By: Taren Vaughan
Dwight Howard and girlfriend Christine Vest welcome baby boy? According to ex "Basketball Wives" star Royce Reed, Dwight's girlfriend recently gave birth to a baby boy. And to the shock of many, Royce had some very pleasant things to say about the news. The Royce Reed and Dwight Howard drama is no secret at all as the issues between the former reality TV star and the NBA baller have been publicized. And so has the shade Royce has thrown Dwight's way over not spending quality time with their son Braylon. While she is normally caught putting someone in their place or subtweeting when she sees fit on Twitter, Royce congratulated Dwight and Christine on their new bundle of joy from her account, but did thrown in the fact that she doesn't know what the baby looks like and says Dwight hasn't seen their son in months (Read from bottom to top):


Along with her congratulatory message, Royce posted the photo below to her Instagram account:
Royce even seems to think Dwight and his girlfriend will get married soon. And though people took her congratulatory message to Dwight and Christine as shade to the couple, Royce says she really wasn't trying to be messy (Read from bottom to top):
Knowing all the drama Dwight and Royce have gone through in the past, some of Royce's followers felt her congrats wasn't sincere and it was more of shade, while others knew exactly where she was coming from with what she tweeted (Read from top to bottom):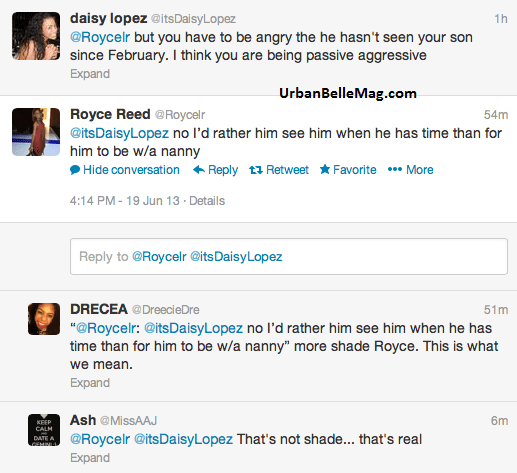 Dwight Howard has yet to publicly acknowledge the birth of the baby. This is reportedly the NBA star's sixth child.