By: Amanda Anderson-Niles
Are K Michelle and Mimi still friends? LHHATL star Mimi Faust found herself the target of scandal after her raunchy video with Nikko went viral and she closed a deal with Vivid Entertainment to profit from the situation, and she still claims the video was leaked and not filmed by a camera crew.
Despite Mimi's denials, her fellow cast-mates have been taking shots at her and Nikko, and even her former friend K Michelle took to her Twitter account to make jokes at Mimi's expense.
K Michelle says she no longer considers Mimi a friend because Mimi stopped talking to her once she exited the reality show, but now Mimi is discussing their fallout too.
She tweets: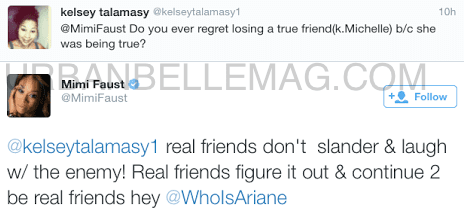 In case you're wondering who Mimi is referring to as the enemy in the tweet, she's referring to Joseline Hernandez. K Michelle made a guest appearance on LHHATL this season and in the episode she met up with Joseline in a recording studio and clowned Mimi's raunchy video.