By: Amanda Anderson-Niles
While it was being reported that K Michelle's music executive ex Memphitz withdrew his lawsuit against K Michelle, VH1, and Mona Scott Young with the courts, we told you that Memphitz actually just refiled the suit in another court.
Memphitz and K Michelle are currently battling it out in court as Memphitz is attempting to sue the singer for defamation of character, and he claims he never abused her and she should pay up for hurting his reputation.
However, K is still sticking to her story, but since she admitted in court that Memphitz didn't technically punch her, some are saying she exaggerated the situation.
Interestingly enough, in some new court documents, Memphitz allegedly admitted that he did use a towel to silence K Michelle's screaming during the conformation.
Karen Civil writes:
Prior to today, Memphitz has denied he's ever abused K. Michelle but in new court documents obtained from Mickey "Memphitz" Wright's deposition (see attachment), Mickey finally admits to abusing K. Michelle and physically assaulting her . Wright states in deposition quotes attached that although he never "punched" K. Michelle he did wrestle her to the ground while smothering her with a towel to keep her from calling out for help. When authorities arrived to the scene, K. Michelle was visibly abused with marks and bruises on her body.

Wright admits to the following:

He is 6'2 and 200 pounds and works out three times a week, including boxing."
"When he got into the hotel room he told Pate "Yo fo'reel, that's the last time you embarrass me! I'm done!"
"…so I'm grabbing her. Yes, I grabbed her and held her hands down."
"…and she was screaming and screaming and I'm like yo, okay, so I did. I covered her mouth because she was screaming so loud."
"Q: So when you were covering her mouth with your hand or the towel or both [] she was standing up or was she laying down? A: She was on the ground — laying down…I was just holding her down like. She was just kicking and screaming, doing all this crazy stuff."
Legally neither party should be talking about court proceedings since a judge has yet to rule, but Memphitz couldn't help himself. Sometime yesterday he jumped on Instagram and threatened to release video and audio that allegedly proves K Michelle isn't being truthful about what happened that night. He's also been taunting her:
Memphitz's wife Toya also took some shots on Twitter (read tweets from top to bottom):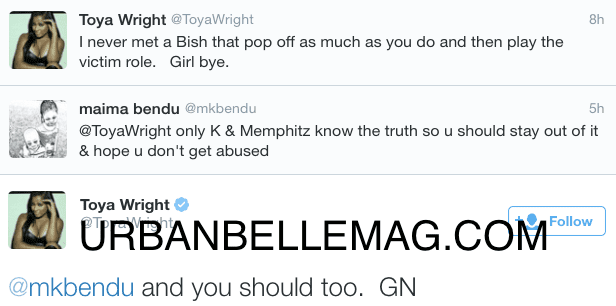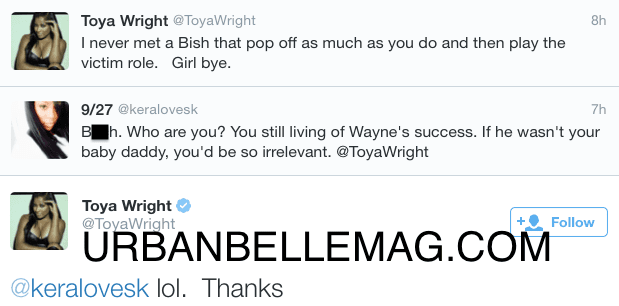 K Michelle isn't one to hold her tongue, so she responded on Instagram with the following before deleting it (screenshot obtained by Fameolous):