Masika and Hazel-E still aren't on good terms after they clashed over former "Love and Hip Hollywood" co-star Yung Berg, and it's looking like that won't change anytime soon.
The other night VH1 aired "Love and Hip Hop Hollywood: Dirty Little Secrets."
In the special, the ladies of LHHH opened up about a variety of topics, including all the plastic surgery they've had.
Hazel came clean about getting a boob job and a couple of nose jobs.
She also revealed that she had some work done on her kitty cat:
"So I got a dirty little secret for you. I just had my vagina rejuvenated. My boo, Rose Burgundy, he's ten years younger than me. So I felt like I wanted to give him a fresh new cootie cat all just for him."
Former "Bad Girls Club" star Camilla Poindexter who happens to be Team Masika later hopped on Twitter to tweet what some felt was shade to Hazel:
Of course, Hazel seemingly threw a little shade too:
UPDATE: After we posted this article, Hazel took to Twitter to call out Masika and Camilla. Masika stood by her shade, but Camilla claims she wasn't referring to Hazel at all with her tweets.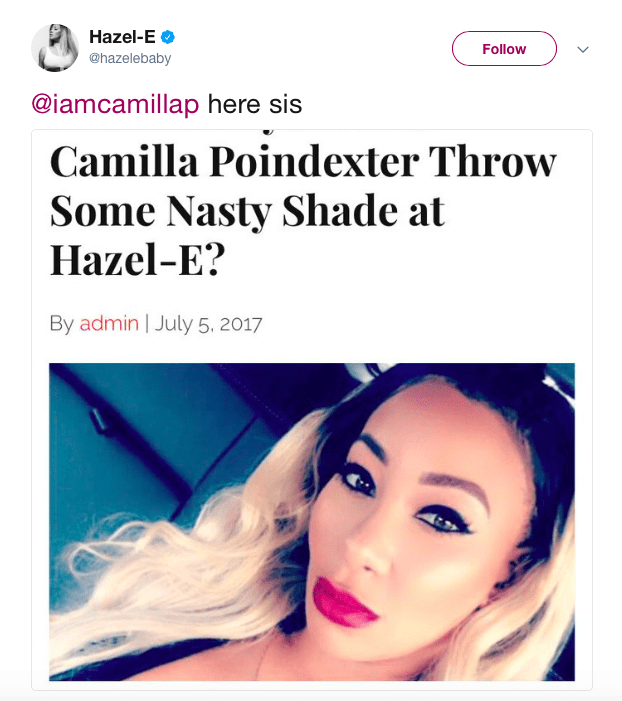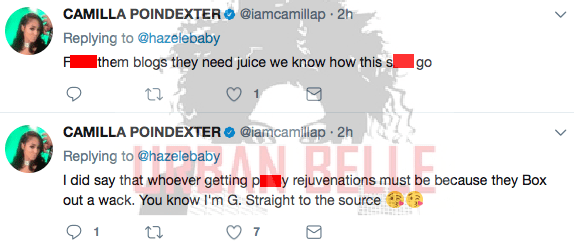 Hazel also dropped by our Instagram account to let us know she's unbothered: