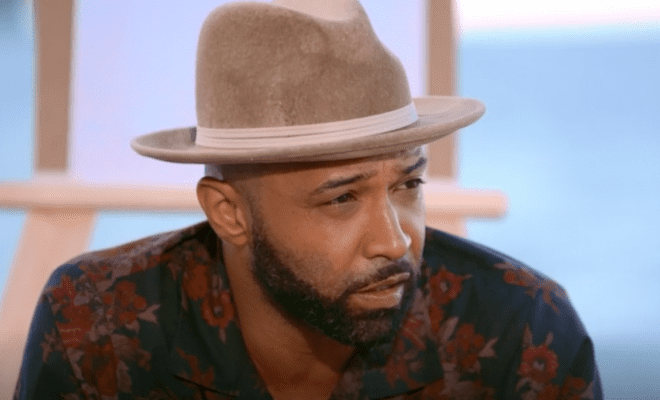 Kimbella and Yandy agree to be cordial.
Yandy feels like Kimbella has taken things too far by mentioning her kids. Even though she's not leaving Costa Rica early, she's still upset.
And she really feels like Juju was messy to not tell her beforehand that Kimbella was going on the trip.
As for the rest of the group, they are going zip-lining.
The group enjoys some small talk on the bus and Yandy decides to join them.
Everyone is surprised to see her, including Kimbella.
The conversation changes into Safaree and Juju. Juju says they never dated, kiss or slept together. Joe isn't buying this.
Cyn then questions if Kimbella and Yandy can coexist on the trip.
Both agree they can keep the peace although they aren't on good terms.
Joe has plans.
When they get to the zip-lining location, Juju gets nervous. She feels the height is just too intimidating. But she doesn't rule out participating.
Joe and Maino go off to the side to talk. Both still plan to do some amazing things for their women. After they wrap up the side conversation, Joe goes over to Cyn and gets down on one knee like he's proposing.
He jokes that he's rehearsing but he has something special planned for just the two of them later.
As the zip lining starts, Kimbella updates Juju and Cyn on her heated conversation with Yandy. She explains that nothing was resolved.
Yandy and Maggie recap about Yandy's drama with Kimbella.
Even though the last conversation didn't go well, she's open to talking to Kimbella again. She just doesn't want things to get heated.
She doesn't want them to be enemies.
Juelz gets an update from Kimbella.
Back at New York, Juelz takes the kids ice skating.
He got approval to do this by the court.
While the skating happens, Kimbella calls to catch up.
She tells him what happened with Yandy.
But the service isn't great, so he's not able to hear much. With the sentencing coming up, Juelz just wants Kimbella to get support from Yandy.
"So y'all couldn't come to no type of closure and figure it out?" – Juelz
He brings up the fact that they were there for Yandy when Mendeecees first got locked up.
"I hear what you're saying, but at the end of the day, we're not friends anymore." – Kimbella
Maino tries to make things right with Maggie.
So he sets up a candlelight dinner for them on the beach.
While Maggie thinks this was sweet, she's more concerned about if he understands why she's upset about the track situation.
He apologizes for making her feel like he doesn't support her.
Maggie tells him that music is her passion. She even attended a performance arts school.
Maino says he understands this and he also knows that Maggie is still dealing with the after effects of being shot. Although the situation brought them closer, he knows that he needs to do a better job at encouraging her.
He plans on doing better and they both get emotional.
A singer then comes out with a guitar as they drink some wine.
Joe and Cyn clash.
Things have been going great for Cyn and Joe in Costa Rica.
But they got into an argument the previous night.
Apparently Cyn got drunk and did some twerking at the pool with friends, upsetting Joe.
In a green screen interview, Joe says it appeared as if Cyn was being flirty with someone else. So he's angry. Plus, he wants Cyn to be more conscious of her public image.
So the couple isn't speaking to each other.
Safaree has a new boo.
While on the bus, Joe talks to Juju about relationships. Joe says he feels like Juju isn't ready to date again, and he feels like Safaree also hasn't properly dealt with his past relationship with Nicki Minaj ending.
Regardless, Safaree is asked about his budding romance with Erica Mena.
It was discussed on the Wendy Williams Show.
Maino says he saw them at a game and Safaree told him he wants to get Erica pregnant.
In a green screen interview, Safaree says that he didn't want to bring Erica around the group yet. He knows it could just lead to some negativity.
Juju once again makes it clear that she and Safaree never dated. She wishes people would stop saying that.
After Juju says that Safaree hasn't been a good friend to her, he tells her they will have a one on one talk later.
As the group continues to talk, Cyn and Joe take subliminal jabs at one another.
Safaree and Juju come to an understanding.
The group begins to notice the tension between Joe and Cyn. While they try to figure it out, Safaree and Juju go off to the side to talk.
Juju says that she doesn't really hear from Safaree much anymore. And one of her best friends just died from cancer, so she's more sensitive about her friendships now than usual.
She doesn't want a one-sided friendship.
Safaree admits that he does shut down on people sometimes. He's not really the way he acts around crowds. In fact, he's actually very introverted.
He's also tired of being picked on via social media. Regardless, Juju tells him not to let the negativity get to him.
Cyn tells Kimbella that she clashed with Joe.
She explains that she wasn't trying to come off flirty and she is upset with how Joe talked to her last night.
It makes her question marrying him.
Joe updates Maino.
He feels like something happens every time he moves closer to proposing.
While he understands that he can be too harsh in how he talks, he feels like his concerns are never addressed.
Juju brings the group together on the beach to hash out issues.
Everyone sits and Joe asks Safaree if he wants to apologize to him and Cyn.
Things get intense between Safaree and Joe.
Joe brings up the fact that he and Safaree talked on the phone about Safaree not bringing Erica on the trip.
However, later Erica was seen on the resort tanning. So he wonders why Safaree wasn't honest.
This was shady to Joe and Cyn. Especially since Cyn and Erica used to date. Out of respect, they feel like Safaree should have told them ahead of time that Erica was meeting him in Costa Rica.
Joe goes off on Safaree for not being honest and reminds Safaree that he held their son. So there should be a level of respect. He also reminds Safaree that Safaree would be upset if Joe dated Nicki and brought her around without giving Safaree a heads up.
In a green screen interview, Safaree says he doesn't feel like he needs anyone's permission on who he can invite to Costa Rica.
After Safaree continues to downplay e everything, Joe becomes enraged.
He threatens to put Safaree's face in the sand before standing up.
What are your thoughts on the episode?
How much money y'all wanna bet that Kimbella and Yandy will still end up arguing?#LHHNY pic.twitter.com/hOz0vicw8e

— Love & Hip Hop (@loveandhiphop) February 26, 2019
Do you think Safaree deserved to get roasted by everyone like this? ??? #LHHNY pic.twitter.com/ysg9Z2YSGF

— Love & Hip Hop (@loveandhiphop) February 26, 2019
That awkward moment when you think someone is about to propose to you and then… #LHHNY pic.twitter.com/A0UraWe47W

— Love & Hip Hop (@loveandhiphop) February 26, 2019
Is there good qualities about Yandy and Kimbella's friendship or is the whole thing just TOXIC?#LHHNY pic.twitter.com/A0ZiMcPoiZ

— Love & Hip Hop (@loveandhiphop) February 26, 2019
What do y'all think of Joe's advice for Juju? Should we give him a show like Iyanla? #LHHNY pic.twitter.com/jO9ScTKk9J

— Love & Hip Hop (@loveandhiphop) February 26, 2019
Joe and Cyn are sending each other the CRAZIEST subliminal messages…

Is there trouble in paradise?#LHHNY pic.twitter.com/k25pJ8EOHB

— Love & Hip Hop (@loveandhiphop) February 26, 2019
Safaree takes Juju aside to set the record straight on their friendship…#LHHNY pic.twitter.com/vPgUGMeIzB

— Love & Hip Hop (@loveandhiphop) February 26, 2019