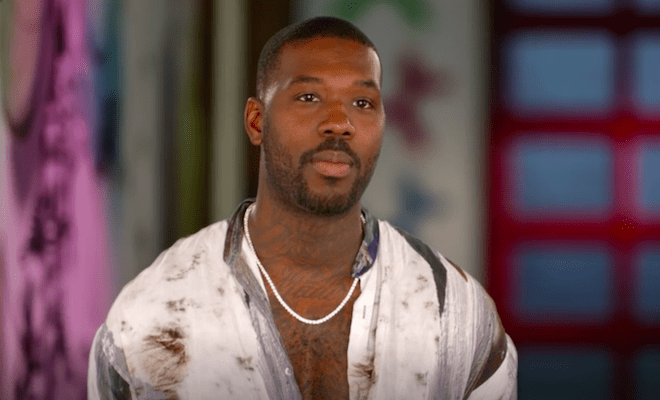 The gang discusses Lily's departure.
Bella says Lily said she was fired but Don clarifies that she is just taking a mandatory break.
Ryan explains that he understands why Lily is okay with her using the N-word, but he can understand why the others aren't cool with it.
As for Charmaine, she has no regrets in how she handled the situation. And now she's planning a protest in front of the recording studio R. Kelly uses. She's also not playing his music anymore on her radio show.
Ryan isn't comfortable with the protest. Don says it's tough to go through with this because R. Kelly is a hero in Chicago. Regardless, all the men say they will support Charmaine's right to protest.
Ryan and Bella meet with Lily.
They grab a bite to eat and Ryan wants to see how Lily feels about everything.
Lily says that she doesn't like Charmaine's approach in the N-word situation, and both she and Ryan feel Charmaine was just being spiteful.
But he says that she should have just apologized and nipped the situation in the bud from the jump.
In a green screen interview, Ryan says Lily needs to start taking responsibility for her actions.
He still thinks Lily needs some time away from the shop. In his opinion, Lily needs to just apologize. She can't work in the shop if she can't get along with everyone else.
Ryan's landlord Joseph calls an urgent meeting.
Joseph says there's a bigger space on the second floor of the building and Ryan could use it to expand the shop.
This excites Ryan because he was actually considering doing just that.
Now Ryan will get his chance to take 9Mag to the next level.
Junior has a run in with the police.
Later that night, Charmaine comes to the shop in tears.
Junior got pulled over and they found a gun on him.
This is when the police put Junior in handcuffs.
"Where he at?" – Ryan
Not too long after, Junior walks into the shop.
He tells them he's clean. In a green screen interview, Junior says the cops had nothing on him and had to let him go.
This isn't the first time he's been pulled over for no reason. But he's thankful for anger management because it taught him how to remain calm.
After letting the gang know he's alright, Junior heads home to check in with Adriana.
Art is Lily's focus amid her hiatus from the shop.
Lily is painting and working on a project while she takes time away from the shop.
She's planning an art show that will inspire other Mexicans to start a new life in America.
Lily starts crying and says she didn't mean to offend anyone by using the N-word. But she feels like she and Charmaine both have different struggles as Mexican and African-American. So they shouldn't have the issue they are having.
Van reached out to Jenn.
His daughter is helping him set up a romantic scene for them to hash things out.
He also had a chef come out to cook.
When Jenn arrives, the chef serves them some steaks, asparagus, macaroni and cheese.
"You know, I cherish you Jennifer, I really do." – Van
Van says he wants to be an example for his daughter and he knows his daughter loves Jenn very much. So he apologizes and tells her he wants to do everything right if they are able to move forward.
"I wanna show you better than I can tell you." – Van
He tells Jenn that he never made the restart he needed to in their relationship.
Van wants to grow and for them to become better partners.
In a green screen interview, Jenn says she's not sure Van is going to really change.
Ryan has a client come through.
She wants a tattoo covered up and the new tattoo will honor her deceased Dad. Ryan is given full creative control.
HIs client loves her tattoo once he's finished.
Charmaine has her Mute R. Kelly protest.
She and other black women march and give speeches outside of the recording studio R. Kelly uses.
They chant "Times up" in unison.
Returning to 9Mag may not be in Lily's future.
Lily has her art show.
Ryan comes through and he's impressed.
They discuss the Charmaine situation. Lily apologizes for all the drama and says she wants to focus on her art.
As of right now, Lily doesn't want to return to 9Mag. She tells Ryan that the gang needs to change before she can come back to the shop.
Ryan says he understands this and they hug it out.
Phor returns.
Back at the shop, Ryan tells the gang about the expansion.
Van is appreciative that Ryan gave them a heads-up.
Everyone is cool with the expansion. Charmaine and the others congratulate him.
Not too long after, Phor returns.
Of course everyone is happy to see him.
He tells them he had a black cloud over him in Vegas.
Depression has been a battle for him since he was a child.
Although he had to put himself first to get the help he needed, he wants to move forward with the group since they are his family.
They cheer when Phor says he's back for good.
What are your thoughts on the episode?
Did Charmaine come at Lily with facts or does she just have something against Lily? #BlackInkCHI pic.twitter.com/bF2FndjuTg

— Black Ink Crew (@BlackInkCrew) February 28, 2019
"For me to discriminate somebody else for the race that they are doesn't make any f***ing sense." Do you feel Lily's apology sincere? #BlackInkCHI pic.twitter.com/UctD4AWCre

— Black Ink Crew (@BlackInkCrew) February 28, 2019
Should Van and Jenn give their relationship another shot? #BlackInkCHI pic.twitter.com/oUrvihyvlm

— Black Ink Crew (@BlackInkCrew) February 28, 2019
Is Ryan nice with the floral artwork? ?? #BlackInkCHI pic.twitter.com/8lz0QlwQNA

— Black Ink Crew (@BlackInkCrew) February 28, 2019