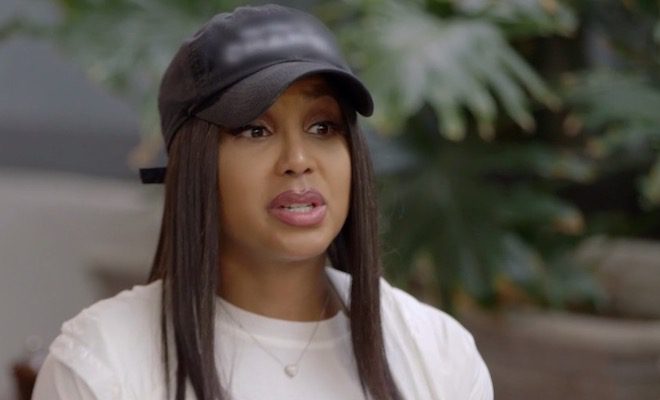 The Braxton family hasn't been back together fully since meeting with Iyanla.
The episode begins with Tamar heading into a restaurant to meet with Toni. It's been a month since their family meeting with Iyanla and Toni's still angry with her family.
Tamar's been on the road performing and it's the first time she's seeing any one in her family. She's still angry at Iyanla. Meanwhile, Towanda and Evelyn are working on Evelyn's cookbook. Evelyn's cooking and Towanda's tasting the food. Of course, Towanda wants to talk about the meeting with Iyanla.
Evelyn's still angry with Iyanla and is adamant about not wanting to meet with her. She didn't like the constant criticism and thinks Iyanla picked on Tamar. However, Towanda agrees with Iyanla's approach. Despite this, Evelyn liked the breakthrough between Tamar and Traci.
Traci's interviewed by Trina and "Sister's Circle" about Iyanla.
Speaking of Traci, She's in Atlanta to visit Trina on the set of "Sister Circle." They're "just fine" according to Trina and she's having a good time as a co-host. Traci's a guest on the show and they get on her nerves by asking about Iyanla.
Back in LA, things take a turn when Tamar decides to get some info out of Toni. When she asks about Birdman, Toni says they are going to get married before the year's out.
"He wants to elope." – Toni
They almost did it but they forgot as they were drinking. Tamar brings up how they want people to "respect" their marriage by having a wedding.
"I don't care about the story." – Toni
Traci's interview is going on and Traci opens up about the sit-down with Iyanla. When asked how she handles internal strife, she says she calls her sisters. Trina's uncomfortable too during the interview asking Traci about this but it doesn't last too long.
Back at the tasting, Evelyn brings up how no one wants to talk about the session with Iyanla. Towanda says that they are all going to see one another eventually and will have to deal with it.
After her interview, Traci and Trina are talking. Trina brings up how she hasn't talked to Tamar.
Eventually, Towanda heads out to LA to hang with Toni and shop for flowers. However, they aren't for her wedding. They're for her house.
Towanda thinks everyone needs to go see Tamar in her play. Toni agrees and also brings up that she's going out to New York to interview with Wendy Williams.
Tamar opens up about her divorce from Vince.
Meanwhile, Tamar's lounging in a Gucci robe when she FaceTime's Towanda. Tamar lets Towanda know that they're invited to her play because Snoop wants to meet them. The call didn't go bad, according to Tamar and feels good about the invite. However, she doesn't know if everyone is going to show up.
Next, Tamar meets with her friend LeTroy. The two talk about her divorce from Vince. She's still going to have love for Vince and wants to co-parent, calling him a great father. She feels like she's divorcing her best friend.
The session with Iyanla comes up and Tamar still feels betrayed by what happened. But overall, she better understands what happened with her sisters in their divorces.
Next, Tamar's new Nigerian boyfriend is mentioned and Tamar gushes over him on camera, licking her fingers.
"I'm in a full-blown, unexpected relationship. He waited forty-eight years to find this piece." – Tamar
LeTroy's shocked too. Of course, Tamar insinuates one thing that hooked her in was his actions in the bedroom.
Trina and Traci aren't sure if Tamar's ready to see them.
Meanwhile, Towanda and Traci are in the park walking when they take a break to call Trina. They tell Trina about Tamar's invitation to her play. Trina asks if Tamar would be really cool with it and Traci thinks Tamar should've called them herself for the invite.
However, all three think its a good Idea to go. So they make the trip to Detroit. But first, Tamar heads to a radio interview. They talk about the plot in Tamar and Snoop's play. Of course, Tamar's new relationship comes up. Tamar has glowing things to say about her boo. With that being said, Tamar also says she's learned from her time from Vince and is setting new boundaries in her new relationship.
Things get emotional when she's introduced to a woman that's having relationship issues of their own. She gives the woman advice and speaks to her own experiences with breakups.
Back in Los Angeles, Towanda's with Trina and Evelyn looking for gifts. They're all looking forward to having everyone come together since their time with Iyanla. Toni had her interview with Wendy and the wedding came up. Of course, no one thinks the wedding is going to happen. Meanwhile, Evelyn asks Trina about her relationship with Von Scales. Next, when Trina asks Towanda if she would get married to her mysterious boo, she says yes.
Everyone is making it out to Tamar's play, including Toni and her sons. They arrive first and Tamar's anxious to see everyone else. However, everyone else is a bit apprehensive. Towanda arrives and Tamar jokes that Towanda is dressed like a stripper. As everyone else arrives, Tamar notices Toni seems distracted. Tamar takes everyone to meet Snoop and take photos.
The episode ends with Toni leaving due to an emergency.
What are your thoughts on the episode?