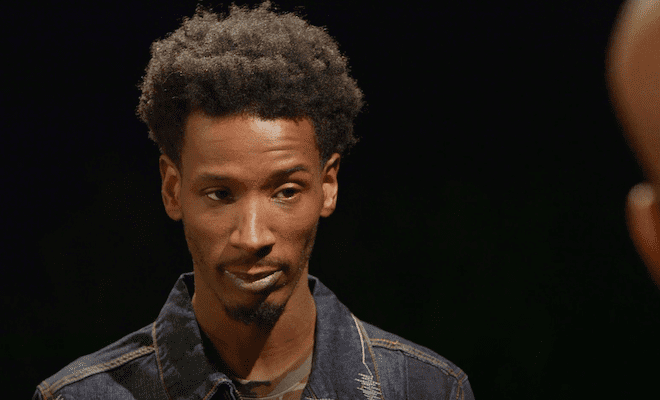 Krystal wants to confront her father.
She tells Tokie that her father lives in LA. She hasn't seen him in 5 years. 
So she wants to see him and confront him for not telling her about her younger sister. 
Tears fall down her cheek as she recalls him not being in her life and missing out on important moments in her life. 
Sky is looking for twerk models.
As it gets closer to the day of Sky's fashion show, she has multiple models come by the rental to audition. 
This pleases Cease. 
Walt decides everyone needs to drink. 
So Sky's rule of no drinking have been violated as she watches Cease and the models get drunk. 
Things gets tense when Puma shows up.
"Get his a*s out here now." – Cease
Sky feels like Cease needs to make peace with Puma to get peace back in his life. 
"You guys need to talk. This is your f*cking brother." – Sky 
However, Cease refuses to talk and tells Sky that Puma needs to go. 
He storms off to the balcony and fumes outside alone. About 45 minutes later, Puma comes out to talk. 
Puma explains that he's coming in peace. 
"What are you even mad about?" – Puma 
In a green screen interview, Puma says he's over the beef and misses his childhood friends. 
Cease says Puma betrayed him and Puma says Cease betrayed him too. But he's about to become a father again and he doesn't want to be at odds with Cease anymore. 
Neither understands why they are so angry with each other anymore.
Cease doesn't want to keep holding grudges. 
So both men agree to forgive each other. 
They hug it out. 
Cease even invites Puma to hang out while they are out in LA. 
The next morning, Walt is happy to see Puma is still there. 
He didn't expect Cease to forgive him. 
Donna returns.
Sky says some of the models dropped out the show and she needs some of the ladies to audition to take their spots.
Tokie is first and Sky isn't impressed. 
Kitty doesn't impress her either. 
Krystal is so so and Tati refuses to twerk.
So Sky haas Donna come out, which shocks everyone. 
Cease isn't there, and it's clear it will be drama when he sees Donna coming down the runway at the fashion show. 
Teddy and Puma make peace.
Cease, Teddy, Kitty and Puma do some hot yoga. 
Puma can sense some tension with Teddy and asks him if they are good. 
Teddy says they are good and he only sided with Cease because they are family. 
But he never really had an issue with Puma. 
After the yoga session, Cease tells Kitty that he's going to make things right with Alex when they return to New York. But he's not trying to be on good terms with Donna again. 
Kitty realizes that it's going to be a mess when Cease sees Donna at the fashion show. 
Cease and Teddy go to Compton.
They visit a popular tattoo artist and have dinner at a soul food restaurant. 
Since Cease wants to open a shop in Hollywood, he asks the artist if he'd like to run it. But the artist says he wants to open his own shop in Compton. He claims there isn't one there. 
So Cease encourages him to make it happen and build an empire. 
Krystal sees her dad.
It's an emotional moment but Krystal's dad said that her mother used to keep her away from him because he's a bad influence. 
He also went through a lot but he's a different person now that he's older. So he'd like for them to spend some time together. 
It's the day of Sky's fashion show.
Teddy, Walt and Tati are judges. 
Things go well as models strut and make use of the pole on the stage.
Donna and Alex are backstage as Donna prepares for her big moment. 
Both agree that this is the perfect opportunity for revenge. 
Sky introduces Donna and Cease is furious to see her walk on the stage. 
She starts twerking and tells Cease to kiss her a*s.
After she riles him up, she and Alex leave the venue. 
Cease finds them both outside and Cease scream for Donna to exit the car to face him. 
What are your thoughts on the episode? 
Krystal is this close ? to confronting her dad about keeping her sister a secret… Would YOU have the courage to stand up to YOUR parents? #BlackInkCrew pic.twitter.com/adVTkRUyVf

— Black Ink Crew (@BlackInkCrew) April 25, 2019
Which one of the #BlackInkCrew girls will make YOUR #TWERKTEAM? #TeamTokie? #TeamKrystal? #TeamKitty? or #TeamTatti???? pic.twitter.com/aagj1JSwSK

— Black Ink Crew (@BlackInkCrew) April 25, 2019
Teddy is LOYAL AF, but he's had Ceaser's back in many situations that got WAY out of hand… Do you set your family straight? or follow them into trouble? #BlackInkCrew pic.twitter.com/Rsf7enQVto

— Black Ink Crew (@BlackInkCrew) April 25, 2019
Do you think Ceaser can take his #BlackInkCrew empire all the way to the East Coast? #BlackInkCrew pic.twitter.com/7raKbz5BdT

— Black Ink Crew (@BlackInkCrew) April 25, 2019
"I don't care who calls me on my birthday, but you don't call me"

Krystal has an emotional reunion with her father ? #BlackInkCrew pic.twitter.com/kgA4MKTjJU

— Black Ink Crew (@BlackInkCrew) April 25, 2019
Ceaser tries to end his beef with Donna and Alex once and for all… But things might go LEFT (again!) ??? #BlackInkCrew pic.twitter.com/6HPYduApDN

— Black Ink Crew (@BlackInkCrew) April 25, 2019