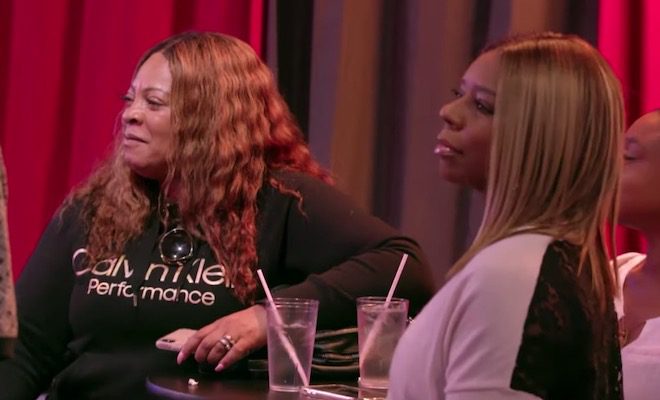 Bow Wow doesn't take Da Brat's advice seriously.
The season finale begins with Bow Wow and Da Brat hanging out at the local shoe store. Da Brat grills Bow Wow about his legal issues. But Bow Wow's preoccupied with a check-in text from Corri.
Of course, Bow Wow sidesteps all of Da Brat's questions of the lingering court saga but Da Brat reminds him that all of this will continue to follow him.
Later on, Andrea brings out Deb and Teresa at her daughter Buku's showcase. The lyrics of Buku's songs make Deb and Teresa uncomfortable. Things get tenser when Reemarkable shows up. However, Andrea's proud of Buku, and the content of the songs.
Deb decides to head out just as Remarkable Makes eye contact. Although Ree doesn't talk to Deb, Ree gives great praise to Buku. During their talk, Ree tells Buku that she's trying to get her brother Lil Eazy E to come to Atlanta.
Overall, Buku is happy everyone came out to support.
Tammy's nervous to perform in New York City.
In New York, Tammy's rehearsing for her performance during Kandi's Dungeon Tour and it's already stressful. Tammy has to reduce her performance by 5 minutes thanks to a venue curfew. This adds even more stress to Tammy and Wake's not there. Waka stayed behind in Atlanta to help Deb with the Boot Camp.
However, Waka's very supportive when he calls.
Reemarkable's day is made when her brother Lil Eazy E shows up to the trap museum in Atlanta. Ree's curating a special collection of photos of their father. After the event, Ree and Lil Eazy E talk about her falling out with Da Brat and Deb.
Eazy tells Ree she needs to reach out to Deb and Brat and apologize.
It's time for Tammy's performance and she is nervous. She wants to do all she can to not get booed off the stage. Things get off to a shaky start when the DJ plays the wrong song. But things get back on track and the crowd's into her performance.
Bow Wow avoids Corri.
BT and Bow Wow head to a local tattoo shop. Bow Wow's getting his logo tatted on his arm. During the session, Bow Wow shows BT Corri's mugshots. That concerns BT, but Bow Wow brings up how he was comfortable when Corri was in his house cooking for the homies.
Interestingly enough, Corri calls him and Bow Wow doesn't pick up. Next, they talk about Angela coming to town. Bow Wow tells BT he messed her over too many times.
Afterward, Bow Wow stops by to see his mom. Corri's texting him and he's ignoring it. Teresa jokes about picking a new girl for Bow Wow but Bow Wow says he doesn't want another girlfriend. She still wishes Bow Wow was with Angela.
Meanwhile, Da Brat's hanging with her cousin at the bowling alley and it's the day before her their Boot Camp showcase. She's hosting an event on behalf of her cousin AJ. AJ is looking for a kidney donor and Da Brat's doing all she can to help her find a donor.
Brandon meets with Fire Captain Campbell to talk about becoming a firefighter, seriously, this time. Brandon says he wants to be a firefighter despite lying about being in the fire academy. Brandon reveals he's going to show up to Deb's showcase to apologize to Deb.
It's the night of Da Brat and Deb's showcase but Bow Wow and Pimpin are at the So So Def studio instead. Everyone else shows up to the showcase, including Brandon. As the showcase goes on, Remarkable and Corri show up. Corri's looking for Bow Wow and BT hips Bow Wow to what's going on. BT saw red flags and knows something could go wrong.
Shaniah tells Corri that he's at the studio and she texts Bow Wow Corri's on the way to the studio. Meanwhile, Reemarkable heads to Da Brat and Deb and apologizes. Despite the apology, Brat or Deb are unwilling to work with her.
Reemarkable doesn't like how everything shook out but there's nothing she can do about it.
Corri gets revenge.
Finally, Corri texts Bow Wow that she's at the studio and wants to talk. This causes Bow Wow to panic and walk outside. Corri asks why he's not answering her texts. She's also mad he was "boo'd up" with Angela Simmons at Shaniah's party.
So Cori goes to her friend's car, grabs a crowbar, calling Bow wow a liar and a cheater. When Bow Wow says they aren't together, she busts the window out of Bow Wow's Mercedes SUV.
Bow Wow says he's done and just wants to remain single for the rest of his life.
What are the thoughts on the season?