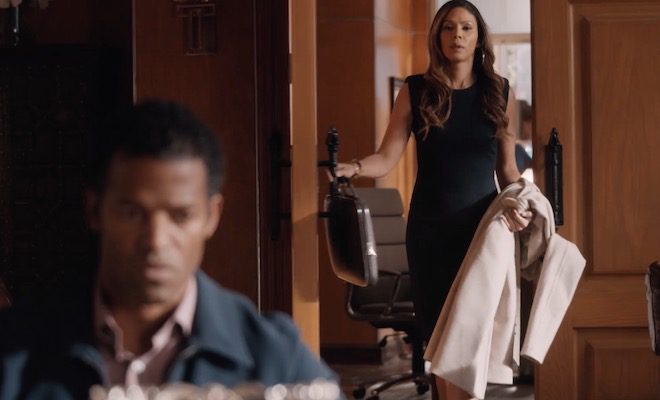 Noah learns the truth from Grace.
The episode begins with Grace hearing a knock at her door. It's Charity and she's apologizing for her outburst the night before. Charity convinces Grace that she just wants to be on the team, willing to accept a music ministry role. Unbeknownst to Grace, Charity's going to be a mole for Phil.
Charity rolls her eyes as she leaves Grace's room, going back to her suite. Meanwhile, Kerissa's looking up real estate listings. Sophie and Zora are hanging with Mae for the day. Grace declines the invitation.
Back inside, Bishop is playing the piano and singing Nat King Cole. Charity joins him and Bishop consoles her, telling Charity God has a plan for her. He also drops a hint to Charity that he's planning on re-marrying Mae.
When Grace heads up to Calvary, Noah angrily waits in Grace's office for her to speak. Noah's angry that Grace did not tell him about their son who she almost aborted. Their son A.J. reached out to Grace when he turned 18 and she told him Noah's current partner Isabel refused to allow Noah into his life. Now, Grace wants to make it right. Noah implores Grace to do this as A.J. is getting out of jail very soon.
After their meeting, Jacob ran into Noah and they make small talk. Noah does his best to not bring up his true reason for stopping in. Interestingly enough, Noah tells Jacob not to tell Bishop or Mae about his visit.
Connie bills Lady Mae.
As Sophia and Zora are trying on clothes, Mae gets a message on her phone. It's a bill of overages from her Day with Lady Mae" event that totals over $38 thousand dollars. Out of anger, Mae throws her phone in the dressing room, damaging the mirror.
Eventually, Jacob meets with Phil in place of Grace to talk about Camp Blue Lake. Harmony and Hope want to close the summer camp. Jacob tells Phil the camp shouldn't be cut because it focuses on the kids' black heritage. However, Phil doesn't see it that way and ends their meeting.
Grace returns to the house pissed and is quite short with Bishop. The invoice came from Connie and Mae feels she's being bullied with the bill. Bishop doesn't get a chance to tell Mae about the honeymoon idea as a result and figures it's going to be a while before he can.
Meanwhile, Jacob runs to Grace to tell her about Blue Lake. Grace says she will pay for the camp. Grace goes back to calling her son when Jacob leaves, calling the prison A.J.'s in.
Jacob gets inspired by Dante.
Krissa meets with her realtor at an open house. Kerissa likes the house but has to meet with Bishop and Mae to work something out before making an offer. Jacob has a meeting of his own with the NBA player Dante Saunders. They go off for a ride and Dante makes his reluctant friend get in the back seat. Lastly, Charity meets with Phil for lunch and she's having second thoughts about being Phil's mole. Charity feels Bishop is sincere in his ways now but Phil doesn't believe it.
In fact, Phil says she's pure-hearted while her family is using her. He also lays the compliments on thick.
Dante tries to buy off Jacob in lieu of not snitching to the team abut his partying. However, Jacob declines the money. Dante plays it off by saying he was just testing him.
Back at Calvary, Phil and Grace face off about Blue Lake. During their chat, Grace learns Phil would support Charity in the music ministry.
Sophia decides with Zora she's not going to Hampton early for school, opting to wait until the fall to leave. Zora convinces Sophia to stay with her in the meantime but can't convince her to attend early morning bible study with her and Mae.
Bishop gets evidence confirming Connie conspired to join Harmony & Hope.
Lastly, Karrine meets Bishop in the parking lot under the cover of night in the church parking lot. She hands him a folder of documents and tells Bishop to keep this a secret. Sophia returns to Grace later that night and Grace hits her with the bombshell. Sophia is told she has a brother.
This news hurts Sophia and she tells Grace that A.J. wants nothing more than his mom. She also tells Grace she doesn't want Grace dropping her off at school, calling her a hypocrite.
Meanwhile, Bishop shows Mae the document he received from Karine that shoes Harmony & Hope is paying off Connie. However, this just devolves into an argument as Mae tells him this treachery isn't the way to get back the church. Mae wants them both to just trust in God and to get their house and hearts in order.
Kerissa and Jacob argue about selling the land he owns across the street from calvary. She wants him to sell it to help pay for a new home away from Mae and the mansion. However, Jacob doesn't want to sell. He wants to use the land for something positive for the community. Kerissa doesn't want to wait but he convinces her to wait one week to get a message about what to do. Lastly, Bishop has the plane tickets in hand stuffing them into his drawer.
Sophia angrily leaves for college.
In the morning, Sophia leaves still angry with Grace. Instead, she's going to pick up her dad. The surprise move angers Zora and shocks Mae. Later on, it appears Kerissa is disregarding Jacob's request, reaching out to her realtor about selling the property. As this happens, Jacob is at the gym praying to God about the plan.
Meanwhile, Charity and Karine are gossiping when Mae arrives. Mae grills Karine about getting caught up in Bishop's covert operations and tells Karine to give Connie her payment for the "Day with Lay Mae" expenses. Mae then walks out with her head held high and a message to Connie that she pays her debts.
That evening A.J. calls Grace and asks if Sophia knows about him. She tells him she will help him out. He cuts it short and hangs up.
What are your thoughts on the episode?