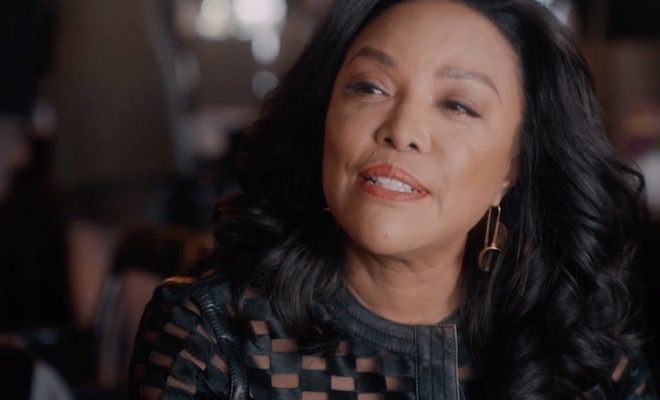 Bob has a plan to merge Calvary.
The episode begins with Bob telling Grace about meeting with Cal. Cal is the head of a congregation whose church is struggling. Bob is eying them for a takeover and wants Grace to be the one who leads the charge. The church is also a white congregation.
Afterward, Grace is over AJ's apartment helping him get settled in. However, AJ's skeptical about all of this especially since Grace's keeping him a secret from the family. She's also impressed by his ability to cook. Meanwhile, Jacob is finally convinced by Kerissa to sell the land to a gentleman named Fernando. During their meeting, Kerissa's seemingly smitten by Fernando.
James is at home, excited about being invited to preach in Atlanta. However, Mae's against the idea of James speaking. Grace stops by to tell her parents of Bob's idea of merging Calvary with a white congregation. James and Mae scoff at the idea. Phil, meanwhile, is at the church and is desperately looking for information from Charity about Grace. James really doesn't like the idea of Bob merging Calvary with Cal's church, and notes none of the Greenleafs would be leading from the pulpit from this happening. Mae than gets the idea to learn from Karine Bob's schedule.
Sophia's happy to see AJ, but not Grace.
Later on, Sophia returned home looking to see her brother. However, Sophia's not ready to talk to Grace. As this goes on, Kerissa and Mae run into one another in the kitchen and Mae's not happy to learn Kerissa and Jacob decided to sell the land, despite advice from James.
Eventually, Sophia catches up with AJ. She learns about AJ's time in foster care. During their talk, AJ's reminded of their mom through Sophia's actions. Sophia stands her ground, saying she isn't Grace and she's down for AJ forever. When she falls asleep on his bed, AJ tucks her in and continues drinking.
The next day, Grace meets with Cal. Cal reached out for Bob to consider other white churches to merge with but Bob refused. And during her conversation with Phil, Kerissa notices he's wearing the same cufflinks Fernando was wearing. This gives her pause about her sell of the land. Lastly, Karine gets grilled by Charity about Grace and Noah. Meanwhile, Zora grills Sophia about her whereabouts but she doesn't give up information about AJ.
Mae meets with Bob.
Mae meets up with Bob and doesn't hold back in asking about Cal visiting. But Bob seems prepared for Mae's subtle verbal jabs. Mae brings up the history of black churches and how Calvary fits into that fold. She also lets him know it will be problematic to have these two churches merge, agitating the congregation. However, Bob isn't budging. He, in fact, throws a curveball when he compliments Mae's preaching during her event last season. When she gets home, Mae catches Sophia heading out of the house and back to school. As Mae and Sophia hug, Grace arrives and Sophia tells Grace she's not returning until everyone knows about AJ.
Grace's sermon lands her into the dog house.
When Sophia leaves, Mae demands that Grace stops any deal with Cal's church. But this seems doesn't seem to be too difficult as the congregation isn't happy with Bob's song selection. Grace's sermon of Moses stirs the congregation much more than the song. Her message is about everyone coming together to rise up against their enemies. This has Bob and Phil seeming suspicious of Grace.
After the sermon, James and Mae congratulate Grace on her amazing sermon. But these positive times aren't lasting. Meanwhile, AJ returns home to his apartment and he misses Sophia. Kerissa's fears also come true when her realtor lets her know Harmony & Hope are behind the deal.
Bob lays into Grace in his office and lets her know that he will have all of the Greenleaf family removed if she pulls what she did in the pulpit again.
And despite learning about Harmony & Hope buying the land, Kerissa reluctantly signs the contract during their closing. Later that night, Noah calls angrily. He's kicked out of the house and told his wife the truth. As a result, he's moving back to Memphis.
What are your thoughts on the episode?