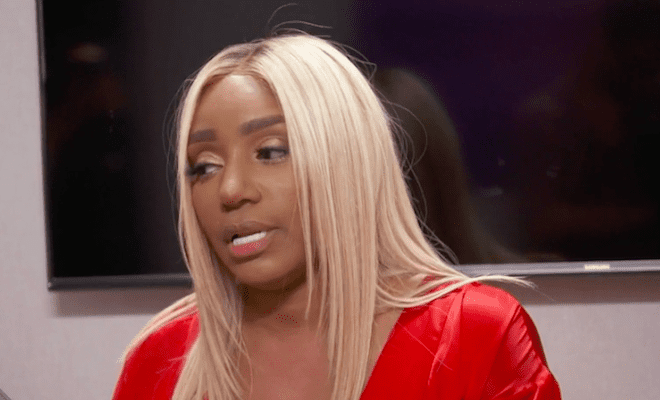 Dennis makes it right.
At Tanya's party, Dennis shows up and gets on bended knee to propose to Porsha. She happily accepts but hates that he's going back home the next day. He only flew in to propose.
When the women get back on the bus, Porsha says that the rumors about Dennis having s*x with animals aren't true.
Cynthia and Marlo clash.
Later on, the women head back to Marlo's hotel room. NeNe and Yovanna will be getting there later.
They discuss the snake situation. Porsha suspects it's Yovanna. And Cynthia says she does recall having a conversation with Yovanna a while ago.
When Yovanna arrives, they ask her about it. And they tell her they heard she is the one who recorded Cynthia. At this point, NeNe enters Marlo's room.
Yovanna tells them that the real issue is all of them are fake. Kenya says they need to stick on topic and Yovanna says she didn't record Cynthia.
NeNe says it wasn't a recording. She says it was audio and no one has a recorder and tried to be sneaky with Cynthia. Things get heated and Cynthia and Marlo start arguing. After Cynthia almost storms off, Kenya gets Cynthia to stay.
Porsha and Yovanna clash.
NeNe says she's not snitching on anyone. In a green screen interview, when NeNe is asked if Yovanna is the snake, NeNe says she doesn't like that word. But Yovanna is the one with the "information."
After Porsha asks Yovanna if she's the snake, Yovanna says Dennis is the snake. This angers Porsha and she gets up to walk over towards Yovanna. They are restrained and Cynthia storms out the room.
NeNe follows behind Cynthia and yells her to come back. As she tries to tell Cynthia what happened, Kenya comes outside telling NeNe to come clean.
In a green screen interview, NeNe says she's not telling Cynthia it was Yovanna because Cynthia didn't tell her she was inviting Kenya to her event last season.
Kenya doesn't believe there is a recording and she's convinced NeNe is just lying to make Cynthia look bad.
Kenya and NeNe nearly come to blows.
NeNe and Yovanna go off to the side and NeNe urges Yovanna to just tell the truth. When they go back to Marlo's room, Kenya and Porsha want Yovanna put out.
After Yovanna and Porsha start arguing again, NeNe tries to talk to Cynthia. But Kenya interjects and says NeNe should have said who the snake is when she had the chance. NeNe tells Kenya to "shut the f*ck up" and they nearly come to blows. Security steps in and Kenya is escorted out with Eva and Cynthia.
NeNe eventually breaks free from security but they restrain her in the hallway as Kenya gets on the elevator.
Later, NeNe recaps to Tanya about what happened. And she says she's thankful that Porsha had her back and tried to cool her down. There's still hope for their friendship. She says her goodbyes as she has to return to the US for a comedy show.
Kenya and Cynthia talk about the drama.
The ladies get dressed for the carnival after an explosive night. Eva also left to go home and Cynthia wishes she could leave as well. She can't stand to be around Marlo.
Later on, Cynthia and Kenya talk about the drama. Kenya says she almost fought a "wildebeest." And Cynthia believes she "lit Marlo's a*s up."
Kenya also says NeNe was just doing "damage control" with Cynthia.
Cynthia and Kenya have information on Paul.
Kenya, Kandi, Cynthia, and Tanya grab a bite to eat. It doesn't take long for Kenya to bring up NeNe and she tells Tanya to recap everything NeNe said. In a green screen interview, Kenya says NeNe just wants everyone to be her friend again.
When Marlo and Porsha join the table, Marlo apologizes to Cynthia. Cynthia apologizes for calling Marlo out her name. In a green screen interview, Cynthia says that she doesn't really trust Marlo or think the apology is sincere.
After Tanya says that her relationship with Paul is perfect, in a green screen interview, Kenya says Tanya needs to be careful because no relationship is perfect. Not too long after, Kenya asks the women if they would want to know if their man wasn't being faithful.
All the women say yes and Cynthia says this is making her uncomfortable because she was with Kenya when a woman said Paul flirted with her and asked for her number.
When Kenya asks if everyone would want to know if their man asked for another woman's number, they all say yes including Tanya. In a green screen interview, Kenya says she's not going to tell Tanya what she heard because she'll find out on her own.
What are your thoughts on the episode?
View this post on Instagram
View this post on Instagram
View this post on Instagram
View this post on Instagram
View this post on Instagram