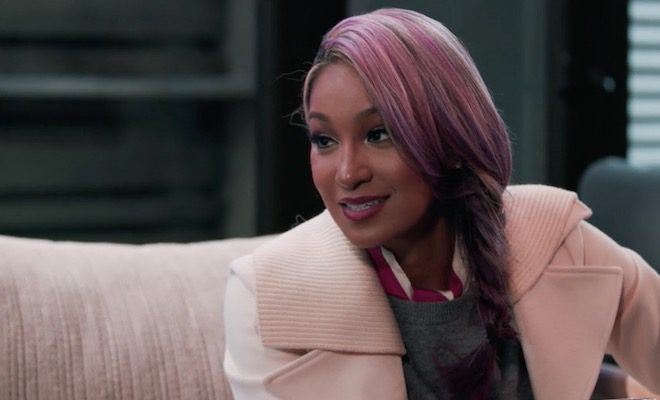 Rich Dollaz is the subject of allegations.
Olivia is back. She meets up with Chrissy after they haven't spoken in 7 years. Both of the women missed each other. However, Chrissy didn't like the fact that Olivia said that Chrissy was wrong in her feud with Yandy years ago. Regardless, Chrissy doesn't want to dwell on that now.
They catch up and Olivia says her mom died. It's been hard to deal with and Chrissy knows the feeling. She says people never get over their parents' deaths. They just learn how to cope.
When Rich is brought up, Olivia says that she found out Rich was taking money from her. When she was making money from the songs they wrote together, Rich kept all the money from her. This hurts her because she and Rich were best friends at the time. So she doesn't think they can ever be close again.
Mendeecees has bad news.
Yandy gets a call from Mendeecees. He tells her his release from prison has been held up because of paperwork issues. It's unfair and he thinks his paperwork may be at the place Yandy protested and was pepper-sprayed at. So they think that this is being done because Yandy protested.
Court is in Remy's future.
Remy goes to see her friend and manager TT at her office. She's upset that she was just accused of assaulting fellow rapper Brittney Taylor. Brittney used to be on the show. So Remy has been dragged back to court when she's so close to being off parole. Brittney said Remy punched her in the face at an event but Remy says that never happened. And TT knows this because she was there.
TT tells Remy that she will always be a target by people who want a quick bag. Although everyone believes the case will be dropped, the feeling of going back to court upsets Remy. But TT tells Remy to stay focused on her music.
Yandy meets with her friend Jamila. She's Yandy's business partner and spent some time in prison. They talk about what's happening to prisoners in Mississippi. In the videos, the living conditions are inhumane. Jamila says that her team is going down to Mississippi and they want Yandy to come to lend her voice.
Yandy then discusses what's going on with Mendeecees. She doesn't want Mendeecees to be subjected to more retaliation for her protests. This brings both women to tears. But Yandy decides to go to Mississippi with Jamila.
Olivia and PHresher have a plan.
PHresher wants to link up with Olivia. After seeing who PHresher has worked with, Olivia agreed to collaborate with him. In a green screen interview, PHresher says that Olivia falling out with Rich is a major reason why he wanted to work with her.
They discuss Rich and agree that he's dirty. Olivia thinks it's messed up that Rich persuaded Jennaske to end her business relationship with PHresher. So they agree to do a track together.
Tahiry and Erica talk about Tahiry's blowup at Erica's birthday party. Through tears, Tahiry talks about how she has to go to a breast specialist because she could have breast cancer. Erica consoles her. This deeply affects Erica as she lost her father to cancer.
Erica will go with Tahiry to get her mammogram.
Papoose is worried.
Remy meets with her lawyer Dawn. Dawn says Brittney's lawyer wants Remy to admit she assaulted Brittney. But Remy refuses and wants a trial. She's even willing to go to prison for a year if she loses because she knows she's innocent. Papoose doesn't like this and he doesn't want Remy gone again. Regardless, Remy is ready to fight for justice.
Jamila is on parole and she wasn't granted permission to travel to Mississippi to protest. But Yandy goes on with her plans to protest.
Erica goes with Tahiry to get her mammogram. Tahiry is glad to have her there because she's not on the best terms with her family. After the mammogram is done, Tahiry is told that she has to get a biopsy.
Rich and Olivia clash.
Tahiry is told by the doctor that everything looks good and she doesn't have cancer. She's thankful. But she will have to go back in six months to check again.
While Olivia and PHresher are in the studio recording, Rich walks in. Turns out PHresher invited him. It doesn't take long for Rich and Olivia to start discussing their fallout. Olivia tells Rich she knows he stole money from her and someone they knew told her so. And she called people they used to work with who said that all the money went to Rich's company. But Rich says that he owned the songs. So he didn't steal anything.
Frustrated by the conversation, Olivia gets fed up and walks away.
What are your thoughts on the episode?