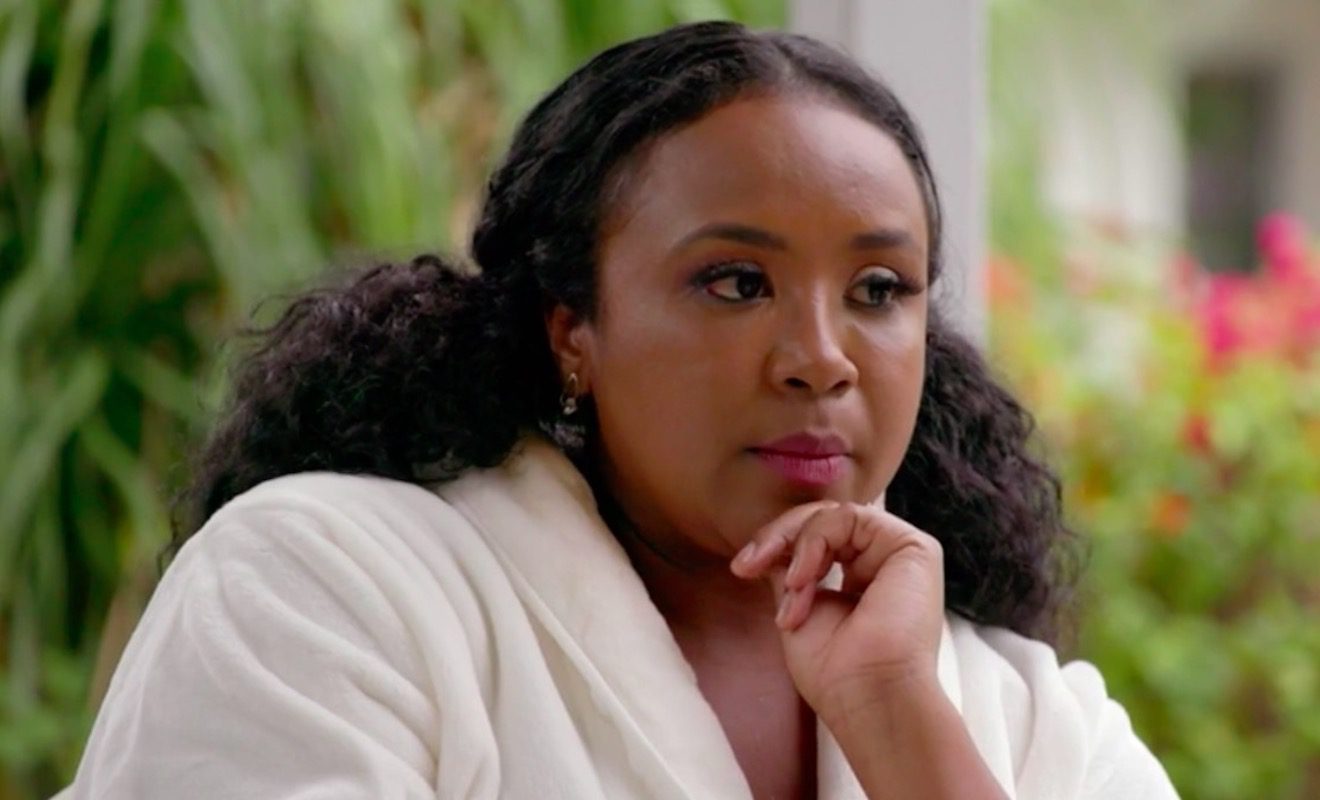 Kendra fires Jazmin.
While the women are still in Palm Springs, Jazmin books a party bike for everyone. The women drink, pedal, and enjoy the views of the city. Kendra gets irritated when Jazmin tells Kendra to pedal more. Kendra says she's doing her best but Jazmin strongly disagrees.
In a green screen interview, Kendra says that having Jazmin as her weight loss coach is overwhelming.
Jazmin says she's tired of wasting her time trying to help Kendra. So Kendra fires her and they start arguing. Jazmin says she has too much on her plate to not be taken seriously by Kendra. Since both women know that their friendship can't survive if Jazmin continues to help Kendra with her weight loss journey, they agree that no love is lost.
Jazmin addresses her husband's absence.
While the ladies are at dinner, Shanique tells Imani she doesn't like that she gifted Shanique with an air horn. After Jazmin says that Imani waited a long time to tell them what was going on in her marriage, Imani and Britten call her out for never bringing her husband around.
In fact, they have never met him before. The only person who has is Shanique.
Jazmin says her husband works a lot and sticks to a routine. While she would like him to come around the group, it's just not what he wants to do. After Britten jokingly asks if Jazmin and her husband can hang out during the upcoming weekend, Jazmin says her husband will be busy.
Hobart gets some advice.
Hobart, Robert, and Mack hang out. They talk about Imani's impending divorce. Hobart says that Kendra asks where that leaves them if Imani's marriage didn't work out. He also brings up the fact that Kendra wants to go back to working full-time. Hobart realizes now he wasn't being very understanding. Robert and Mack stress that black women look at having a career as a form of independence. So Hobart needs to understand that and try to do a better job hearing Kendra out.
Imani is a new woman.
The women go to a drag show. They have a good time and Imani gets really confident as she struts down the catwalk. It's clear to all the other women that Imani is becoming a new, confident woman amid ending her marriage.
The next morning, Jazmin and Lia come to an understanding that they have been misreading each other. So they are ready to move on from the pettiness. Apparently, this moment happened after they hung out in the hot tub the night before.
Imani realizes that the women have been very supportive of her divorce. She's thankful. And she says that opening up about it lifted a huge burden off her shoulders.
Britten gives Kendra a warning, Imani encourages Shanique.
Kendra talks to Britten and Jazmin about the job interview. She was going just to see what's out there and the job ended up being a perfect fit for her.
Meanwhile, Shanique breaks down in tears after she tells Imani she's scared to make the career change she wants to make because she doesn't want to miss out on spending time with her kids.
Kendra is going to take the job. She's going to sign the contract and start working without talking to Hobart. Britten says that this is a bad idea and she shouldn't do this.
Imani tells Shanique she's a great wife and mother so now it's time for her to be selfish.
What are your thoughts on the episode?
View this post on Instagram