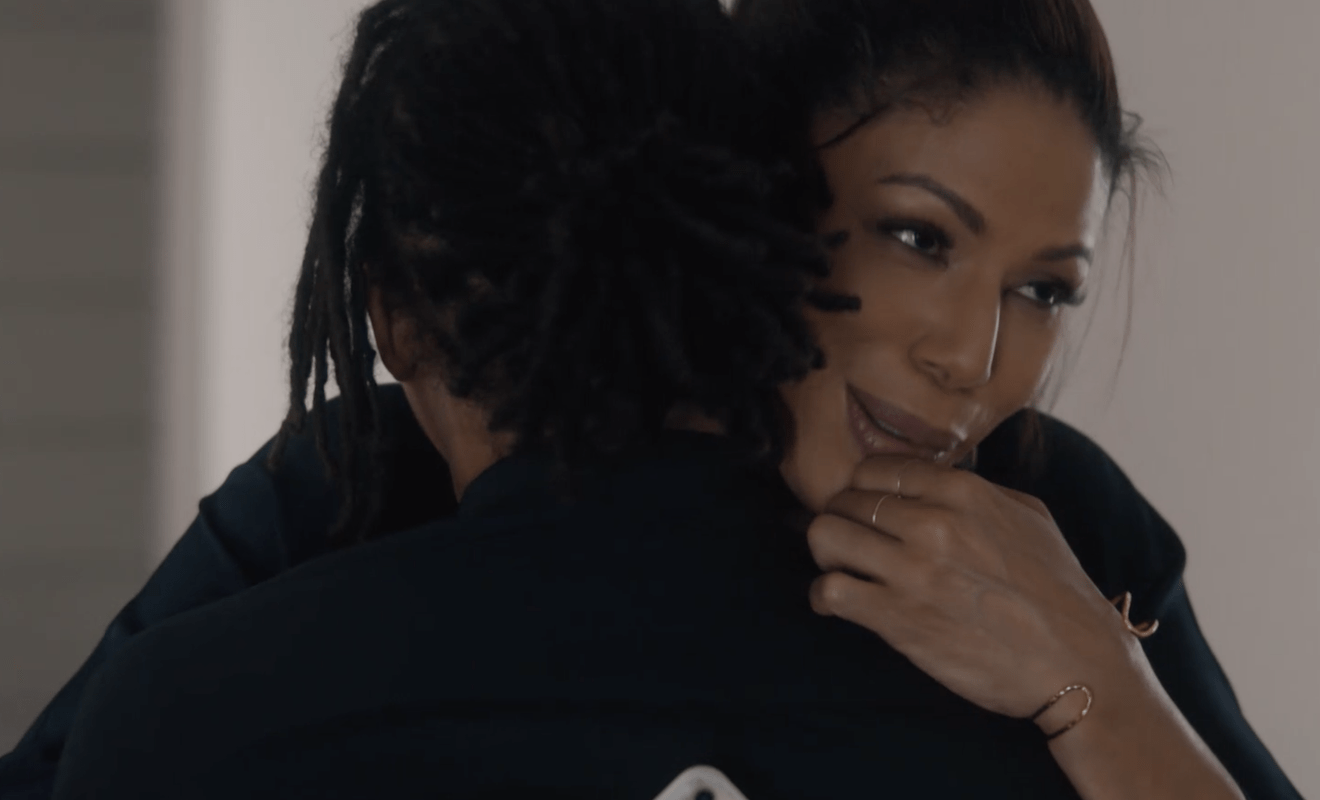 James passes away.
The series finale begins where last week left off. Mae is laying with a still James. She leans over to his nightstand and sees the ring James was to put on her left hand. She puts on the ring and gives James one final kiss on his forehead.
Meanwhile, Grace is talking to Sophia about possibly changing schools when Ann Halladay calls. Ann took a job in New York and she wants to offer Grace a media job. However, things change when Mae steps into her room to deliver the news.
Everyone is surrounding James and Mae in tears in their bedroom.
They ended up having a small funeral with just the family surrounding Mae at James' gravesite on the family property. Charity's singing her soul out while Mae's placing flowers at the base of James' tombstone. They then all slowly walk back to their house.
Calvary reaches out to Mae.
Next, they have breakfast and leave James' seat at the table empty. They all exchange stories about James. Meanwhile, Mae gets a phone call and steps away. When she leaves, Grace leads a toast in James' honor.
Misty calls Mae and says the Board met at the church. Connie wasn't at the board meeting and they want Mae to lead service at the church on Sunday. The board wants to celebrate James, Mae, and their legacy. Mae agrees to do this.
Next, Noah and AJ take Grace to see their new place. He also got a new job as head of campus security at a nearby college. Noah offers Grace a place to stay as Mae may still be giving Tara the house. Outside, Grace gets a call from Darius and AJ wants to meet him. AJ's health is improving thanks to the doctor Grace referred him to and he's happy about it. So he is looking forward to getting to know Darius.
Back at the mansion, Jacob and Kerissa are talking. Kerissa is going to be looking for a new place. She offers to leave and Jacob suggests she stays behind. But Kerissa doesn't want to confuse anyone by staying. Their relationship can't be saved. She understands this now. Before she leaves, Kerissa insists this is a "happy ending" for them and Jacob agrees.
Later on, AJ, Sophia, and Zora are contemplating what happens after death. Sophia and Zora share their theories but AJ is too focused on living. Meanwhile, Darius is over and Grace talks to him about her future plans. She's unsure about taking the job Ann offered her because of her kids and Darius. Darius tells Grace that if she took the job, he would "accompany" her to New York. This causes Grace to cry as they console each other and cuddle.
Grace is nervous about the major job offer.
The next morning, Mae tells the family about her sermon Sunday and she wants all the kids present. While she's talking, Ann calls. Grace ignores the call at the moment and Ann leaves a voicemail. Everyone notices Grace getting the call. At the church, Karine greets Mae and welcomes her back. Inside, Karine leads her to James' office. Inside, Karine had the office set up as James had it before the H&H take over. When Karine leaves Mae to herself, she takes it all in.
At Tara's church, Jacob tells Tara that James suffered a major stroke at the time of his passing. Jacob also relays a message to Tara from Mae asking for three months to move out. Tara, appreciative of Jacob's and Mae's openness with her, wants to call it all even.
She no longer wants the house. Jacob is shocked to hear this.
Meanwhile, Grace set up a trust fund for AJ and Sophia with Aaron's help. Meanwhile, Ann calls Grace again and Grace ignores the call. Grace then tells Aaron about the job offer. She also tells him that she's avoiding the call because she knows she can't tell her no. Aaron gives her advice on how to handle it, telling Grace to not avoid her.
Back at home, Jacob tells Mae what Tara said. This makes Mae very happy.
Mae's sermon moves Calvary.
It's Sunday at Calvary and it's packed for James' memorial. Inside, Jacob runs into Tara who's there to hear Mae speak. Jacob thanks Tara for everything.
Next, Charity leads the congregation in music worship before Mae speaks. When Mae does being to speak, she's greeted by a standing ovation from the whole congregation.
Mae begins her speech by saying she misses James. Her sermon moves Calvary as she focuses on "the new." She inspires everyone to think about what the future of the church could be. The sermon really touches her family who's still grieving James. In the end, there wasn't a dry eye in the church and Sophia tells Grace, "I think our work here is done." When the altar call happens, AJ and Grace walk up and AJ seemingly gives his life to the Lord.
Grace accepts her next journey.
After church, Grace meets with Mae in the office and tells Mae that the Deacon board wants Mae to lead the church. She also gives Mae news about the job in New York. Mae wants Grace to stay. But Grace pleads with Mae, telling her it's time to leave.
Eventually, it's time for Grace to head to New York for an interview. Grace remains humble but everyone else knows the interview is a formality. The family wishes Grace well as tears are shed. As her car drives off, she blows everyone kisses as they wave. Her driver calls her Pastor Greenleaf and she tells him, "it's Grace Greenleaf now."
The episode ends as they drive off with the compound gate slowly closing behind them.
What are your thoughts about the series finale?