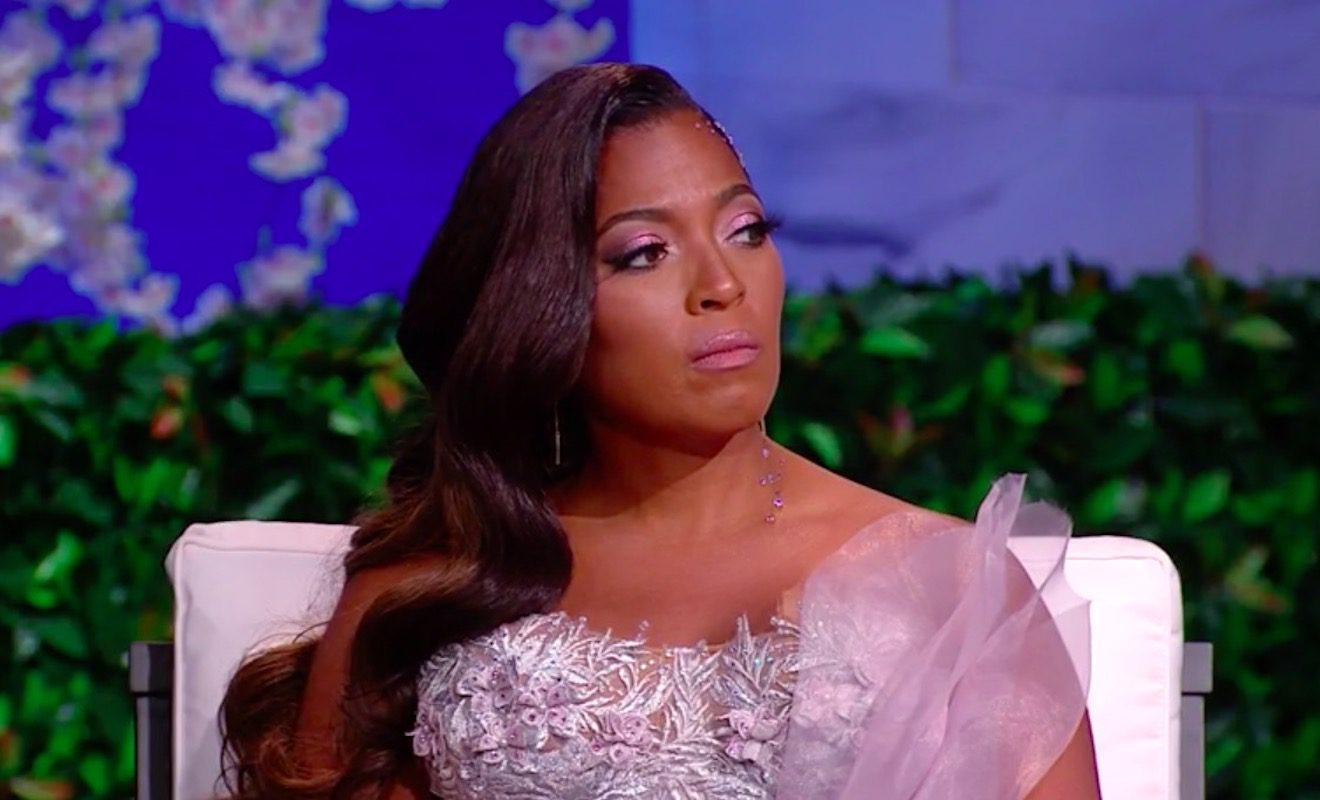 Scott continues to confuse everyone, Eugene speaks on his scary Covid experience.
Andy asks Scott what the truth is about the life coach situation. Scott says he lied to Contessa when he told her he has a female life coach and they have been talking for several months. Backstage, Contessa says she has no idea what the truth is because Scott constantly changes his answers. She also says they have until her birthday next year for things to change or it's time to end the marriage.
Everyone returns to the stage. When they discuss the impact of Covid, Eugene says that he had a more intense experience with Covid because he's the only ER doctor there. He saw a lot of death, so it was a really stressful time for him and Toya.
Curtis points out the hypocrisy.
They discuss the fact that Eugene was upset about Quad and Heavenly coming for his and Toya's finances. He tweeted about it and Heavenly says that men should not respond and instead go to the other husbands when there is an issue. For Curtis, he questions why it's okay for the women to come for the men and they aren't allowed to respond. Quad doesn't regret tweeting that she'll buy Eugene a skirt if he wants to be in "women's business." Eugene tells her to make sure it's expensive. Andy then asks if she's saying a man should wear a skirt and heels if he responds to a woman. Quad says that she can go toe to toe with anyone so it doesn't matter.
Scott and Contessa say that they are going to have to get counseling at this point. And the rest of the cast is hopeful that they can save their marriage.
Heavenly throws a jab at Kari.
Quad responds to Heavenly saying she pities Quad for not having a husband and kids who love her. And she says that a lot of people love her including Heavenly.
When Andy asks a fan question about Kari handling Heavenly, Heavenly said she had to hold back because she didn't want to say anything too nasty like she heard Kari slept with her husband Duncan while he was married to another woman at the time.
Some friendships will be saved, and others not so much.
Heavenly and Toya say they can move forward and spend more time together. Toya also says she can move forward with Anila as well.
Quad says she's still mad about the comments Toya made about her apartment even though Toya apologized. And Quad once again says she bought a house on her own and she didn't have to "beg, borrow, and steal" to get it even though she's part-time on the show. And she's "The Queen." Toya is over it.
Simone says she and Jackie will continue to work on their friendship. And she has hopes about working things out with Heavenly as well.
And Contessa and Scott will keep working on their marriage.
What are your thoughts on the season finale?