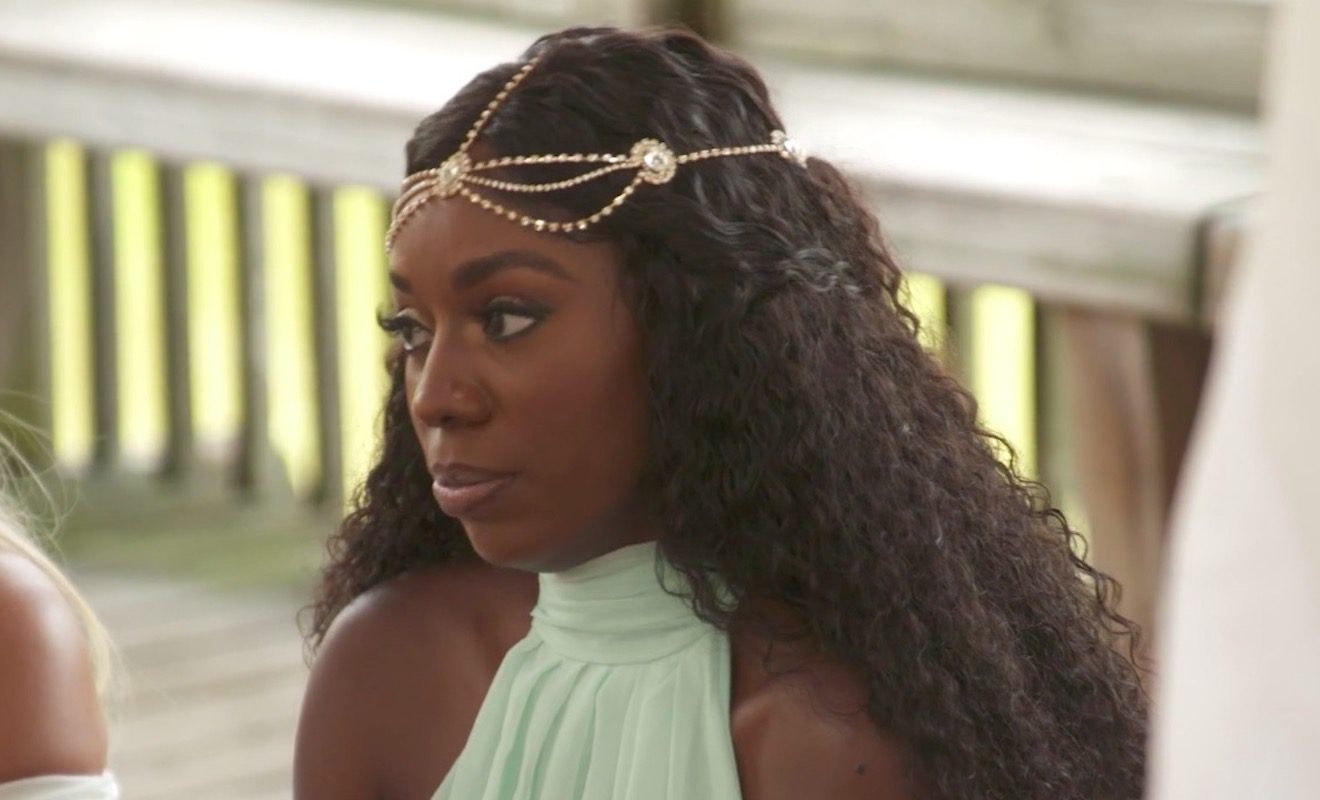 Robyn isn't here for Gizelle's shady invite.
Gizelle talks to Robyn about their upcoming event for their podcast. It's going to be outside of Gizelle's home. Even though Gizelle appeared to hash things out with Karen and Wendy, she doesn't want them to come inside her home to use her bathroom. Robyn tells Gizelle she's not going for this. So Gizelle changes her mind and says she will let them use her bathroom.
Karen's publicist comes over so they can discuss the prototypes for her 3 wick luxury candle. It will be included in her home essentials kit. Things are moving forward nicely. And she thinks it's plenty of room for her and Wendy.
Mia rubbed Candiace the wrong way.
Back at Candiace's house, she asks Miss Dorothy what Mia said at the video shoot. Dorothy says she doesn't remember all she said but it's not like Mia just came with personal questions. They were having a conversation. And she doesn't think Mia was coming from a place of malice.
When Chris comes around, he says that people just don't understand their marriage. And working together isn't an issue because they have a prenup. Chris also says that Candiace has never paid any of his bills and Dorothy rolls her eyes.
Candiace thinks Mia crossed the line and she takes issue with her asking Dorothy if Chris is getting paid to manage her.
A tough childhood made Mia more ambitious.
Mia has an ice cream date with her mother, husband Gordon, and children. In a green screen interview, Mia says her mother spent some time in prison. She also tells her mother that her not being around when she was young has motivated her. Mia is happy to see her mother's growth but it does hurt that they missed so much time together.
Wendy invites Askale and Karen over to help her prepare school supplies for charity. They briefly discuss Mia's actions at the video shoot. Askale thinks Mia was wrong to ask Dorothy about Chris. And Karen just thinks Mia is a very direct person and her intentions weren't messy.
They also discuss the invites Gizelle and Robyn sent out for their upcoming event. Gizelle mentioned haters also being invited, and Karen and Wendy wonder what there is to hate on.
There is still tension between Wendy and Karen.
Gizelle injured her foot while trying to prepare for the event. So she's sporting a boot.
At the event, Robyn and Gizelle announce they have a podcast together entitled "Reasonably Shady." Robyn is the reasonable one and Gizelle is the shady one. They have recorded three episodes so far and it's on iHeart Radio.
Gizelle tells them that she wasn't going to let Wendy and Karen come inside to use the bathroom. Wendy then says that she wasn't going to come at first. Gizelle then recalls Wendy shading her house and Wendy says she never said anything about Gizelle's house, just her fashion choices.
The tension remains thick between Wendy and Gizelle. Robyn and Ashley go off to the side and Robyn says Wendy is being very "standoffish."
The video shoot drama is discussed.
Karen pulls Mia to the side and tells her that people took issue with her comments at the video shoot. And Mia realizes it's Wendy who went back to Candiace to repeat the information.
Gizelle brings up what Mia said at the shoot. She says it was messy for Wendy to go back and tell Candiace the day of the shoot. But Wendy says it was right to tell a friend what was said. Mia also thinks the timing was shady but she doesn't regret what she said.
Candiace and Mia clash.
When Candiace arrives, she says Wendy was just being a real friend when she told her what Mia said at the shoot. Robyn says the timing was just plain wrong.
Candiace questions why Mia thought it was okay to ask if Chris was getting paid at the shoot. Mia says that things weren't necessarily being run professionally and she just wanted to make sure that the video wasn't "low budget." In response to this, Candiace says Mia's mother is low budget. In a green screen interview, Gizelle says this isn't cool because of what she knows about Mia's childhood.
Robyn doesn't think it's an issue if Candiace was paying Chris for his services. Candiace tells Mia that she was defending her when the other women there were talking behind her back. But in the future, Mia doesn't have to come to any of her events anymore. Mia says she's fine with this and the group moves on.
Wendy keeps applying pressure to Gizelle.
Wendy says she knows that the women discussed her at Robyn's birthday dinner. Candiace told her so. Robyn says it wasn't anything shady and they were talking about where Wendy stands in the group after the blowup over the rumors about Eddie. Gizelle doesn't understand why it became such a huge issue and Wendy reminds her that the same blog accused Gizelle of having an STD. Gizelle quickly says that she actually doesn't and things get even tenser.
At this point, Wendy feels like Robyn and Gizelle are trying her. She gets into an argument with Gizelle and Gizelle says she wants Wendy to leave because she won't be disrespected at her house. Askale chimes in to say that they are gaslighting Wendy. Mia tries to interject and words are exchanged between Askale and Mia. Askale calls Mia a "hoe" and Mia calls her insecure.
Wendy informs the women that she is planning a couples trip but she expects Gizelle and Robyn to just come with their luggage. So Gizelle's really over it at this point and encourages Wendy to head back home. Karen leaves with her but she's blocked in by Candiace's car.
Candiace tells Grace to move her car and the ladies have a laugh at the intensity of the young driver.
As for Gizelle, she has no interest in attending Wendy's couple's trip.
What are your thoughts on the episode?