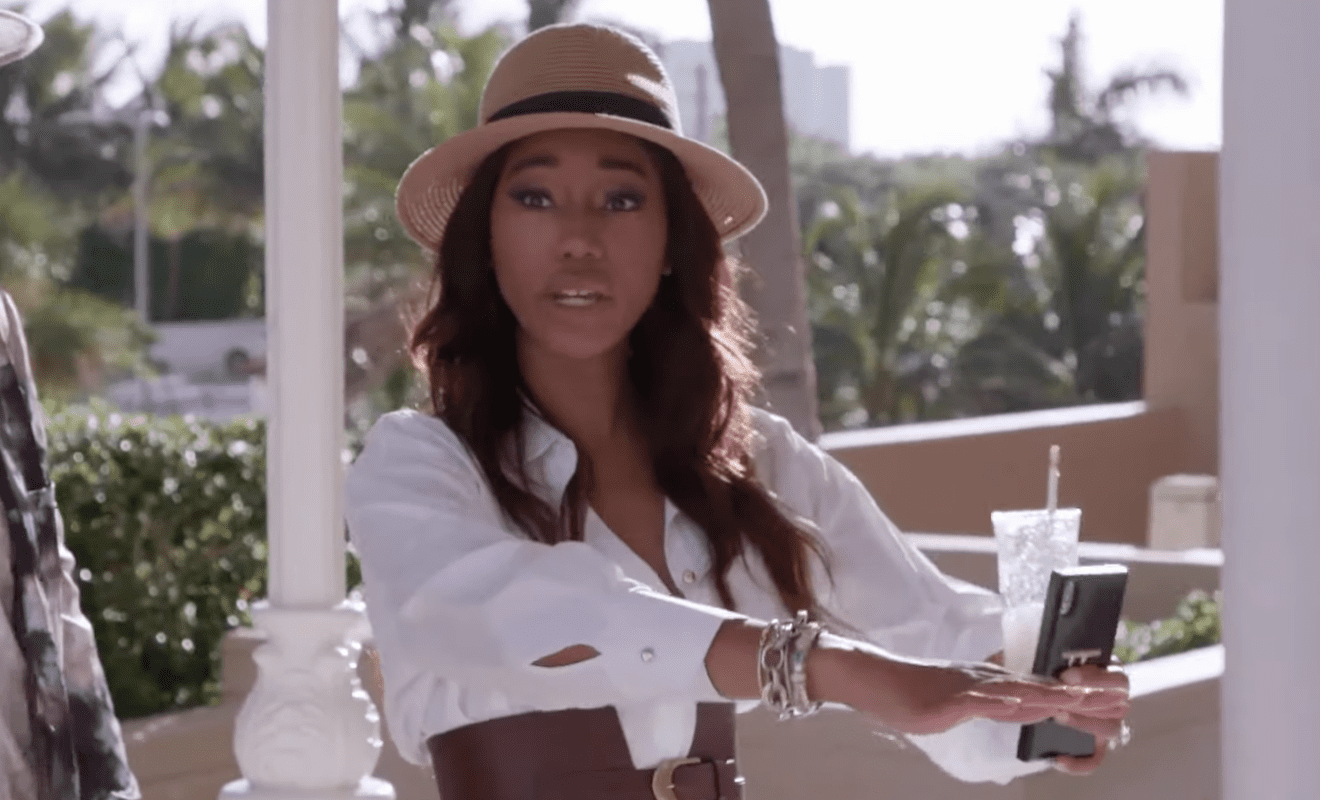 The wedding planning is starting to stress out Shawn and Tee Tee.
Shawn and Tee Tee are in Miami. They're out on the water when they're recapping their joint bachelor/bachelorette weekend. But things get tense when they talk about their wedding plans, including the guest list. Shawn doesn't want to be stressed about the wedding and isn't seemingly giving Tee Tee assistance with the guest list. This lack of help is frustrating to Tee Tee.
Meanwhile, in LA, Jojo's not feeling well. Tanice is taking care of him and baby Joey, adding more things to her plate. Despite being sick, Jojo wants to set up an outing with Boogie and his new lady. However, Tanice doesn't seem too interested. They end up having an argument themselves when Jojo asks Tanice to pick up medicine for him.
Egypt opes up to Boogie.
Back in the studio, Egypt and Sam are working when Eric and Boogie stop by. Sam's trying to hook up an artist he knows with Eric and his label. Things turn serious when Sam tells them about his current legal issues. They also talk about Shawn and Tee Tee's upcoming wedding. Sam says he's not going and Egypt reveals she wasn't even invited.
Later on, Boogie and Egypt catch up outside the studio. Boogie checks in on Egypt and provides a listening ear regarding Sam's legal issue. She's really concerned about how Sam would be treated in prison if he gets locked up. Boogie's worried also.
Maureen gives Tee Tee advice.
Tee Tee and Maureen make it back to LA. While drinking wine, Tee Tee reveals to Maureen she's having so much stress about the wedding and how Covid's affecting it all. She really wants her grandmother present but is extremely worried about her catching Covid. Maureen also asks if Shawn will have to go back to Jamaica. His company is a major investor in hemp on the island and it's taking up a bunch of his time. It's to the point where Shawn would be away from Tee Tee for months at a time.
Maureen advises Tee Tee that she may need to reconsider her stance about living in Jamaica with Shawn.
Later on, Egypt and Sakoya are out getting to know one another while bowling. Sam's with them and they're joined by Tiny, Devin, and Layzie Bone. During their night out, Layzie hears about Sam's legal issue and Layzie pulls him aside to talk about it. Sam tells him what happened in detail. Layzie gives him some valid advice, including taking it easy with drinking.
Meanwhile, Sakoya and Tiny talk to Egypt about how she feels about the situation, and Egypt tells them when she was there with Sam. Tiny says she experienced a similar situation with her family.
Jojo feels stood up by Tanice.
Meanwhile, Boogie and his date Adrienne make it to their salsa night with Eric and Aaliyah. Jojo pulls up a little later but without Tanice. He couldn't stay out too long because Tanice couldn't make it. Eric follows Jojo outside and he reveals frustration surrounding Tanice standing him up. Eric lets Jojo know Tanice may still be going through postpartum depression. Yet, Jojo is concerned about his marriage.
Later on, Shawn and Tee Tee are back in Miami with family and they're scouting potential wedding venues. Shawn seems to dislike the location and this annoys Tee Tee. In fact, she calls him a brat. She also has a tense conversation with her aunt when Tee Tee reveals Tyran isn't vaccinated. Her Aunt says Tyran can't come.
Next, Tee Tee decides to compromise about where the wedding will be; on the beach in the sand.
Jojo and Tanice argue.
Back in LA, Jojo and Tanice are waking up after their disagreement. Jojo brings up how he felt was stood up at the salsa class and this caused another argument between the two. Tanice says she couldn't make it because her childcare called out and she had to put their baby to sleep. She says it wasn't that serious but Jojo's upset about it. She apologizes but says it has nothing to do with postpartum or baby Joey.
The scene ends with the couple arguing once more.
Lastly, the episode ends with a major situation involving Briana. Briana records a tense Instagram live as LAPD storm into her apartment. She says she was wrongfully arrested and almost shot in front of her son.
What are your thoughts about the episode?
View this post on Instagram
View this post on Instagram