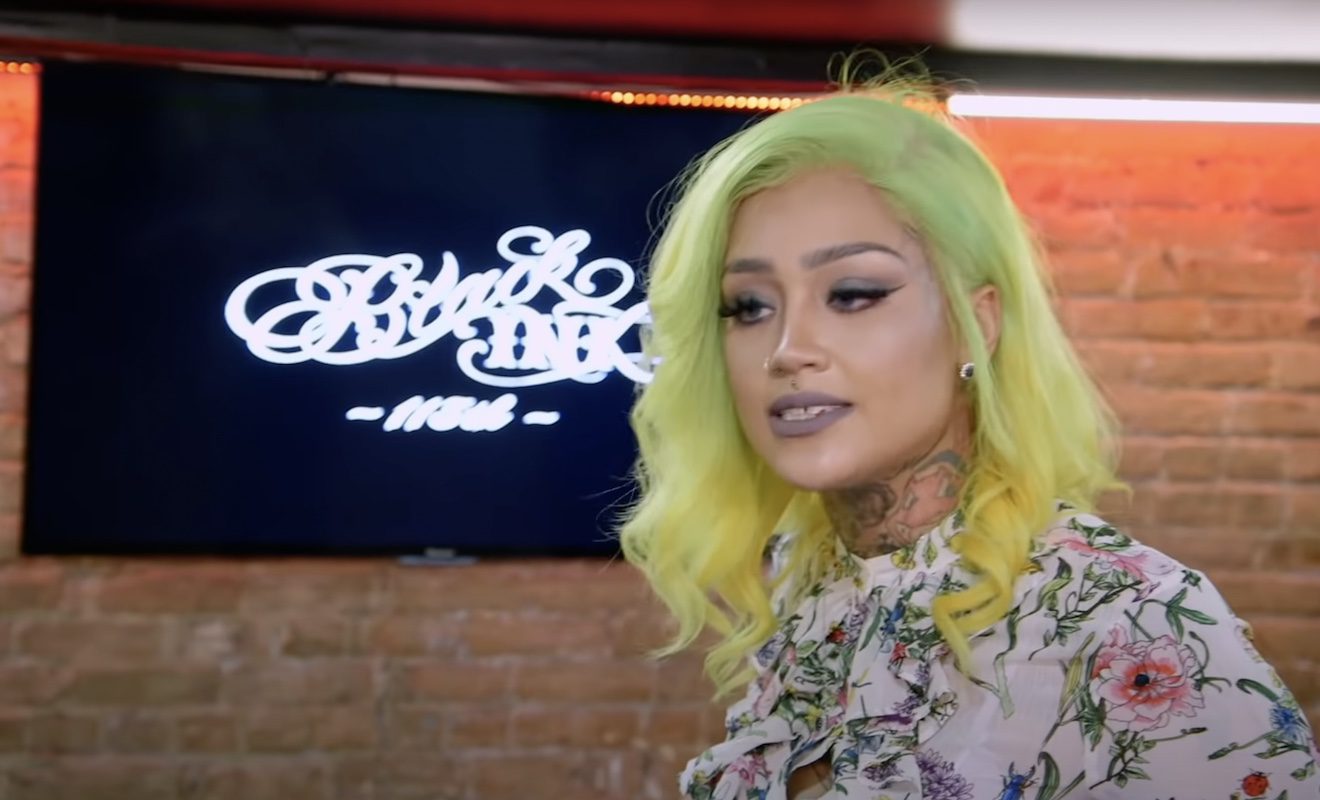 Donna has been getting called out for her actions.
Miss Kitty caused a stir on social media months ago when she said Donna had been fired from "Black Ink Crew." She didn't reveal what led to her termination, however, it was all addressed on the recent episode. Ceaser and the others took issue with Donna's relationship with Alex. They accused her of being abusive after Alex had a scratch on his face and he told them that Donna was responsible.
On the recent episode, he changed his story. He said he lied because he was upset with Donna at the time. But what actually happened is they were arguing while he was shaving. And since things got so tense, he accidentally cut himself.
Well, Ceaser and the others weren't buying this. In fact, Puma said that the alleged situation just proved that double standards are still an issue. And if it was Alex who put his hands on Donna, the matter would have been taken more seriously.
On top of that, Ceaser and Young Bae didn't like the comments Donna made on Instagram after Asians were killed at an Atlanta massage parlor. In the comment, Donna wrote, "They sucked him off too good man ?‍♀️."
Donna regrets the comment she made on social media.
Although Donna went on to apologize to Bae for the comment, Ceaser has decided he no longer wants her to be in the crew. So he's banned her from all of the shops. It also seems as if Donna's time on the show is coming to an end and this will be her final season.
Puma took to Instagram to share his thoughts. And he feels as if Donna's issue is she never takes accountability for her actions. He wrote, "Word of the day is accountability…if he woulda been putting hands on her then what? She needs help. Let's hope she gets it.
Donna slammed Puma and Ceaser on social media.
After Puma's comment was reposted on Reality Entertainment TV's Instagram account, Donna decided to respond. In one comment, she wrote, "Funny how I need to be held accountable, but no one else. Be accountable for s*cking NUTS! Tf y'all n*ggas just want a storyline to make y'all look "woke" ?. "
She continued, "N*ggas finally started getting their hair retwisted, now he's God & Gandhi. GTFOH. NO ONE ON THAT SHOW KNOWS ANYTHING REAL ABOUT MY RELATIONSHIP. Nobody said sh*t when they tried to break this n*gga's back and I was there holding us all the way down. So yeah, mind y'all business. They was really mad cause we went to Costa Rica while he was in the house having pool o*gies in Atlanta ?."
Donna then went on to make accusations about Ceaser in another comment. She wrote, "They just needed someone to deflect to. Ceaser literally lost rights to see his daughter because he was FOUND GUILTY OF CHILD NEGLECT IN THE STATE OF NY! Literally found guilty of DA, but now I'm the one who needs help? Crazy. And all of them are parents too, that's the wild part."
You can check out all the screenshots here.