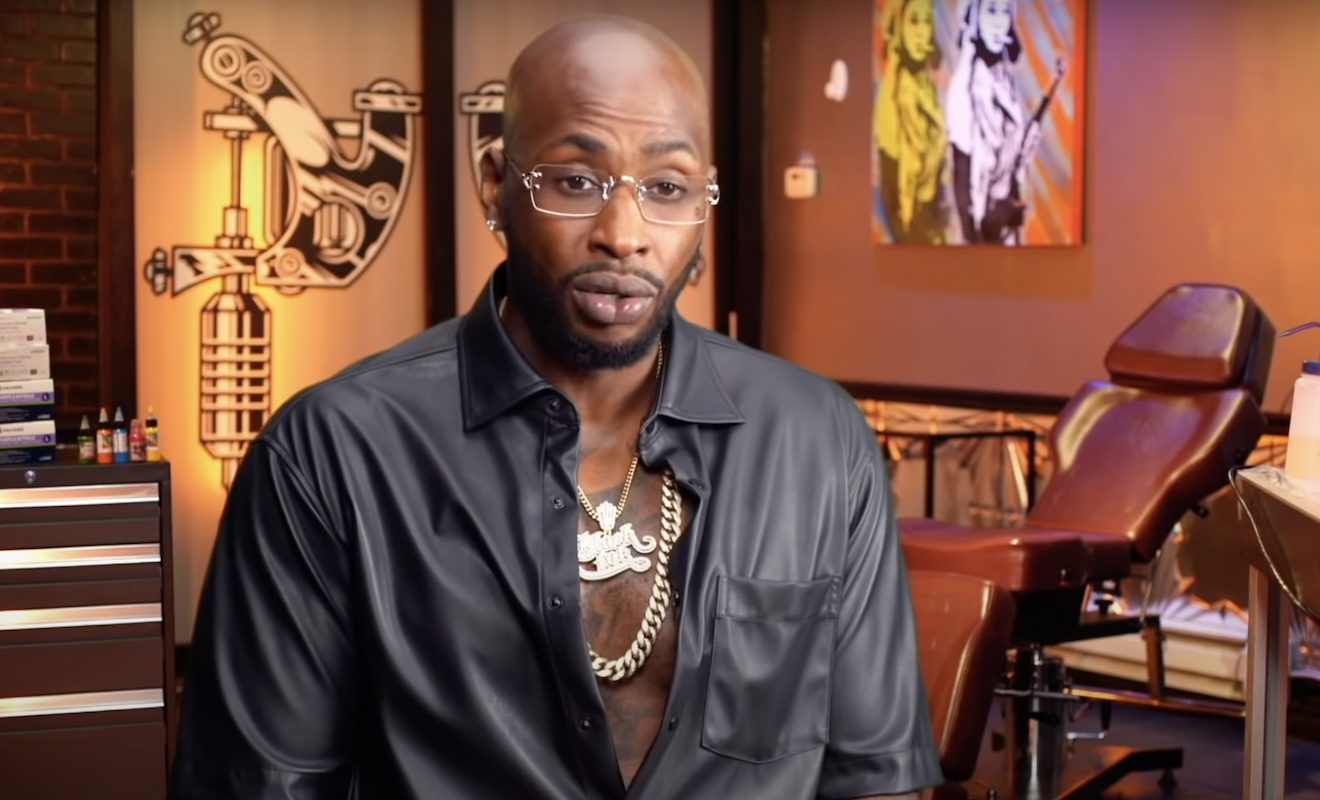 Teddy doesn't attend Ceaser's press conference.
It's the day of Ceaser's press conference. His girlfriend Suzette and his mother Desiree are in attendance to show him some support. In a green screen interview, Ceaser says he hasn't spoken about the situation publicly because his lawyer told him not to. However, he will now speak about the situation to the media so he can get his side out. 
Desiree tells Ceaser not to have any second thoughts about what he's getting ready to do. She has never seen him harm his daughter Cheyenne in any way. She's proud to be his mother and she knows that he will get through this difficult time.
Ceaser is grateful for his mother's support because she's had a couple of brain surgeries. So it's a lot for her to travel without being able to get on a flight.
Suzette questions why Teddy isn't there. Ceaser is confused by his absence as well. 
Teddy thinks Ceaser is taking things way too far.
Walt and others receive a text about the press conference. Walt tells Jess that it's sad to see things play out the way they did between Cheyenne and Ceaser. Even though he's not on the best terms with Ceaser, Walt plans to reach out and check on him. 
Turns out Teddy didn't go to the press conference because he doesn't agree with Ceaser's actions. When a producer asks Teddy why he didn't show up, Teddy says, "Are you f*cking kidding me? Do you see this sh*t? I refuse to stand next to Cease while he does this dumb sh*t. This is not the way to get your daughter back."
Walt and Ceaser end their friendship.
Ceaser and Walt meet up in New Jersey. Walter talks about taking money from the shop. He still denies robbing the place and taking $5000. Walt only takes responsibility for taking $400 because he was behind on child support payments. While listening to Walt speak, Ceaser realizes they will never be able to be close again. The trust is gone. So Ceaser wishes Walt well but he confirms Walt is still out of the crew. But he wishes Walt nothing but happiness in his future. Their friendship cannot be saved. 
In a green screen interview, Walt says he's grateful for all the memories he has with the crew and the highlights of his time on the show. For Walt, these people will always be family. But it seems as if Walt's time on the show could be coming to an end.
Spyder and Rok make peace.
Tatti throws a shindig at her house. She invites her Black Ink family and her close loved ones. Puma pulls Spyder and Rok aside to hash out their issues. Rok can admit that he and Krystal have been dropping the ball at work lately. So they do need to tighten up. Spyder admits his stress over his medical issues caused him to lash out. The two men apologize and agree to do better moving forward. 
Tatti has her own important side conversation. She pulls Ceaser aside to tell him about her legal woes. When she was arrested a couple of years ago, she had no idea her phone was tapped at the time. So she's now been dragged into a major drug trafficking investigation. 
Surprisingly, Ceaser says he's not going to judge Tatti nor does he have any plans to cut her off. What he feels Tatti needs is support. He's been in her shoes before.
Teddy comes clean to Ceaser.
Ceaser and Teddy finally have the conversation they have been dreading. Teddy says he didn't show up to the press conference because he didn't agree with it. He wants to remain neutral because he's still very close to Cheyenne. His ultimate goal is to be the bridge that brings Cheyenne and Ceaser back together. And he doesn't think Ceaser needs to sue Crystal because that would upset Cheyenne. Regardless, Teddy still wants to be there for Ceaser. But he would prefer they walk this path together. 
What are your thoughts on the episode?