Gizelle Bryant and Candiace Dillard Bassett's friendship is over.
"Real Housewives of Potomac" fans have a lot to say about the reunion. Candiace Dillard Bassett is furious over the accusations Gizelle Bryant made about Chris Bassett. Gizelle said that Chris made her feel uncomfortable at the previous reunion. She said Chris approached her about needing to talk in private. He wasn't happy with how things were going at the time. But Gizelle didn't like that she was speaking to a married man alone in her dressing room. As the season progressed, the accusations increased. Gizelle eventually accused Chris of groping Ashley Darby's friend. She later said that she misheard. Regardless, Chris said that the damage had already been done to his reputation when this was addressed at the reunion.
Gizelle did apologize for saying that Chris was acting like a "sneaky link" and it seemed like he was trying to see if something could happen. However, Candiace was unmoved. She felt the timing was too convenient. But what bothered Candiace the most is Gizelle didn't understand the difference between Chris actually doing something versus Gizelle having her own feelings about the situation itself.
Candiace Dillard Bassett addressed colorism at the RHOP reunion.
In Chris' case, he and Candiace do not feel like he did anything wrong. And Gizelle waiting to discuss this until filming began was dirty. At the height of her annoyance with Gizelle's lack of understanding at the moment, Candiace went off.
She said, "You are a garbage individual. You have no soul. The fact that you would sit up here and act as if are the victim, you are the reason that women cannot come forward with sexual assault and sexual misconduct allegations. Because you sit up there with your privileged, white looking *** and think you can say whatever the **** you want to say. And no one is going to bat an eyelash."
Candiace later added, "Your proximity to whiteness helps you to be able to sit up here and tell these lies!"
Chris Bassett said more on Twitter.
Wendy Osefo stepped in to tell Candiace that her words could imply something she doesn't intend after their colorism conversation. However, Candiace stood firm.
She said to Ashley and Gizelle, "Within the conversation, there has to be room for the argument that someone who looks like me making accusations about sexual misconduct is not often taken as seriously as someone who looks like you or you. That was the point I was making. Did I say it in a way that was inflammatory? Yes. Am I sorry? Honestly, I am not."
Candiace continued, "I have a level of vitriol and hurt directed to this person for the way that she has chosen to conduct herself that you could not maybe understand."
Well, some fans agreed with Candiace's comments. Others were outraged.
A Twitter user wrote, "Now Candiace…you are married to a white man. There's a 99.8% chance your kids will be the same complexion as Gizelle. So basically, white-looking. I'm curious to know what you will teach them about how to navigate the world being white-looking & privileged.🤔 #RHOP"
In response to this, Chris tweeted, "Wow????? really? So because SHE has said she experiences colorism within this group…she can't marry a white man?? And whatever children we have, she will be able to educate to NOT be and act like some of these women do towards the darker skinned ladies…come on man."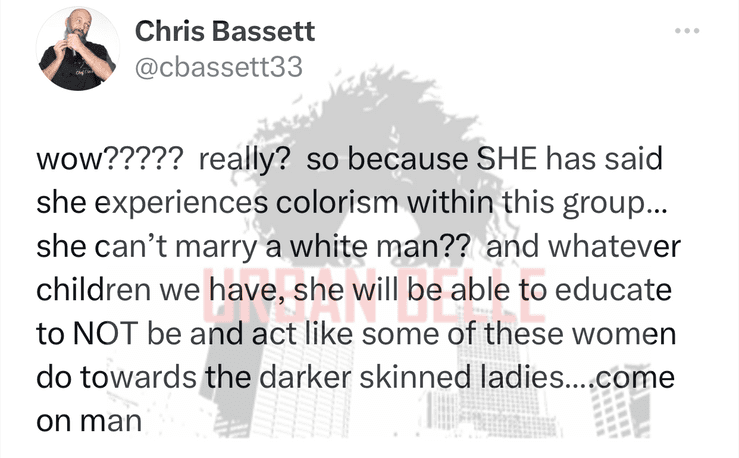 Another Twitter user tweeted Chris about not understanding why Ashley and Gizelle didn't understand Candiace's point, "Wow. That was intense. Candiace was 1000% accurate. How come I understand exactly what she's saying but g and a can't? And…You are so decent."
Chris replied, "They do…they just choose not to admit it for fear of being judged more harshly. It's easier to play dumb."