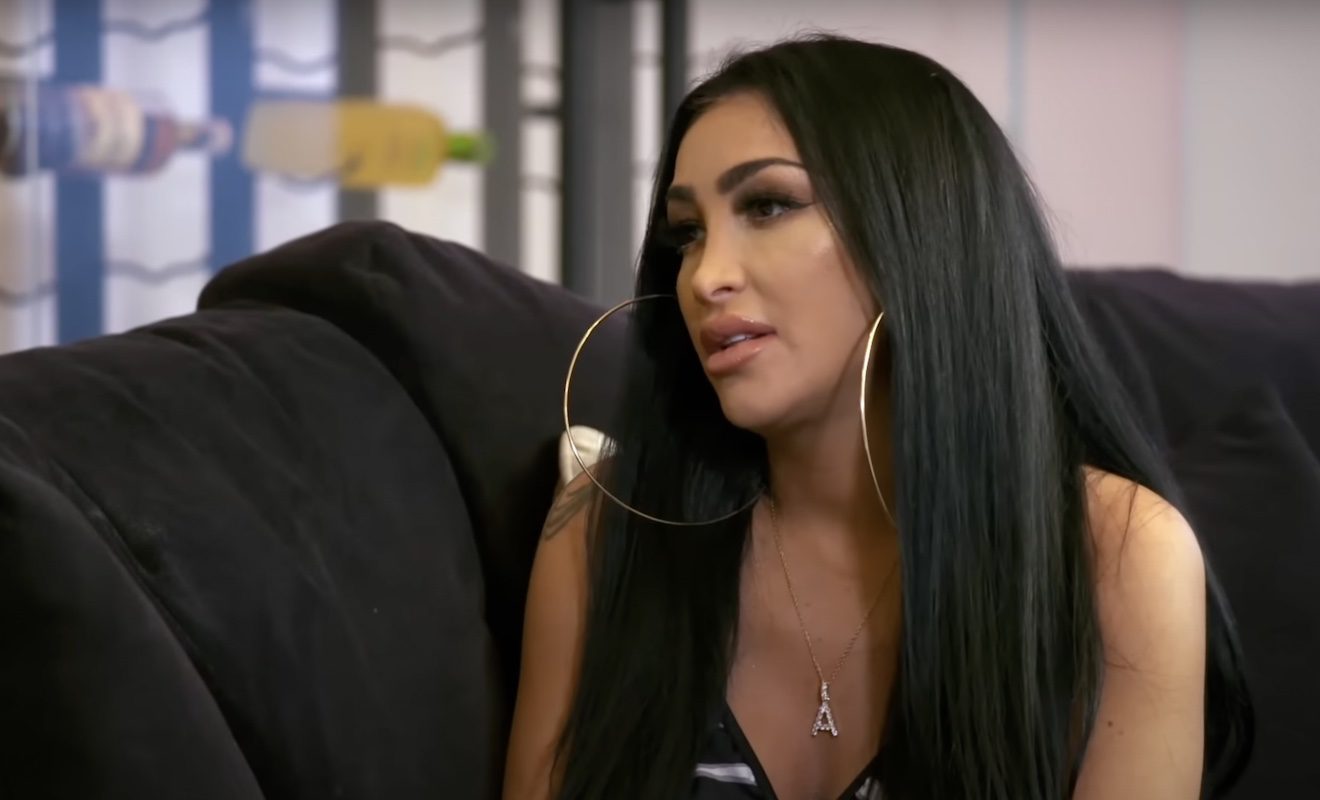 Roccstar and Angel Brinks opened up about their romance on "Basketball Wives."
"Basketball Wives" star Angel Brinks opened up about her romance with Roccstar during the recent season. It was clear that they had hit a rough patch in their relationship during the pandemic. And at times, the other women on the show noticed. So it was unclear if they would be able to get things back on track. However, both were excited to learn they were having a baby. The news was the beginning of them moving on from the tension and strengthening their bond. Roccstar even called out Angel's costars when they caused some drama for her at their baby shower.
Well, it looks as if Angel and Roccstar are done. Hours ago, Roccstar took to Instagram to blast Angel. He accused her of being unfaithful with a "scandalous" past.
Angel Brinks was accused of lying and messing around with multiple athletes and rappers.
On Instagram Story, he posted, "Due to recent findings, I need a DNA test 🧬 I have to question everything at this point. Pray for me. Imagine having to test the thing you love most in this world because the mother is a cheater. At 43 who cheats this old? Smh I'm going through it. I feel horrible for my son. I'll explain on my page in a minute but I'm heartbroken 💔."
He added, "I was there man I ain't deserve this. None of these ****** was there for none of these kids' births, I was I ain't deserve that!"
Eventually, the accusations became even messier.
Roccstar wrote, "My son's mom from basketball wives that y'all all know is heavily scandalous!!! Got caught cheating on me in our house in the movie theater with a *****! You're 43 with 3 baby daddies been with me for 3 and 1/5 years you ain't think it was time to give up being am*** yet? I'm 8 years younger than you and you can't settle down but I can?? Lied to me, told me she was 33, tuh smfh yah 9 years ago which I could've dealt with had I not been lied to."
He continued, "Also nothing I found out about her I knew before we was together! Like a year in where it was too deep already. Crazy thing is she had YK Osiris in the same movie theatre she just had this ***** in! Swearing to god you ain't do nothing with him and YK said he ****** and he's 20 years younger than her!! Wtf, he swore on everybody, then still ******* Future on the low, had the nerve to bring back a Chanel to the house is ballistic! Then gave it to your sister! You sick! Then Cam Newton, claiming YBN Almighty stole 30k from you but you gave it to him and told me put the homies on him, calling people to get the ***** touched and you gave it to him."
Roccstar claimed he found out some troublesome things, "Then you got your own baby daddy's teammate Anthony Davis sending you **** pics and showing me ??!! Who does that?! Then congratulating him on his engagement and baby your ****** up in the head!!!' Then ****** Ray J and Jackie Long, they're best friends !!! Who ***** best friends??? I took all the **** **** that came with you, mainly cause it was quarantine and the world was ending but I loved you through all of it!!! Found out your real history in Vegas and how you really got the money for Angel Brinks Fashion 🤢."
He added, "Man the tea so hot on you and I still loved you through all of it, nobody would've ever knew!! Until you betrayed me!! Your ******* son's father? That steps up for all the kids? I'm at every basketball game for AZ and taking care of Smani when she's sick, buying her all kinds of stuff and you backstab me? Bought you a G63 for your b day! Paid your mortgage, gave you bread, bought you so many shoes, watches, purses all for what? For you to cheat on me? I'm heartbroken because I was pure with my intentions man this is ****** terrible! I wish nothing good for you. Ever. You don't get to **** over good people and go free!"
Check out the screenshots here.