By: Taren Vaughan
Katherine Jackson has been through a lot as the Jackson Family drama continues to unfold. She was separated from her grandchildren at one point, an incident that Paris Jackson and her brother Prince Jackson weren't very happy about. And now it seems as though Mrs. Jackson is about to be kept away from her own children. According to X17, Michael Jackson's Estate Attorney Howard Weitzman has written a letter banning Janet, Randy, Jermaine and Rebbie Jackson from access to the mansion.
Weitzman's alleged letter reads as follows:
"Given the circumstances of the last two weeks, and in order to protect the children and Mrs. Jackson, the Executors believe that it would not be appropriate to allow the following individuals to enter the residence or its grounds and we instruct the security to preclude the following from entering the residence or the grounds: Randy Jackson and any of his children, Janet Jackson, Rebbie Jackson and any of her children, Jermaine Jackson, his wife and any of his children, Janice Smith, or anyone else who was involved in the recent events that led to Mrs. Jackson's separation from and inability to communicate with Michael's children, or any agents or representatives of any of these individuals.

There will be no other security or drivers allowed on the property except those employed by the Estate of Michael Jackson. Joe Jackson is precluded from entering the property. Howard Mann who is in litigation against the Estate and is working with the Jackson siblings that wrote the "letter" should also not be allowed on the premises."
The "letter" mentioned was the one that Janet, Rebbie, Randy and Jermaine wrote in reference to Michael Jackson's will being fake. The alleged letter from the attorney goes on to list members of the family who are actually allowed near the home:
"Of course, Paris, Prince and Blanket, T.J. and his brothers, Tito, Marlon, Jackie and their spouses, current security (hired by the Estate), staff (per T.J.), Meg Lodise, Michael Kane, Sandra Ribera, Parry Sanders, Trent Jackson, you (Charles Shultz) and anyone else authorized by T.J. (other than the Excluded Individuals listed above), may enter and remain on the premises.

It is imperative to the Estate that from this point forward a safe and appropriate environment be provided for Michael Jackson's children and his mother as well."
A source close to the Jackson Family shared with X17 their displeasure with the lawyer for attempting to keep Katherine Jackson away from her children and how upset she was about it:
"What kind of lawyer would deny a mother from seeing her own children. Katherine cried the first two days she came home. She told her assistant, 'They're taking everything from me.' They're denying her from hearing the truth. They're denying her family access to see her and trying to get her in court as fast as possible."
Looking at some of his tweets,  it sounds like Randy Jackson is blaming the executors of the estate for all of the drama that is currently surrounding his family and that they are just using Michael's children as way to get his mother to side with them and that the executors are trying to kill Katherine. Randy also was highly upset about the "performance" that his nephew TJ put on in court about wanting temporary guardianship over Michael's children:
(Read from bottom up)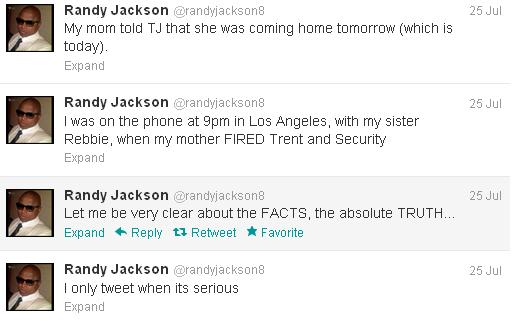 The authenticity of the estate attorney's letter remains in question. Whether it's real or not, this just proves that this whole thing is far from over.