By: Amanda Anderson-Niles
Keyshia Cole may have another album on the way, but lately, she's been spending most of her time defending herself and her marriage on her Twitter account. Ever since Keyshia made the conscious choice to return to the world of reality television, she's opened herself up to criticism once again, with many of her critics targeting her marriage to NBA player Daniel Gibson. Many feel like Keyshia Cole is disrespectful to her husband on reality show, Keyshia & Daniel: Family First. And as a result, many are coming for the singer on Twitter and hitting her where it hurts. Keyshia Cole is similar to her mentee K. Michelle in the fact that she does not hold back her feelings on the social network. So it's no surprise that she once again had another episode, and took to her Twitter account to put her critics in their place.
Last night, several critics went after Keyshia and accused her of not deserving her husband. Some even told the singer flat out that her marriage would not last and that a divorce is impending.
Keyshia didn't take well to the tweets, so she got a little ratchet.
Peep the tweets below (read from the bottom up):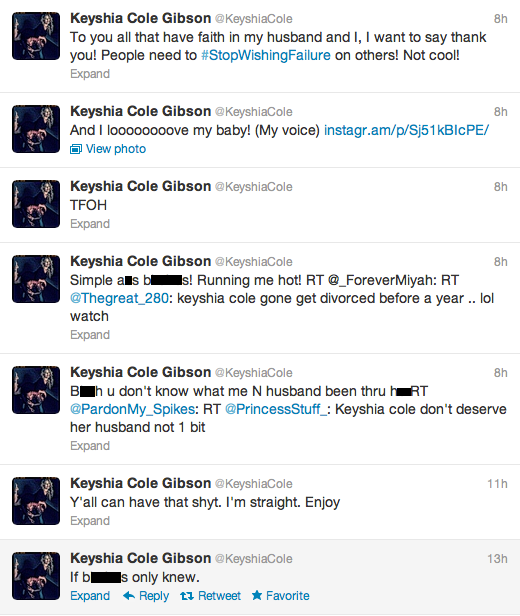 I'm no mind reader, but something tells me that Keyshia is regretting her new reality show.