By: Amanda Anderson-Niles
R&B singer Keyshia Cole hasn't had the best experience on Twitter for the last few weeks due to the criticism she has been receiving for her reality show Keyshia & Daniel: Family First. Although Keyshia's intentions were good and she only wanted to show an intimate side of her marriage, family life, and career to her fans, Keyshia has been the target of criticism surrounding how she treats her husband Daniel Gibson. Fans of the singer feel as if Keyshia disrespected her husband in front of the cameras, and many have even tweeted the star to tell her that they doubt her marriage will even last. These beliefs have led to several Twitter rants and arguments between Keyshia and those who have been tuning into her show. And as a result, Keyshia has made it pretty clear that she regrets doing the reality show.
Now that her reality show is coming to an end, the singer's mentions have calmed down, and Keyshia has gone back to responding to questions her loyal fans are tweeting her. The other day, a fan decided to ask Keyshia about how Tupac really was when there wasn't any cameras around. Keyshia was friends with the deceased rapper, and happily responded to the question.
She tweets: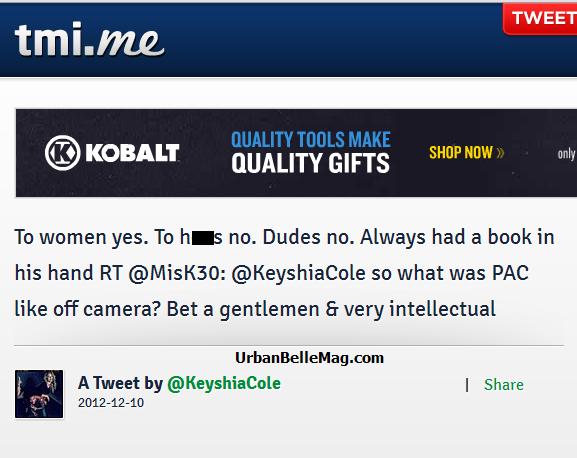 Are we the only ones who still miss Tupac?
In related news, Keyshia Cole's latest album Woman to Woman continues to do well. As of the second week after its release, the singer has sold about 133,100 copies according to Nielsen Soundscan. As of now, there are no plans for Keyshia to return to reality television.