By: Amanda Anderson-Niles
Keyshia Cole has always been known to be one of the more outspoken celebrities. So it should come as no surprise that she's not against being completely open on her social network accounts. Keyshia has already been in several Twitter beefs as a result of her last reality show with her husband Daniel Gibson, as well as rappers who have decided to drag her into their rap feuds. Keyshia will hold nothing back when she feels like she has been insulted and even disrespected when it comes to her music career. So no one is really shocked that the R&B singer is bringing her family drama to her Twitter account.
The other day, Keyshia went on a rant about her sister Neffie's current book. While Neffie claims the book is been more so about her life than her sister, Keyshia seems to be angry about something that was written about her in the book. So instead of picking up the phone to talk things over, she instead opted to dragging her sister for writing the book in a series of angry tweets.
This comes just weeks after Neffie claims that she and Keyshia were on good terms and completely supporting each other's dreams.
Well Neffie has addressed the criticism from her sister, and instead of reacting with anger, she expressed surprise that Keyshia is angry about the book.
In a Twitter conversation, she tells one of her followers that the rant was very unexpected, considering she didn't feel there was anything in the book for Keyshia to be mad about: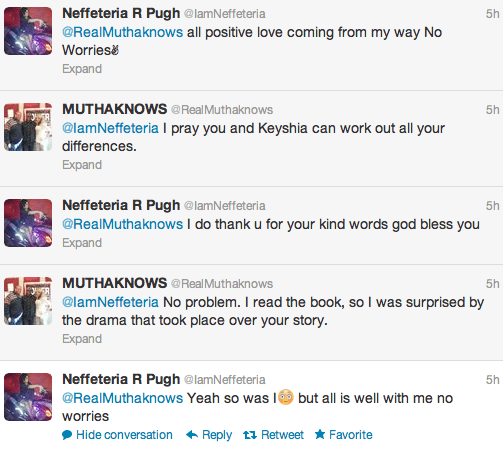 Neffie claims she still has no beef with Keyshia and instead opts to remain positive about the situation:
Keyshia however is clearly still upset, and now even regrets attempting to have a relationship with her family. She tweets:
"Shouldn't have never f*cked wit my fam from jump right? Tried to help moms get straight, then at least I could own up to the way a b*tch tryna portray me. H*es is a trip."
When a follower told her she shouldn't air her family business out on Twitter, she responded that Neffie is not her family: