By: Amanda Anderson-Niles
R&B singer Keyshia Cole is standing her grounds on those infamous comments she made about Michelle Williams during her performance with Beyonce and Kelly Rowland at the Super Bowl. During Beyonce's critically acclaimed performance and brief Destiny's Child reunion, Keyshia took to her Twitter account to slam Michelle's performing abilities. Keyshia seems to think that Michelle can't hang with Beyonce and Kelly, and she even suggested that Michelle threw off the show with her dance moves. Although Keyshia instantly became a target for angry tweets and her mentions were destroyed, she refused to back down or retract her statements.
And just to make it clear to her "haters" that they wouldn't get her down, the R&B singer uploaded a photo of the amount of money she was offered up front for an upcoming performance.
Michelle Williams opted to take the high road and instead of engaging in a full fledge Twitter beef with Keyshia Cole, she instead gave an interview with Billboard, and suggested that she throughly enjoyed her time on stage with Beyonce and Kelly. She even said that she really doesn't care what anyone, including Keyshia Cole, thinks about her.
Michelle also took to her Facebook account and thanked her fans for all of their support, but also stated that she feels women should be more supportive of one another.
Welp, Keyshia doesn't seem to care too much about being supportive at this point, and instead of taking Michelle's advice, she tweeted us and said she didn't care what Michelle said about her performance either.
Here's the tweet: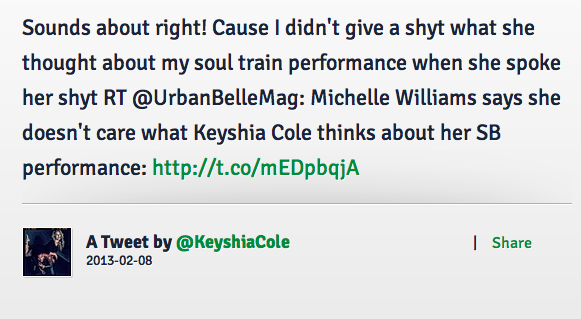 Welp, there you have it. Perhaps it's time for people to just accept that Keyshia will not be making any apologies to Michelle…ever.
Anywho, shout out to Rhymes With Snitch for catching this, we almost missed it.