By: Taren Vaughan
Mimi and Nikko still together? Mimi Faust proudly showed off her new man Nikko to everyone prior to season two of LHHATL and made it appear that she was over Stevie J.  After the first episode of the current season, it was clear that Mimi and Stevie's unfinished business with each other was still just that, unfinished. While the drama between Mimi and Stevie hasn't ended, her new romance with Nikko has a lot of its own going on. Nikko has made his official appearance on the show, and the off camera beef that he had going with K. Michelle over her accusing him of being gay came to light as K. Michelle slapped Nikko's friend Johnny with the "down low brother" label during a video shoot. And after overhearing K. suggest that Johnny had thing for men, both Johnny and Nikko came at K., the whole incident sending Mimi completely over the edge. Not only is her man's sexuality being questioned, his faithfulness towards her is too as it is being rumored that Nikko is messing around on Mimi after the picture below of him and another woman by the name of Keziah Eley, who is thought to be an up and coming reality TV star, was posted on Nikko's Instagram account:
Well, the woman's family members decided to step in and set the record straight about Keziah and Nikko. And they say that Nikko isn't cheating on Mimi with Keziah. But the way Keziah's sister and cousin, who go by the screen names "@sstewart1968" and "@brownsugark", put it, that could very well change if Mimi doesn't get her act together. (Read from top to bottom):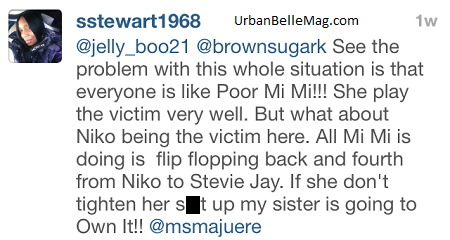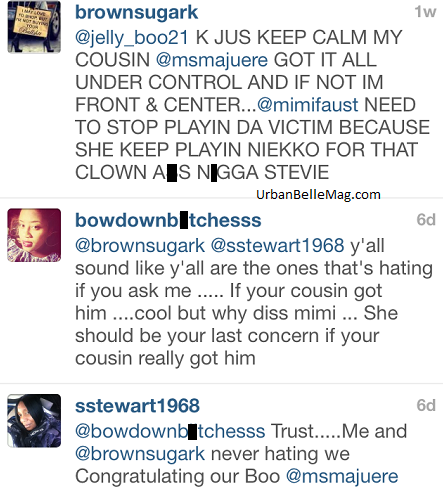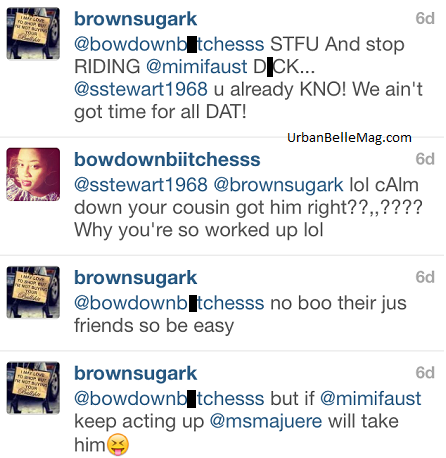 Keziah's cousin also blasts Mimi for letting K. Michelle call Nikko gay:

Nikko is said to not be happy about the fact that Mimi made up with K. Michelle and that she let her call him gay on national TV. Rumor also has it that Mimi gave Stevie a key to her new apartment and her doing so has caused some major friction between her and Nikko.
So messy.