By: Amanda Anderson-Niles
The other day Tamar Braxton took to her Instagram account to fire someone from her team (some sites are reporting it was her stylist who was fired), but now it appears that person may be out for revenge.
In fact, someone from Tamar's own camp reportedly told blogger Funky Dineva that the real issue is Tamar is allegedly not even paying people for their services, and as a result, she's allegedly burning a lot of bridges.
Funky Dineva writes:
Chile the stylist isn't the only one not getting paid. Catch these T's

Gurl, in addition to the stylist the word is several band members have not been paid either. That's not even the worst part. The REAL GAG is, folks are saying Tamar can't record in nan studio in LA because She & Vince owe all of them money for unpaid studio time. Now quiet as its kept, lets not act like Vince has a solid reputation for paying his bills. Remember Towanda sprayed his a$$ on Twitter about that 3 million dollar tax debt.
Tamar took to Twitter to slam the gossip shortly after and apparently shaded the person who tipped off Funky Dineva: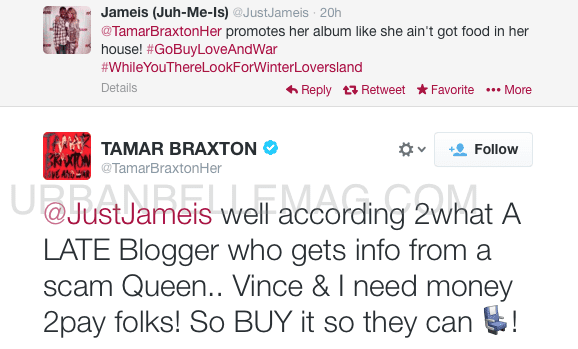 And the singer then blasted "fake friends" on her Instagram account too. She writes:
I HAD to repost because I will NEVER be in THIS position again!! My mama says u FIND a FOOL you USE a fool! Know peoples intentions FIRST! Watch who they are friends with…if that's not your type of crew then..RUN!!!…watch how they treat others…do they talk about others???then ..they talk about YOU too! BeCAREFUL who u TRUST & have around you!! Some people are JUST there you USE you!! They will LIE,CHEAT & STEAL!!!…then they move on to the NEXT! Watch who calls u #sis #fam #cousin #girl when they AINT!! 9x out of 10 they out for THEM!! Keep yo [eyes] on yo [heart] &your PURSE! #no [shade] #allTRUTH