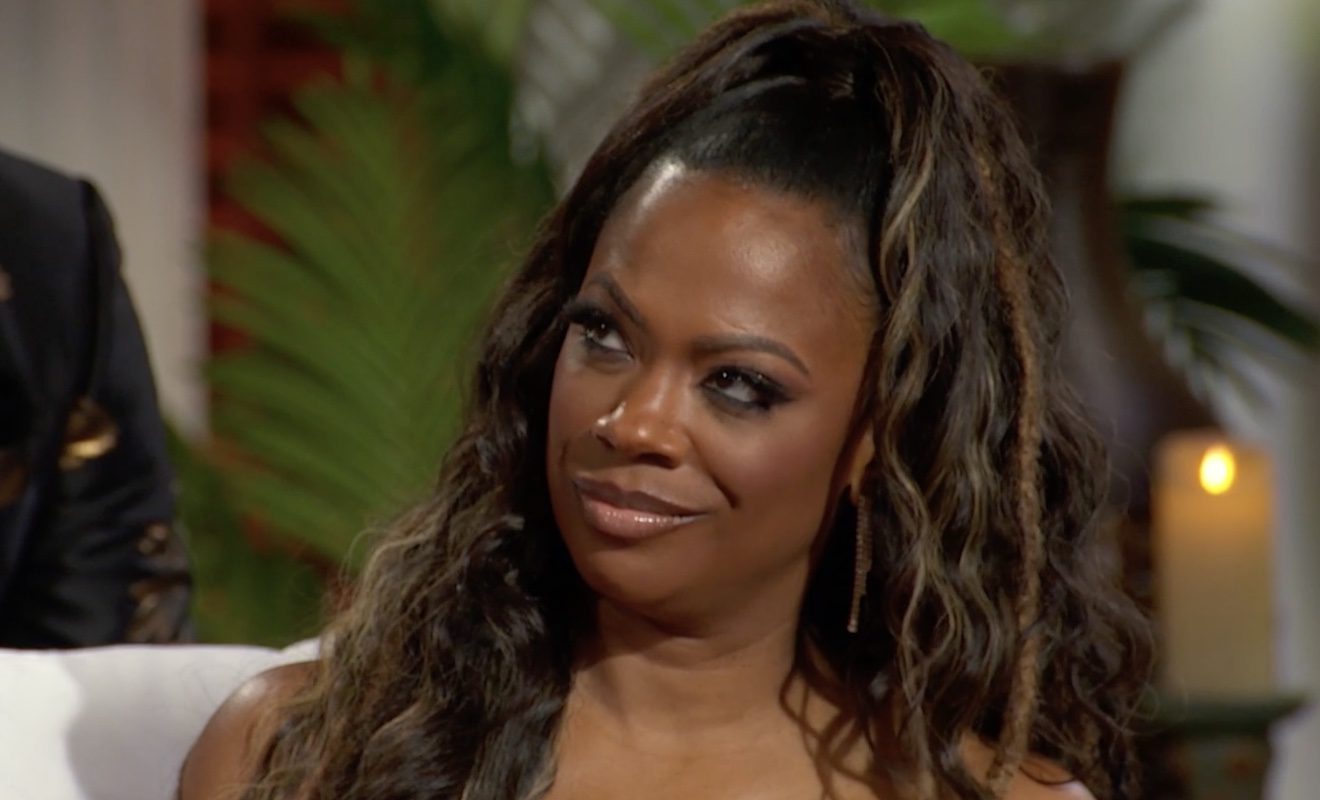 Kandi Burruss and Tamar Braxton are back on bad terms.
Tamar Braxton is no stranger to controversy and feuds. In fact, some of her biggest feuds took place on "Braxton Family Values." Unsurprisingly, it took a toll on Tamar emotionally to clash with her sisters. So over time, Tamar began to regret her time on the show. And for her mental health, she decided it would be best to walk away from reality television altogether. Tamar really didn't like the way she was portrayed on the shows she signed up for. So she took a step back to focus on herself and healing. Interestingly enough, she is now caught up in drama due to comments she made hours ago on "Watch What Happens Live."
Evelyn Lozada, Nivea, and Tamar all currently star on Peacock's "Queens Court." The show follows the women as they look for love. It seems as if the show worked out for Evelyn and Tamar since they are currently engaged to the men they met on the platform.
Things got really interesting when a couple of fans asked Tamar which "Real Housewives of Atlanta" star and her husband allegedly threatened her. Months ago, Tamar made the accusations on Instagram Story. But she never revealed who allegedly threatened her at an event.
Well, Andy Cohen asked Tamar if she was talking about Eva Marcille and Michael Sterling. She said that she wasn't talking about Eva. And her allegation was referring to a full-time housewife.
Andy realized that Tamar was making the accusation about Kandi Burruss and Todd Tucker. Tamar went on to say that she thought that she and Kandi were good after they appeared on "Big Brother" together.
Kandi Burruss threw some shade.
Tamar had more to say on Twitter after the clip began to spread on social media. She tweeted, "Before y'all start.. I left the situation alone. But the fact is Kandi & Todd wanted to fight me!! Periodt!! There was witnesses and Jr came to the next show to check Todd and she nor he won't address it cause how do u defend that? The facts are the facts tho. I'm off it #changed."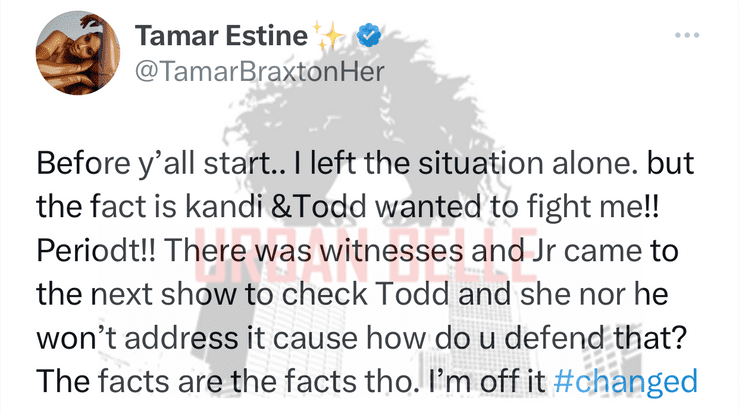 She added, "I answered a question like everyone else does. I'm not scared of anyone or the truth! Y'all don't want me to say nothing cause that's not her narrative on tv. It's been months and she addresses EVERYTHING and EVERYONE.. Why not this? 😒 I welcome them both to speak on it and LIE 🤷🏽‍♀️."
Kandi hasn't responded directly. However, she did post a little shade that some think could be directed at Tamar.
View this post on Instagram
Tamar clapped back on Instagram Story. She wrote, "I AM THE VICTIM WHEN YOUR MAN STEPS TO a WOMAN!! Sounds like an abused woman to me to see nothing wrong with that!! I hope he's not beating your *** 🙏🏾 ✨"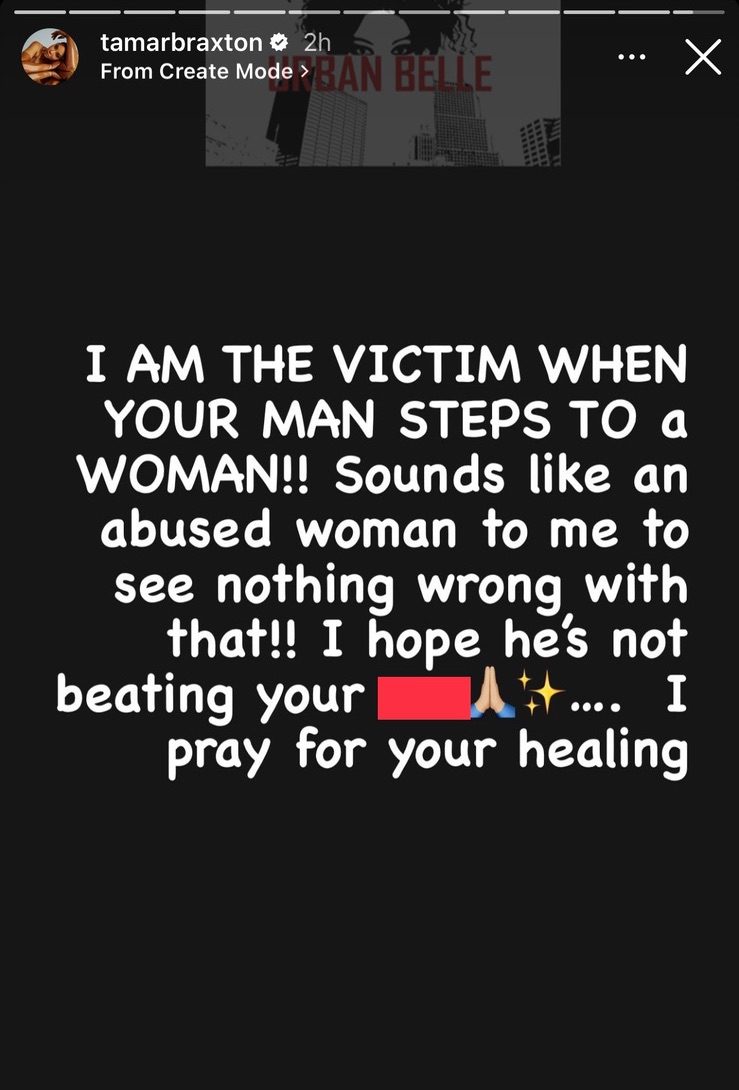 Interestingly enough, the peace between Tamar and Kandi may have ended after Tamar sided with Carlos King in his fallout with Kandi. As we reported, Kandi accused Carlos of trying to go behind her back and produce an Xscape movie on TV One. She felt like he tried to steal her life story for his own gain. And Tamar said she didn't believe any of that on Instagram Story and Dish Nation.