By: Amanda Anderson-Niles
Keyshia Cole has never been one to hold her tongue or keep it politically correct on her social media accounts. In fact, Twitter has been the place the R&B singer has opted to use when she called out Beyonce for her "Bow Down" lyrics, and it's also the platform she uses frequently to air out her marriage problems.
And occasionally Keyshia has also used Twitter to put some of her own fans and critics in check.
Recently the singer made headlines when she appeared to threaten to block a fan after they tried to tweet her some encouragement and even suggested she should fight for her marriage to Daniel Gibson (read tweets from top to bottom):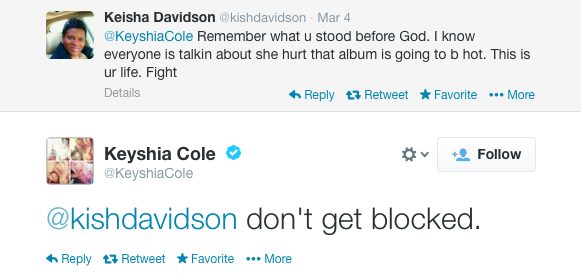 The fan later apologized to Keyshia and Keyshia graciously accepted, but she now says she responded the way she did because she felt the fan was being judgmental: