By: Amanda Anderson-Niles
Is a Brandi Maxiell fight involving Sundy Carter on the way in an upcoming episode? One would think Draya's absence from "Basketball Wives LA" would mean less drama on the show, but apparently that is not the case.
All of the ladies except Draya took a trip to Paris to accommodate Jackie Christie as she works on her own line of Cognac, but of course things take a left when all of them come together to have dinner.
Brandi and Jackie got into it after Brandi told Jackie that she changes for the worst when she gets around Sundy Carter, and by the end of the episode Malaysia told Jackie that she is nothing more than an instigator and she will ultimately betray Sundy and Brittish Carter when the opportunity presents itself, kind of like she did Draya and Malaysia.
But in a preview for the upcoming episode, Brandi and Sundy nearly come to blows after Sundy tells Brandi to shut up and go have a baby. As you may already know, Brandi was diagnosed with Ovarian cancer a few years ago, so she's having a hard time getting pregnant.
After Sundy made the harsh comment, Brandi snapped and began chasing her down to possibly do as Draya did a few episodes ago and give Sundy another black eye.
On the issue, Brandi tweets (read from bottom to top):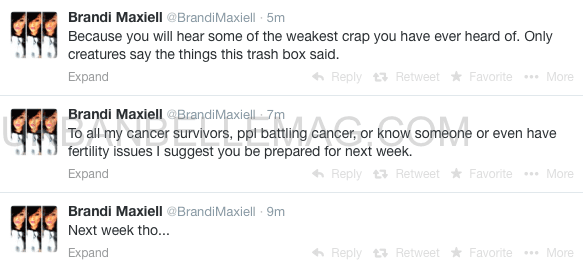 And of course Malaysia had a few words for Sundy too: