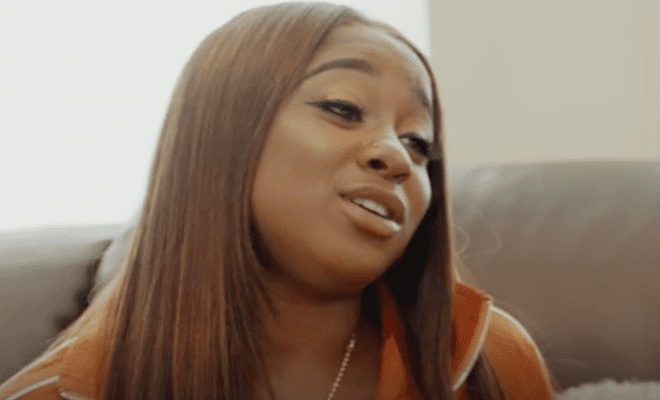 Tiny confronts TI.
TI and the boys return home to find Tiny in the kitchen.
The couple decided to call off the divorce. They are still living separately for now. Both are trying to see where things can go now that they aren't divorcing.
After the kids leave them alone to talk privately, TI prepares for another confrontation with Tiny.
He says it's no need to dwell on things. But he can sense the tension.
A video of TI slapping another woman's butt backstage went viral on social media. Turns out, the woman is an actress on "Greenleaf." In a green screen interview, TI says Tiny is just mad the video went viral. If someone close to her would have sent it privately, he feels she wouldn't be upset.
Regardless, TI says that the chemistry they have can't be duplicated with other people. So he feels there's no need for Tiny to be upset.
In a green screen interview, Tiny says that they have too much history. But he needs to fight for her if he wants her back.
Monica's husband is hoping to get back in the NBA.
With three kids, her mother and step father living there as well, it's a full house.
In a green screen interview, Monica says she's back in the studio and she's now an independent artist.
So she has to pay for everything on her own.
LeToya stops by Toya's place to catch up.
Both think very highly of one another. Apparently LeToya and her husband just found a new house in Atlanta.
She's pregnant with her first child.
Toya then asks her what happened with Destiny's Child. LeToya says that it was drama with management. But they are all now on good terms.
Toya's boo Red has been making her really happy.
Despite this, Toya isn't sure she wants to get married again. But she loves that he's not in the spotlight. LeToya tells her to never say never to getting married again.
Tiny catches up with Toya and Monica over drinks.
She tells them TI got her a new car after the video drama. But she says it doesn't change where they are.
In a green screen interview, Monica says she knows TI has made Tiny really happy over the years. And that's what the blogs don't report.
They change the topic. Reginae comes up and Monica says that Reginae has been calling her for advice about dating YFN Lucci.
Toya isn't really happy about the relationship. To her, being with a rapper means Reginae won't have her own identity.
TI has drinks with K-Dubb and Lil Duval.
He tells them he wasn't caught cheating. He was caught flirting.
Basically, TI feels like it's inevitable to hurt people you love.
Reginae and Toya discuss YFN Lucci.
Toya doesn't like the fact that he's a rapper and he has four kids.
She also doesn't like the fact that Reginae is around him all the time. It's said she was with him when he was arrested once.
But Reginae doesn't see an issue. When it comes to being with Lucci, she loves it because she enjoys going out. Plus, she feels her mother is too boring to understand that. Since YFN isn't leaving her at home like other rappers do their girlfriends, she thinks that says something.
Things get tense after Reginae tells Toya she's not sure if he wants to go back to college. While Toya feels this is because she wants to run behind Lucci, Regina says that it's really because she wants to pursue acting.
"You have all the answers, good luck." – Toya
LeToya and Tommy are taking classes to prepare for childbirth.
They newlyweds met through a mutual friend.
It's been a fast paced romance and they met last year.
Tommy already has a daughter. The couple is excited to be expanding their family.
Toya tells Tiny that Reginae doesn't want to go back to school.
She's not happy Reginae wants to act. In all honestly, Toya really wanted Reginae to take a completely different path than she did. Since Reginae is interested in being in the entertainment business, Toya can't help but be disappointed.
They also discuss the fact that Toya placed cameras in Reginae's place for security. Tiny warns Toya not to watch something she can't unseen involving Lucci.
TI calls Tiny and tells her he's not going to LeToya's party.
He doesn't want to go and says they are both still independent. If Tiny wants to change things, they would have to get back together officially.
It's the day of LeToya's housewarming party.
LeToya asks where TI is, and Tiny explains that TI didn't want to come.
Regardless, Tiny is hoping things will go back to normal soon.
When marriage is discussed, LeToya and Pastor Gray praise Tiny for working things out with TI.
What are your thoughts on the premiere?