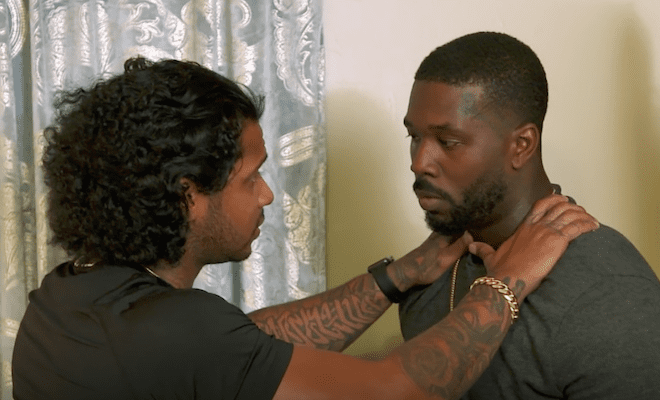 The episode opens up with the group worried about Phor.
He had a breakdown in Vegas and has told them he is thinking about committing suicide.
Then producers flashback to several hours before this.
Van has no idea where Jenn is. She is very upset  that he called off the wedding at the altar. He knows he really messed up and he needs to make things right with her.
While talking to Ryan, he says he's concerned about Jenn.
"Honestly, at this point, you have the option to get your sh*t together. I ain't have that option." – Ryan
Ryan warns Van to straighten up or he may lose Jenn forever.
Later that night, the gang throws a party at the rental.
Charmaine gets on the mic and tells everyone to show love to Ryan for making sure 9Mag continues to move forward.
Minutes later, Junior and Adriana come through.
Lily doesn't know how to feel about this.
This is the first time she's seen them both since Jamaica.
To keep things from getting messy, she doesn't speak.
Don heads to a bar to catch up with his dad.
In a green screen interview, he says his dad hasn't been himself because he's lost so many loved ones, including his mother, daughter and brother.
After he doesn't arrive 30 minutes later, Don calls and gets his dad's voicemail.
An hour later, he still doesn't hear from his father. So he calls up Ashley to tell her that his dad didn't show up. He's really concerned about him since depression runs in his family.
His sister killed herself at 24 years old.
And Phor has been battling depression since they were kids.
The breakup with Nikki hasn't helped.
At this point, he's worried about Phor and his father. He's not sure how to help them.
Lily and Adriana end their feud.
Back at the party, Lily pulls Adriana to the side to see if they can talk.
Both women agree they don't have beef and things just went too far in Jamaica. So they decide to take a shot.
In a green screen interview, Lily says she just wants to move on.
Not too long after, Ryan tells Lily Junior is also returning to the shop. She's nervous about this.
Don checks on his dad.
He arrives to his Dad's house to make sure everything is okay.
His dad says that he feels alone and he's not sure how to process all the recent deaths of his loved ones.
Don tells his father that his family needs him and he wants to be there for him.
He proposes that his dad moves in with him and Ashley for a while.
Thankfully, his father is open to this. They share a hug.
Jenn has lost patience.
The gang is wasted back at the party. Charmaine even walks into the door.
As the laugh about this, Jenn returns.
Van asks her if they can talk. So they head outside.
"I'm tired of talking." – Jenn
She tells Van that the wedding was "an ultimatum." She feels like Van made her look stupid by showing up to the wedding drunk.
When Van tries to hug her, Jenn tells Van not to touch her.
"I'm just done with it." – Jenn
This brings Van to tears and Jenn goes all the way off. She even tells him that she hates him.
Jenn says she's tired of Van embarrassing her.
Lily drives a wedge in between Junior and Adriana.
As Lily watches Adriana and Junior dance, she heads to the garage to shed some tears. She realizes that she still cares for Junior.
Adriana comes to the garage to check on her. They talk about Lily's feelings for Junior.
She tells Adriana that she wouldn't try to hurt their relationship. In a green screen interview, Adriana says she's been where Lily is before and it hurts.
Lily then tells Adriana that Junior sent a text when he first got with Adriana and said that he was in love with Lily.
When Junior finds them, Adriana confronts him. He denies sending Lily a text saying he loved her at the beginning of his relationship with Adriana. Adriana doesn't believe him and storms off in tears.
This leads to Junior and Lily arguing. He says he told Lily that he has love for her, not that he loved her.
Junior demands Lily shows this text message she claims she got.
He then calls Lily out for being jealous.
Adriana comes back and demands Junior leaves Lily alone. They leave the party as they argue over what Lily said.
Phor has a breakdown.
After the party, Charmaine overhears Phor crying alone in his room.
She alerts the producers and assures him everything will be okay. He opens the door and they hug.
Ryan and Charmaine talk to him.
He tells them he's having suicidal thoughts.
In a green screen interview, Charmaine says that when she saw Phor with a noose on his neck promoting his single, "Help," she began to worry.
"I'm just lost." – Phor
Phor says he's been dealing with depression his whole life and he believes he will be valued more when he's dead.
At this point, Ryan tells Charmaine to leave the room so they can talk.
Charmaine leaves and tells Van what's going on.
Back in Phor's room, Ryan hugs Phor and tells him that he will be there for him.
"You worth something. You valuable." – Ryan
This brings Phor to tears.
In a green screen interview, Ryan says this isn't the first time he's had this conversation with Phor.
Van comes in the room to show support.
Charmaine urges Phor to get some help. But he says he just wants to get some sleep.
Van says he's not leaving Phor alone and he will sleep in his room for the night. And Charmaine says Phor should get help first thing in the morning.
After Charmaine leaves. Van breaks down in tears.
The next morning, Phor disappears. Production scrambles to find him.
He's not answering Van's calls.
Charmaine thinks they should call the cops and Don.
They call Don and Don says he's going to call Phor.
40 minutes later, Phor texts Van and says he wants to talk without the cameras at an undisclosed location. Van agrees to meet.
45 minutes later, Van gives producers an update and says he and Phor are heading to Atlanta. Phor wants to live. And see his family in Atlanta.
Everyone is relieved.
A little later, Charmaine gives the others an update on Phor.
Gina says you never really know what someone else is going through.
"I just hope everything is okay with him." – Gina
The gang is heading back to Chicago as Van and Phor head out to Atlanta.
Producers confirm Phor is taking a leave of absence from the show.
What are your thoughts on the episode?