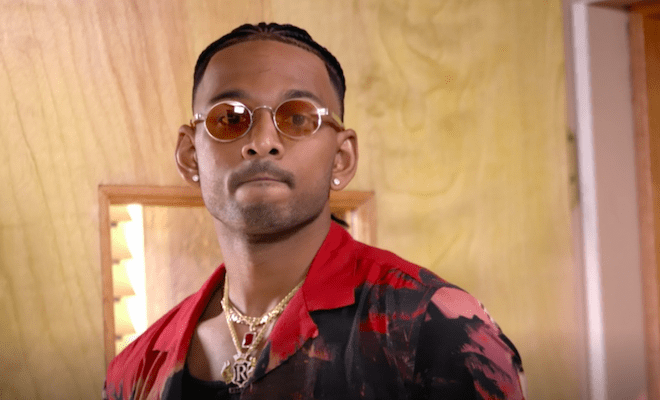 A Khaotic and Trick Daddy collaboration could be in the works.
Khaotic performs and Shay, Prince, Young Hollywood and Baby Blue come out to support.
After a woman looks interested in Prince, Shay says that Prince is Liz's property. So she's not allowing anything to go down.
When his performance is over, Khaotic comes over to speak.
Bobby is discussed and Prince says it was messy of Bobby to tell Liz that Prince was messing with other women.
They get back to music, and Khaotic says that he wants to make a song with Trick Daddy. Hollywood doesn't know if this is a good idea since Khaotic went out on a date with Joy.
Bobby feels like all of his friendships are falling apart.
He's not on good terms with Jojo, Tip and Prince
But he's able to have a meet up with Jojo.
Jojo arrives and says that she regrets clashing with Prince.
Bobby then tells Jojo about his blowup with Prince at the club.
"I feel like you guys have a very toxic relationship." – Jojo
After this is said, Bobby says that Jojo is the one who caused his drama with Prince.
But Jojo disagrees and says all she wanted to do was give Bobby a warning.
Amara is discussed. Bobby says he doesn't regret what he said about Amara on social media because Amara is messy and tries to sleep with people's boyfriends.
Regardless, Bobby warns Jojo that Amara can't be trusted.
Pleasure is ready for a solo tour.
Hollywood has some drinks with Veronica and Pleasure P.
Khaotic was also invited but never showed up. He wonders what happened to Khaotic but the night must go on.
After Pleasure says he's going on a solo tour in Australia, Spectacular shows up with Baby Blue.
The Pretty Ricky members go to the side to talk.
Pleasure isn't convinced the group should reunite, but Spectacular and Blue feel like the group can get back together successfully.
They aren't happy to hear that Pleasure is getting ready to tour by himself but Pleasure says it shouldn't be an issue because he's already recorded his parts for their upcoming album.
A big moment is in store for Veronica.
Veronica prepares to perform at the first Pride ever in her hometown of Hialeah.
During her rehearsal, her dad comes by to see her.
It's a big deal for her as she will be the headliner.
After her dad tells her that her deceased grandfather would be so proud, things become even more surreal.
Prince and Bobby clash, again.
Bobby tries to take the Prince drama off his mind by going to the studio.
While he's writing, Prince walks in.
Apparently Prince came to see Tip but confronts Baby when he sees him.
They start arguing and Bobby throws his notepad at Prince.
Security intervenes and Prince says it was wrong for Bobby to talk behind his back. Plus, Prince feels hanging out with Bobby hurt his brand.
After Bobby shades Prince's lack of a music career, Prince has to be restrained by multiple security guards.
When Prince calms down, they talk outside as security stands by.
Prince says Bobby being gay and dealing with homophobia doesn't give him a pass to mistreat Prince.
When Prince says that he still doesn't know what he did so wrong for Prince to end the friendship, Prince says he's done talking and he's going home.
Tip and Bobby make up.
Bobby comes by Tip's club to talk.
He apologizes for ruining her event by getting into it with Prince.
Tip says that she doesn't like how Bobby has been moving lately.
But Prince says Liz is the real issue in his feud with Prince. She doesn't want them to be close.
Regardless, Tip feels Bobby is a bit spoiled to constantly mess up with her and just apologize like it's nothing. But she still loves him and they agree to remain friends.
Legal problems arise for Khaotic.
Khaotic was arrested for speeding, fleeing the scene of an accident and resisting arrest.
He says he thought he was being followed by a killer but the unmarked vehicle was actually a cop.
Prince and Tip come out to check on him.
He says the cops didn't turn on the lights until he crashed his car.
The situation made the local news.
And he feels like he has PTSD. So Prince tells Khaotic he needs to get out of the hood for his own sanity.
In a green screen interview, Khaotic says he doubts he would have been followed if he wasn't a black man.
Regardless, both Tip and Prince urge Khaotic to move.
But Khaotic feels like too many people in the hood depend on him to leave.
Jojo and Tip end their feud.
Bobby tries to push Jojo and Tip to hash out their beef.
Before Tip gets there, Bobby tells Jojo that Tip is angry that Jojo shaded Tip for being a stripper on Instagram.
When Tip gets there, she's not happy to see Jojo.
But Jojo apologizes for what she said on social  media. Tip accepts her apology. Then both Tip and Jojo call out Bobby for starting most of the drama. After a few laughs, Tip apologizes to Jojo.
Both women agree to be cool.
Pleasure sees his dad.
They haven't seen each other in years.
Pretty Ricky is discussed, and Pleasure's father tells him he may have some unresolved issues from childhood. Pleasure agrees and says that growing up as Jehovah's Witness was tough for him.
Plus, back then his dad just wasn't around.
He breaks down crying as his mom is brought up.
Pleasure recalls being told by his mom that his dad was coming by to pick him up. It was hurtful when his dad never showed.
This caused a stain in their relationship for many years.
Add that to the fact that Pretty Ricky has also been a major source of stress. And Pleasure honestly doesn't feel like Pretty Ricky has been a family towards him.
Pleasure's dad urges him to do the tour and figure out if getting back with the group is what he really wants.
Amara confronts Jojo.
She's upset that Jojo has still been hanging around Bobby even though Bobby talks badly about Amara.
It's hard for Amara to hold back tears as she expresses being jealous of Jojo's friendship with Bobby.
Jojo says that she was cool with Bobby before he had an issue with Amara.
Amara says all Bobby does is talk trash about everyone else.
At her wit's end, Amara says Jojo needs to pick between her and Bobby.
Khaotic tells his mother and sisters about his recent arrest.
His mother says his actions are so stressful for her. She has to pray for him each time he leaves the house.
After Khaotic says it's tough living in the hood, his mom says that's not an excuse.
He should still change since his loved ones are worried about him.
His niece goes off and reminds him that with her daddy is dead. So Khaotic is the only father figure she has. So she needs him to do better.
"Make some changes." – Khaotic's mom
What are your thoughts on the episode?