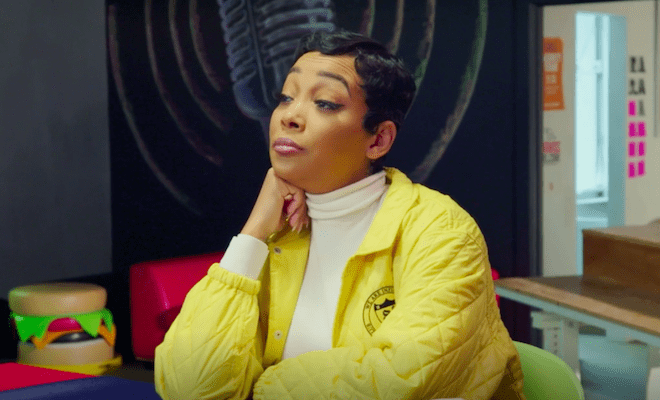 Things are still progressing for TI and Tiny.
Tiny is still preparing to move back in the lake house with TI. 
She's hoping things won't feel different this time around. 
Toya is working on her children's book.
When she prints out the image for Reign's birthday party, it's not how she wants it to be, so she's stressed out. 
Toya's sister Beedy is coming to town for the party. She wants a better relationship with her sister. 
Monica's stepdad was diagnosed with stage three prostate cancer.
He's been undergoing radiation everyday and she's hoping for the best. 
Monica's mom says that the experience just shows her how important it is for men to get checked out. Early detection saves lives. 
LeToya will be heading back to Atlanta soon to film Greenleaf.
With the baby's photoshoot coming up, LeToya tells Tommi she wants everything to be right. 
Not too long after, Toya comes over with Reign. 
She's going to ride with the couple back to Atlanta to make it in time for Reign's party. 
King meets with Monica's sons about a business idea.
He wants to open a sneaker store that also sells ice cream. 
They will need to ask their parents to invest in their idea. 
To really make things happen, King says they should all do home school. 
Sometime later, Monica meets with TI and Tiny about King's proposal. 
She thinks they should look into allowing King to do home school. But TI feels like King doesn't need to call his own shots because he's not an adult. 
A few minutes later, King and Monica's sons come by to do a presentation on their business idea. 
When King asks for a $250,000 investment, it's not really something the parents want to move on. Plus, TI and Tiny feel King is using the business to get his home school wish. 
Things are getting stressful for Toya.
LeToya has to lose the baby weight now that she is getting ready to film another season of Greenleaf. 
Since she can't exercise, she will have to adopt a strict diet. 
Toya is stressing out over Reign's party and Reginae calls to assure her everything will be fine. Toya isn't so sure though. 
TI and Tiny go the lake house to see the progress.
Tiny doesn't like all the changes TI made to it. 
But TI wants Tiny to feel like it's her house too. So he tells her that she has to work with him to get the things she wants done to the house. 
It's the day of Reign's party.
Tiny is out in LA for the Grammys. 
She sends over Heiress and Zonnique in her absence. 
Reginae tells Monica and Toya that she's still with Lucci despite their ups and downs. 
Toya's sister Beedy shows up at the last-minute. She tells Toya that she never sent her an official invite. 
Regardless, Toya says she sent her a save the date and they need to eventually discuss their distant relationship. 
In a green screen interview, Toya says she doesn't know what Beedy's problem with her is but this isn't the time to discuss it. 
What are your thoughts on the episode? 
Ladies & Gents — the ⭐of the show #HeiressHarris! RT if you're watching #FamilyHustle right now! pic.twitter.com/LT8CGghmsE

— Friends & Family Hustle (@FamilyHustle) April 23, 2019
LADIES — do you treat your wigs as good as @MonicaBrown?? ?? #FamilyHustle pic.twitter.com/MqISGp0kSn

— Friends & Family Hustle (@FamilyHustle) April 23, 2019
.@MonicaBrown opens up to @TIP & @TinyMajorMama about her struggles at home… #FamilyHustle pic.twitter.com/ZKe0GGLxZ7

— Friends & Family Hustle (@FamilyHustle) April 23, 2019
The "White Room" is now the "Black Room" and Tiny ain't having it with this decor…#FamilyHustle pic.twitter.com/UVuB4tRSvq

— Friends & Family Hustle (@FamilyHustle) April 23, 2019