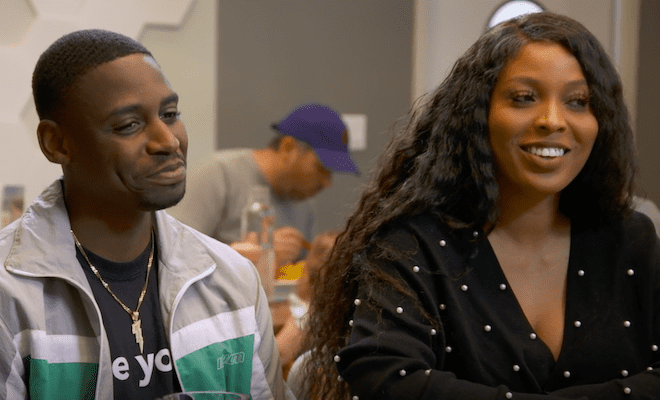 Phor and Don worry about Ryan.
Charmaine has her tattoo artist Plug and partner Jess come to the radio station. They promote 2nd City Ink. Back at 9Mag, Don says that they won't find out if Ashley is cancer-free until 48 hours. So he's stressed out.
Ryan is solemn because he missed a family function. He works so much that he's missing out on spending time with his family. Phor and Don can also tell that the death of Ryan's sister is affecting him. But he tells them he's fine.
Neek and Charmaine are married.
Charmaine brings Neek breakfast in bed. She reveals that they got married recently at the courthouse. Charmaine's mother isn't happy that they eloped. Regardless, the couple doesn't want to be pushed to have a traditional wedding.
Ryan's mom and sister come by 9Mag to tell him they need to talk to him privately. They don't like that he's been avoiding his family. His sister Nova was the glue that kept the family together. But she and her daughter were murdered by a man she had been in a relationship with. Ryan breaks down in tears and says that grieving on top of not being able to live with his kids has been a lot on him.
Zach and Draya feel a connection.
2nd City Ink artists Draya and Zach are crushing on each other. Zach is able to convince his clients, a couple that wants tattoos of huskies, to let them both do the job.
In a green screen interview, Draya reveals that she used to be a stripper. So this is a second chance for her. Zach reveals he's biracial and never felt like he fits in with his family. Both Zach and Draya are drawn to each other.
Ashley is cancer-free.
Don and Ashley see her doctor to get the results. They are told that the lump removed was not cancerous. So the couple is thrilled that everything is okay.
Draya and Zach go out on an ice cream date. During their conversation, Draya tells Zach that she's never dated anyone she's worked with before. And she's been tattooing for ten years and used to be a dental assistant. After some flirting, they end up kissing.
Ryan doesn't want to consider getting therapy.
Phor and Don take Ryan rock climbing. They thought it would be a good way to check in on him and get him out of the shop. Ryan tells them he's been sleeping on an air mattress every night. Don and Phor suggest Ryan gets therapy. He's not hearing this because he doesn't understand how talking to a stranger will help him.
Neek and Charmaine are having a baby.
Charmaine and Neek meet with their moms. Of course, their mothers want them to have a traditional wedding. In Neek's mother's mind, Charmaine isn't really her daughter in law until they get married in a church. Neek and Charmaine say that the wedding will have to be put on hold because of some news they need to share. They hand over a card with a positive pregnancy test inside. Although Charmaine's mom is thrilled that they are having a baby, Neek's mom is not.
A therapist gives Ryan some clarity.
Ryan sees a therapist. He says that he was into the street life before he started tattooing. His sister was willing to give him the money for his tattoo career. Ryan went partying the night his sister was murdered. He was supposed to meet her that night to get the money but he was too drunk to do so. He has regrets and believes he could have been there to save her.  It was difficult to clean up the scene of her death with his father.
The therapist tells him that he's been through trauma and he will need her to guide him to help him process everything. But she is not a fixer. So he will have to do the work needed.
What are your thoughts on the episode?
View this post on Instagram
View this post on Instagram