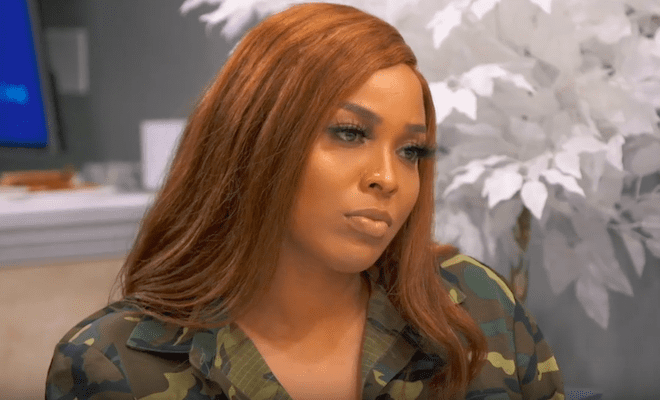 Neek's mom hurts Charmaine's feelings.
Charmaine tells her 2nd City Ink family that she's four months pregnant. Everyone is excited for her. Jess thinks they should have a party to celebrate at her place. Everyone is supposed to come dressed in s*xy pajamas.
Back at home, Charmaine and Neek are in the kitchen as Charmaine is preparing to cook some Haitian food. She's hoping that this will smooth things over with Neek's mom Chimene. After Charmaine finishes, Chimene sits down at the table to eat. She's not happy the food has been placed on a paper plate. After a couple of bites, Chimene says the food is dry and salty. And she wants water so she won't choke.
This upsets Charmaine so she walks off hurt. Neek explains to Chimene that Charmaine feels like she'll never be good enough for her.
Ryan has a disappointing conversation with Rachel.
Rachel asks Ryan what's going on with him. Their son Mason told her Ryan is living at the shop. In a green screen interview, Ryan says he figured this day would come. Ryan explains to Rachel that he just needed some time to figure things out. In a green screen interview, Rachel says there has to be something deeper going on because Ryan has the money to find a new place.
Ryan says he just thought that he would eventually be able to work things out with Rachel. But Rachel says that it's frustrating that Ryan wants to work on things now after he cheated on her. She feels Ryan expects her to forgive and forget. She's able to forgive but she doesn't want to get back together.  So she urges Ryan to find a new place.
Fly Tatted opens up.
Jess, Prince, and Fly Tatted go grab a bite to eat downtown. Fly opens up and says that his little brother was recently murdered in front of him. They were outside of a club when someone pulled up and started shooting. His little brother died in Fly's arms. Jess tells both men that she thinks black people have it better in London. And she's heard how violent Chicago is when she was back in London. Regardless, Prince says Chicago will always be home.
Ryan is preparing to tattoo his client Jeff. Jeff started seeing Ryan after he struggled to find a tattoo artist who understands how to use a wide range of colors on dark skin. Jeff wats to get a tattoo in honor of his dad who recently passed away. During the session, Ryan discusses Rachel. He's sad that she doesn't want to get back together. He will always love her and he understands that she's still hurt about everything that he did.
Zach and Draya go on another date.
Draya and Zach go on a second date at the park. Zach really likes Draya and he respects that she doesn't want anyone at the shop to know that they are dating. They flirt and kiss each other.
Don is watching the kids when Phor comes over. Phor attempts to help out and fails miserably. But he remains a good sport and he's open to becoming a father one day.
Neek's mom and Charmaine hash things out.
Charmaine comes home and tells Chimene how she feels. She thinks Chimene needs to back off. But Chimene wants to stick around to make sure that Charmaine knows how to raise a child. Charmaine responds that she's human and she doesn't want someone telling her how to be a mother. Chimene apologizes for offending Charmaine. She wants to be a very involved grandmother. And both women understand each other's perspectives. After a productive conversation, they hug it out.
While hanging out with Mason, Ryan tells him he's looking for a new place. Mason tells him to make sure it has a pool.
Zach and Fly clash.
It's the evening of Jess' party for Charmaine. Everyone shows up in pajamas. The gang plays truth or dare. Zach dares Draya to lick cool whip off his body. She does and they end up kissing. At this point, it's clear to the others that Draya and Zach have a thing going on.
Later on, Zach gets upset when he sees Draya twerking and Fly slapping her on the butt. This eventually leads to Zach and Fly exchanging words, with both men saying they aren't opposed to throwing down. In a green screen interview, Draya says that she doesn't like the fact that Zach is jealous. All she was doing was dancing and she's not his property.
What are your thoughts on the episode?
View this post on Instagram
View this post on Instagram
View this post on Instagram
View this post on Instagram