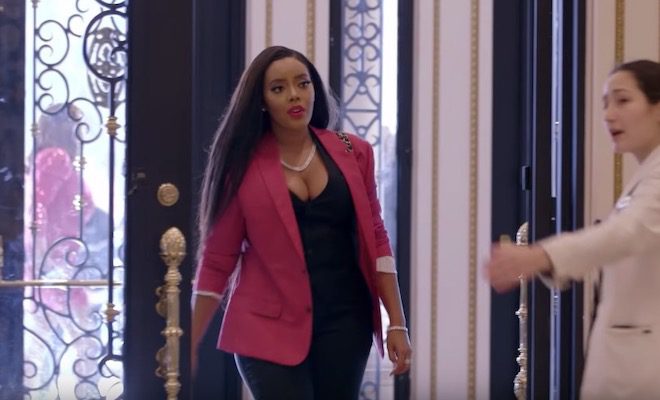 Sam gives details about his secret.
The season finale begins with Sam bearing his secret to the crowd. Pepa and Treach support Sam and Egypt after the speech. Briana, on the other hand, is irritated. Angela felt it was a lot to say at the engagement party.
Egypt brings Sam to the circle and he gives details, including the fact he had multiple encounters. Members of the cast, overall, do feel some type of way that Sam made the engagement party about him instead of Egypt.
Briana clashes with Pepa and Treach.
The party continues and Briana vents to Troy and her friend before she speaks to Egypt about the tea she has about Sam. When Egypt and Sam come over, Sam immediately gets on guard as he believes Troy is nothing but trouble. Egypt tells Troy she feels that he did her mom dirty. Troy says he didn't.
Briana stops this conversation and tries to bring up what she heard about Sam. Sam whistles at Egypt, calling her "Trepa," and Briana goes off. She accuses him of whistling at Egypt like she's a dog. But Egypt says that it's a family call that they use often. Briana causes a scene as Pepa and Treach come over. Treach goes off on Briana, telling her to respect her elders. Pepa gets in Briana's face as Briana yells back. Things escalate even further with a shoving match ensuing when "Growing Hip Hop New York" star Madina jumps on a couch nearby, escalating things.
Security and producers jump in accosting Briana and Egypt's angry Briana "ruined" her engagement party. Meanwhile, Sam looks on and laughs. The party is seemingly over and Egypt's outside crying. Sam comes over and calms her down.
In their interview, Egypt and Sam say Briana was completely disrespectful tonight. And Egypt warns Briana not to mess with her.
JoJo and Tanice finally make up.
It's two days before the wedding and Tanice hasn't talked to JoJo since their argument. She's not sure if JoJo's going to show up. He's late for the tasting. JoJo eventually shows up. And when he gets there Tanice tells him she doesn't know if they're still getting married. However, cooler heads prevail and JoJo admits that he can spend more time at home. He also is empathic about Tanice not wanting another baby at the moment.
He apologizes to Tanice and the wedding's back on. Meanwhile, Tee Tee calls Briana and Briana dishes about everything. Briana warns Tee Tee that she's not going to be cordial to Pepa anymore. She also wants an apology from Treach and Sam.
Bow Wow entertains the thought of getting back with Angela.
The night before JoJo and Tanice's wedding, Bow Wow and Eric are in NY, hanging out. Bow Wow tells a story of the time he was at Ti and Tiny's wedding with Angela. Usher came over and told him "don't do it." Bow Wow uses this story to explain he'd reconsider dating Angela again and marrying her. However, he loves women.
Eric explains that he got married because he got lonely.
Meanwhile, it's the day of the wedding. Angela and Vanessa talk to Tanice. Tanice brings up the fact that Bow Wow will be in attendance. Angela tells Tanice that she's open to reconnecting with Bow Wow romantically.
JoJo and Tanice get married.
Eventually, the guests arrive and things get off to a rough start as JoJo can't tie a bow tie. With help, JoJo eventually gets it tied and heads out so the ceremony can begin. The ceremony goes on without a hit and everyone gets emotional when Tanice walks down the aisle. The vows are also tear-filled.
At the reception, Tee Tee talks to Eric and Tyran about the engagement party. Angela and Bow Wow talk about the wedding and how he's gonna drag Angela down the aisle if he ever decides to get married. Angela's mom also comes over and jokes about them tying the knot.
Rev Run also fulfills JoJo's dream of performing at his reception. Outside, Bow Wow and Angela continue their flirting.
What are your thoughts on the episode?
View this post on Instagram
View this post on Instagram