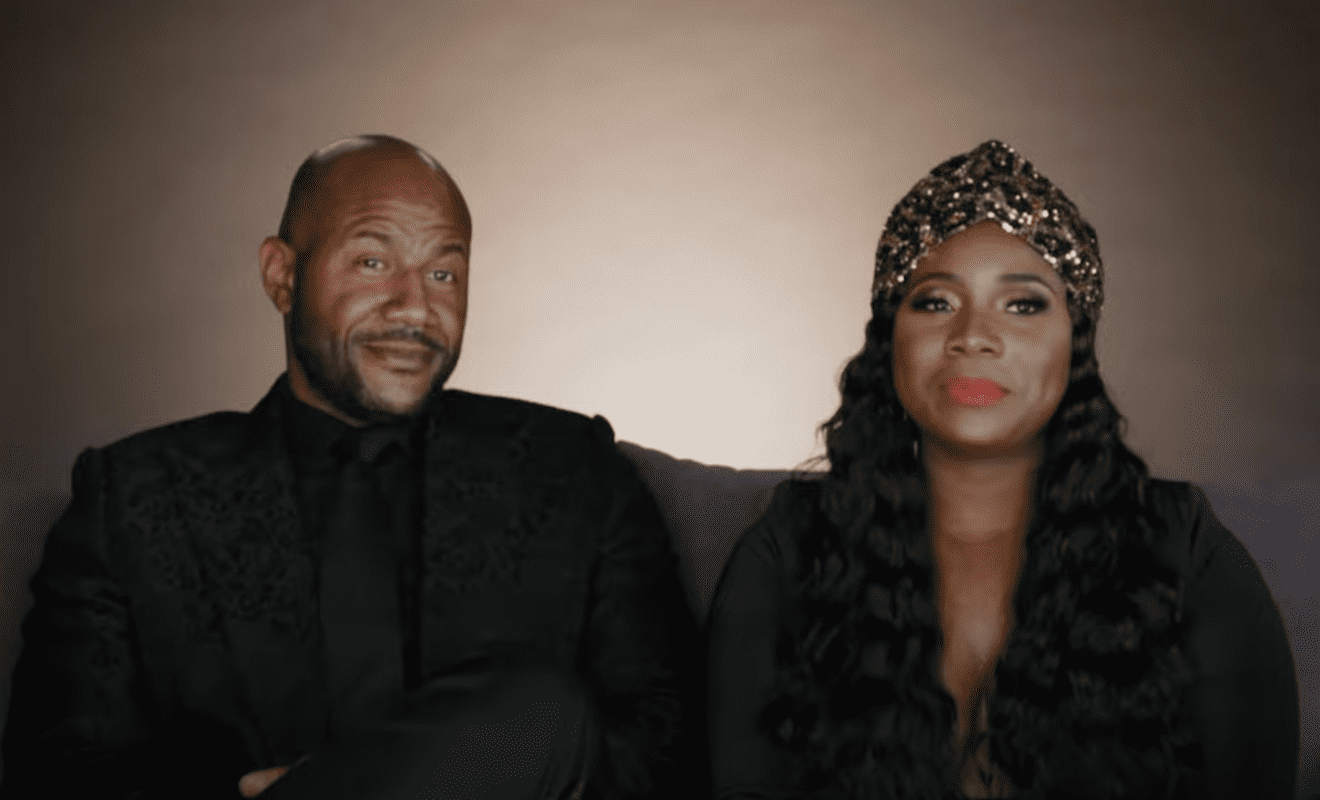 Destiny returns.
The episode continues with Destiny walking off after Tiffany brings up how she met her and indirectly brought up La'Berrick with another woman at an awards show. Another friend checks on her while Kimmi and Destiny remain at the table. Eventually, Destiny returns to the table, and Melody asks if La'Berrick was a cheater in their marriage, and Destiny says no. In her interview, Destiny says that their divorce is just another tragedy due to Covid.
Meanwhile, Marsau arrives in Houston and is greeted by LaTisha in their hotel room wearing lingerie. While LaTisha's ready to get intimate, Marsau is focused on their wine business. This irritates LaTisha.
Kimmi questions Maurice's work/life balance.
While LaTisha's mood changes, Kimmi talks to Maurice about Tiffany bringing up Monster vaping at Destiny's birthday party.
This irritates Maurice because this gossip seemingly paints his son as a "deviant." He tells Kimmi that he doesn't feel he will get along with Tiffany. Kimmi suggests that he talks to Monster. This leads to a conversation about Maurice's work/life balance. Maurice scoffs at this, saying his time with Monster is limited because of his career. He feels this is a necessary sacrifice but he does spend time with his son.
Lastly, Kimmi tells Maurice that she knows that Maurice won't talk to her about everything, especially about Monster, and he feels her input isn't warranted. But it does bother her that Maurice didn't tell her Monster was caught vaping at school. Regardless, Maurice feels he doesn't have to tell Kimmi everything. That leads to a conversation about their upcoming meeting with Kiwuha. She feels that Maurice doesn't listen to her suggestions when it comes to Monster. And she doesn't understand why considering she did great with Jaylin.
Jaylin is overworked.
After successful meetings in Houston, LaTisha and Marsau meet with Uncle Mike and Aunt Linda who live in Houston. Mike is working on Scott Manor. Unfortunately, the construction of the home is going too slow for LaTisha and Marsau and a tense email comes up in the conversation. Apparently, Mike's contractors didn't show up and words were seemingly exchanged in email. Next, it comes up that LaTisha's two-story closet and Marsau's expanded garage are delaying the project and they want Uncle Mike to keep the design plans a secret from Maurice. They don't want him to copy it.
The next day, Jaylin gets to work on his first home flip. It's a condo and Kimmi helps him out. It's going to be a tough project partly because Jaylin is seemingly overworked at Blaque. He is stressed out and he feels unheard by LaTisha and Marsau. As he vents about the job, Kimmi listens and seemingly understands what he is coming from.
LaTisha and Marsau are still in Houston hosting an event for their Blaque Chocolate in a Bottle wine brand. Houston celebrities and OWN personalities, including the "Ready to Love" cast are in attendance and Marsau is working the crowd. The event is seemingly a success and the Scotts are very pleased with the turnout.
LaTisha gets jealous.
While the event goes on, LaTisha sees Marsau talking to Kira and the other "Ready to Love" cast and notices Kira eying him. Oddly enough, LaTisha begins to shed a tear when she talks to Marsau.
Finally, Maurice gets Kimmi, Kiwuha, and her husband under one roof. They're meeting at a restaurant and Maurice hopes this gets all of them on the same page for the sake of Monster. Maurice and Kimmi are at the restaurant first and Kiwuha and her husband aren't there. Things get tense between Kimmi and Maurice after he says he has a meeting to get to. Maurice wants to leave and Kimmi doesn't want to have this meeting by herself as she won't speak for Maurice about Monster. He further irritates Kimmi when he does get up and leaves moments before Kihuwa and her husband arrive.
What are your thoughts about the episode?