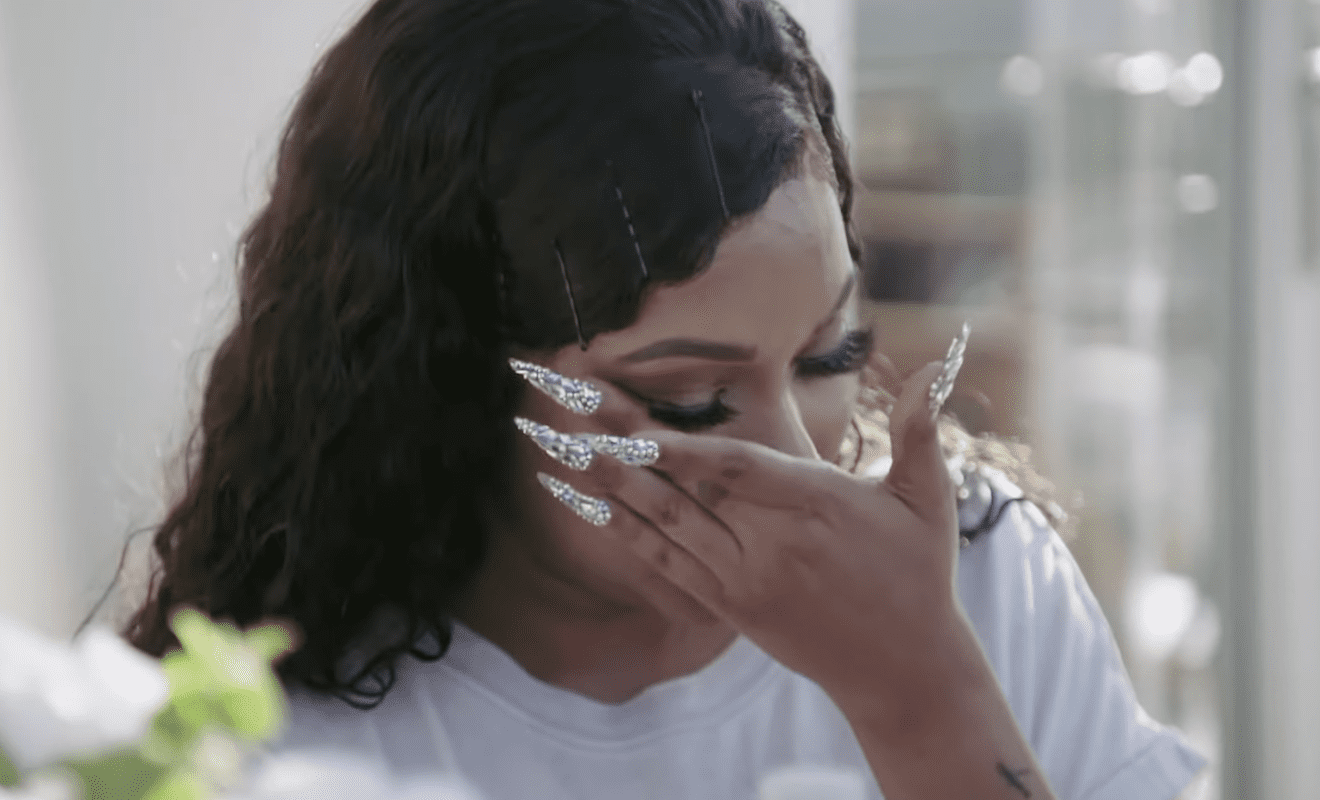 Rich Dollaz makes Mariahlynn a proposition.
The episode begins with Mariahlynn crashing the men's party and A1 looks like he was caught with his hand in the cookie jar.
Rich Dollaz, while frustrated with Mariahlynn, plays cool and explains how it was Kastan's birthday and they were on their best behavior. He then changes the subject, talking to Mariahlynn about the lie detector test. If he fails the test, he won't get any "pink berry" until Christmas. They shake on it and go off to bed.
In the morning, the ladies and guys wake up in their rooms away from their partners. Mariahlynn tells K. Michelle and Lyrica about crashing their party. Meanwhile, Kastan wakes up with a crown on his face. As all of them sober up, they all talk about their nervousness due to the upcoming ring ceremony and the reveal of lie detector results.
The lie detector results are revealed.
Eventually, Dr. Ish brings all the couples together to have Judge Toler present their lie detector results. First to rise are Kastan and K. Michelle. K. Michelle passed her test when she said yes to Kastan's question about marrying him if he didn't want her dream family. Kastan will also propose to K. Michelle before the end of 2022.
Next, it's revealed A1 failed his question about wanting to be in a monogamous relationship. This visibility frustrates Lyrica. However, she failed her test when asked if she is in love with A1.
Lastly, both Mariahlynn and Rich Dollaz were asked if they wanted to be in a monogamous relationship. However, Rich Dollaz told the truth. Rich Dollaz smiles and walks off. Dr. Ish follows and talks to him. Meanwhile, Mariahlynn walks off, ready to go home after failing hers. However, Dr. Ish reveals that the proctors suspected she would've passed if she knew Rich Dollaz's answer.
When they come back in, Dr. Ish runs after Mariahlynn, leaving Rich to talk to the other couples. They all tell Rich that Mariahlynn doesn't want to feel embarrassed again. He's able to get Mariahlynn to come back downstairs. In her interview, she says her mind is blown.
A1 and Lyria have doubts.
Lastly, they're all left to think about the ceremony and if they want to leave the house together. Lyrica opens up about her doubts to K. Michelle. And Mariahlynn and K do their best to give advice and console her as the tears flow. Lyrica's worried about how their son Ocean will handle things.
Later on, Dr. Ish checks on Mariahlynn, and A1 opens up about his doubts to Kastan and Rich Dollaz. Then, Dr. Ish meets with Lyrica and tells her that she does not have to be with A1 just for their son.
The couples' fates are revealed.
It's now time for the ring ceremonies. First up are K. Michelle and Kastan. Their ceremony was pretty uneventful as both of them have rings indicating they're leaving the house together. However, Kastan didn't propose. Either way, they celebrate by popping a bottle.
Next, it's A1 and Lyrica. Lyrica says she's still trying to figure it out as she walks into the ceremony. A1 opens up his heart to Lyrica and apologizes for every wrong he did to her. A1 presents a ring to Lyrica. However, Lyrica's box is empty. She's going to hold onto the ring promising to give him the ring if she sees a change in his actions after they leave the house. She based her decision on the lie detector test which frustrates A1.
Lastly, Mariahlynn and Rich Dollaz complete their ring ceremony. Mariahlynn is also unsure about what to do. Despite failing her lie detector test, Rich Dollaz has a ring for Mariahlynn. Mariahlynn uses her moment to play a trick on Rich. She hid Rich's ring within the box.
After the ceremony, A1 changes his clothes and is out by the pool while Lyrica is inside wondering why A1 isn't near her. Dr. Ish goes outside and continues to coach. He then brings A1 and Lyrica together one last time. They eventually join the other two for a toast. After leaving the house, Lyrica filed for divorce. Meanwhile, Kastan still hasn't proposed and Mariahlynn says they're "100 percent not together." Rich Dollaz says, "That's not to say we won't backslide."
What are your thoughts about the season finale?