Phaedra Parks has moved on to "Married to Medicine" after a controversial exit from "Real Housewives of Atlanta."
"Married to Medicine" fans were shocked when they learned that Phaedra Parks had joined the cast for the upcoming season. Prior to the announcement, Phaedra made an interesting revelation at BravoCon. She said she had been dating a doctor. Things were serious and she was very happy about the relationship. Plus, Phaedra had also expressed no interest in returning to "Real Housewives of Atlanta." So many didn't anticipate she'd join another ensemble cast over at Bravo. Since the news of Phaedra's new chapter went viral on social media, there has been a lot of speculation. And fans wondered who Phaedra would clash with.
Dr. Heavenly Kimes was one of the first cast members to confirm that Phaedra had been filming scenes for the new season. Heavenly addressed the news on her YouTube channel. She made it clear that she was excited that Phaedra joined the show. And while she respects Phaedra's reputation of being great at reads, she'd go toe to toe with Phaedra if she came for her.
So when Heavenly later tweeted that she had met her match, many speculated that she could have been referring to Phaedra. And it's likely that they exchanged some words while they were filming.
Phaedra Parks and Dr. Heavenly Kimes are on great terms.
Well, it turns out Heavenly and Phaedra seem to be getting along very well. In fact, Heavenly jokingly tweeted that Phaedra is one of the people she'd want to live next to when she's 85 and living in an assisted living community. And she's been telling her Twitter followers that the new season is a good one.
She wrote, "When I get 85. I'm going to a nice assisted living community and live next to @DrJackieWalters @DrSSWhitmore and @PhaedraParks Esq. We are going to have a ball laughing. #conicTV #Married2med #RHOA #DrHeavenly #CosmeticDentist #TeamDaddy."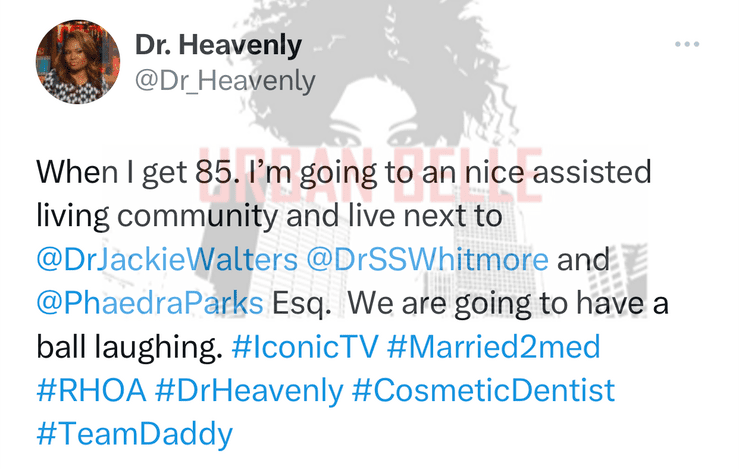 Heavenly also confirmed that "Married to Medicine" will follow "Real Housewives of Potomac" this time around. So she's confident ratings will get a good boost.
In response to a Twitter user's complaints about the lack of advertising the show receives, Heavenly said, "I think we'll get more eyes this year based on we are following #RHOP. We are coming on a good time of year. And the addition of @PhaedraParks. We are going to win!!! #Married2Med"