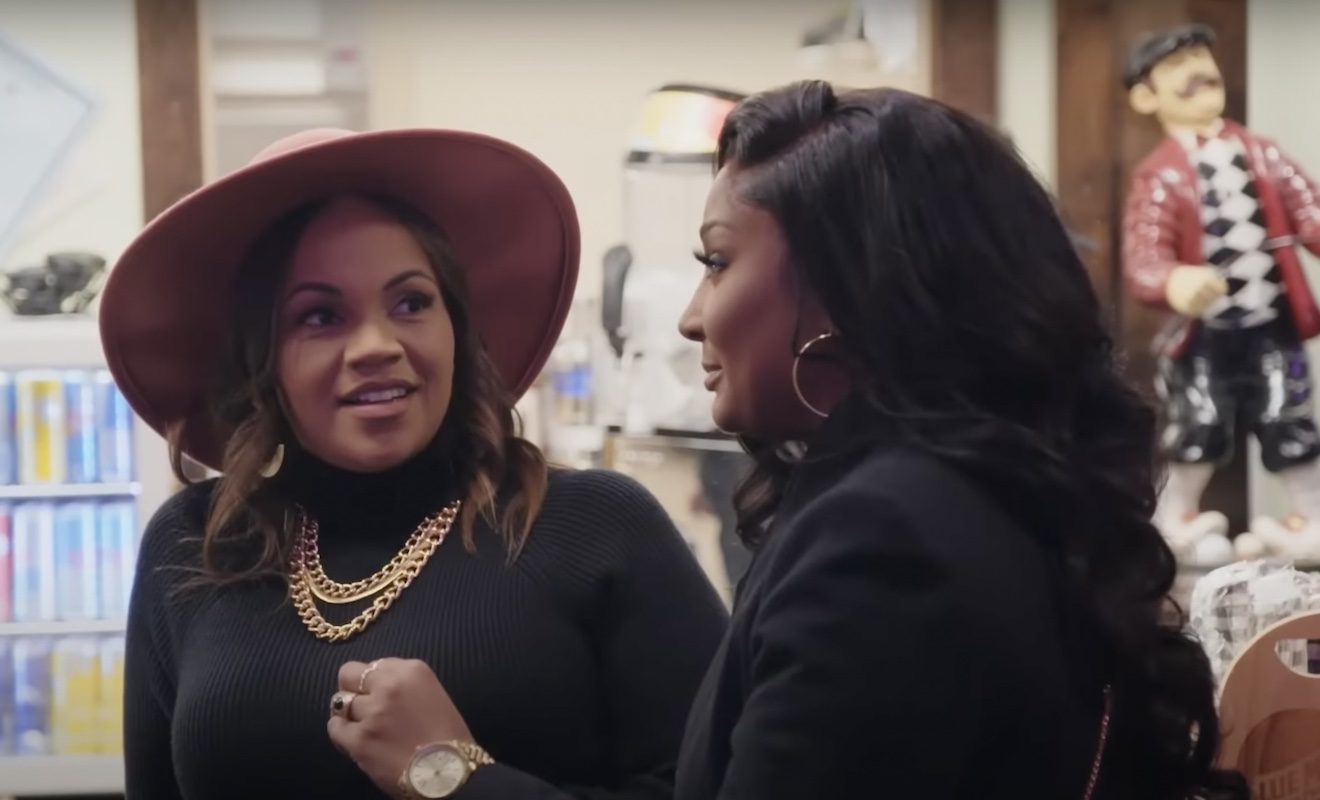 Tiffany Whitlow and KeKe Jabbar have been clashing on LAMH.
"Love & Marriage: Huntsville" star Keke Jabbar was a hot topic on social media after OWN released the midseason trailer for the current season. One moment people had a lot to say about was the scene of KeKe throwing a drink at LaTisha Scott. The cousins have once again hit a snag in their relationship. And KeKe thinks LaTisha and Marsau Scott have crossed the line in regard to her addiction. However, another part of the video that had a lot of people talking was a clip from a local news report. They said a woman had been caught on camera stealing from Home Depot. When they showed the footage, people said she looked a lot like Keke.
LAMH fans began asking KeKe what was going on via her social media pages. She eventually did an Instagram live session to discuss the trailer. KeKe said she did regret throwing a drink on LaTisha. And she went on to say she did it because she was tired of her past being weaponized.
When KeKe addressed the allegations, she said it is ridiculous that anyone has assumed she is the woman in the Home Depot video. And she was not the person that the police were looking for.  But she would just let things play out on the show per her attorney's advice.
Interestingly enough, this will come up on an upcoming episode.
Melody Shari may not have been feeling Tiffany Whitlow's interest in the gossip about Keke Jabbar.
In a preview, Tiffany Whitlow brings up KeKe and the situation while speaking to Melody Shari. She says, "So I'm sure you saw on the news what happened with KeKe. What are we doing with our brands?"
Mel is taken aback, "Girl, I cannot with you. This girl…"
Tiffany continues, "No, this is real talk for me because you out of all people have said, breathe with KeKe. Like give her time, give her a chance 'cause I'm like **** KeKe. Now when I see something like that on TV, I'm like obviously you need help."
And she had more questions, "Why on Earth would you do that? I mean the way they got the whole car in the parking lot. I was like what is happening right now? For real, when I saw it, I had to go back and rewind. I was like this is not real. And the way that they framed it, we're all moms. Why would we even involve our kids? What are we doing? I saw it, I was like what?"
At the end of the clip, Melody tells Tiffany it's not wise to believe everything she sees on TV.
"Well, you know, you can't believe everything that comes across the TV screen."
Oof…It's not looking like Mel and Tiffany are quite on the same page 😅 #LAMH pic.twitter.com/loeIUen7s7

— OWN Unscripted (@OWNKeepItReal) September 14, 2023