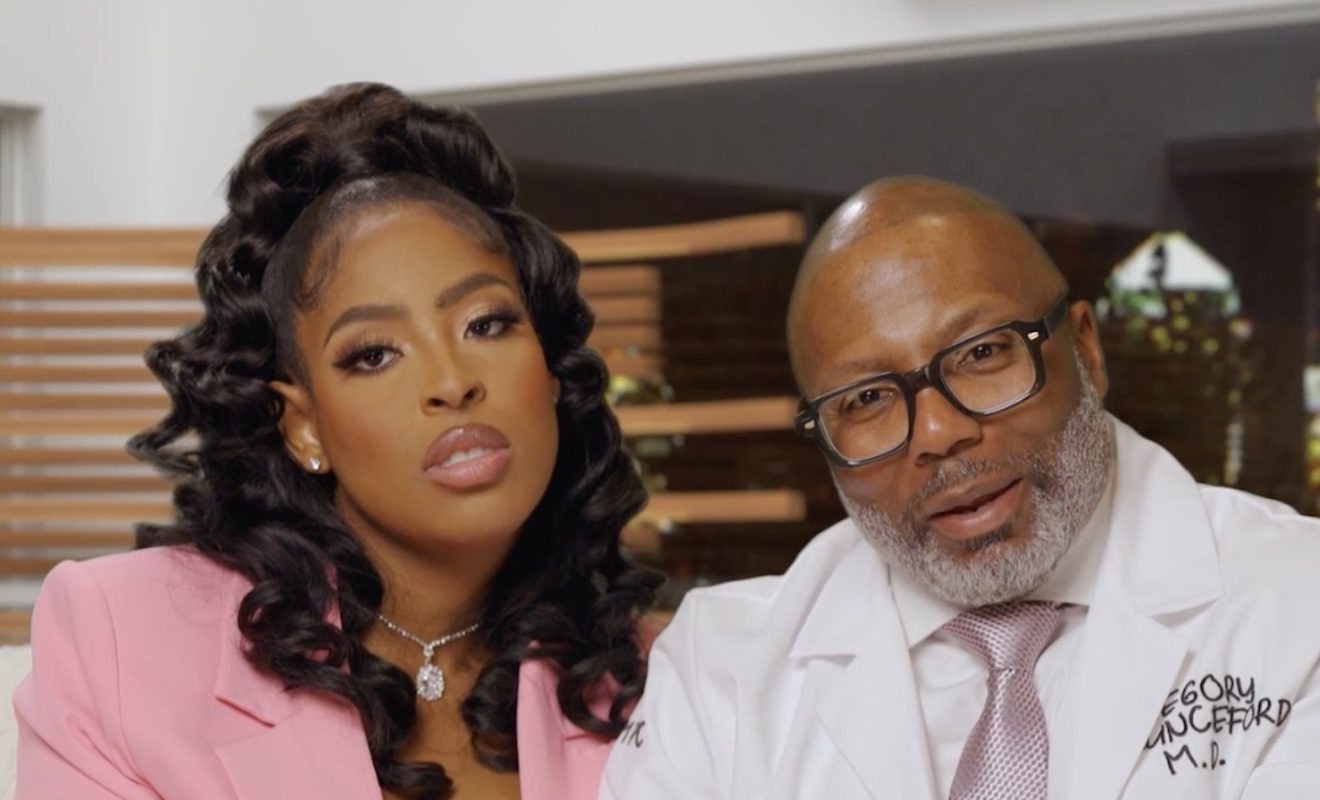 Lateasha Lunceford is not getting a break during her first season on Married 2 Med.
"Married to Medicine" stars Quad Webb and Dr. Heavenly Kimes have already had plenty to say about the current season although it's only a couple of episodes in. Quad took issue with producers bringing Dr. Gregory Lunceford back. He is currently married to Lateasha Lunceford. She was introduced on the show while they were in the middle of planning their wedding. So Quad felt like this was a disrespectful move. And she should have been given a heads-up that they were joining the show. Lateasha said Dr. Heavenly Kimes and Dr. Jackie Walters were the main two people who convinced her to film. Interestingly enough, Heavenly has since said that she wanted Tea on the show for laughs and an opportunity for Quad to chew her up.
Well, most fans can agree that the recent episode was pretty rough for Sweet Tea. When she tried on wedding dresses, Phaedra Parks told her she had a pancake booty. Phaedra also said she needed to wear a girdle under her wedding dress. Heavenly also accused her of being in therapy for dating old men. This was a result of her friend saying they met via a Facebook group for Black women who date older men. Although Tea tried to explain it's a taboo type of relationship and that having a community is necessary to deal with the pushback, jokes were made at her and Greg's expense.
Some "Married to Medicine" fans feel the other women are being too hard on Lateasha Lunceford.
Phaedra joked that Tea needed a support group because she was "marrying Paw Paw." Jackie brought up to Lateasha how Quad had the house painted years prior. And everyone appeared to get a good laugh at Lateasha when the price tag on her outfit became visible. As for Quad, she's questioning the loyalty of anyone who befriends Tea. So this hasn't exactly been an easy first season for the "Married to Medicine" newbie.
Tea has also been getting dragged by her costars on social media, too. Heavenly said she has the body of a "68-year-old woman." And she's a "country bumpkin" they need to upgrade. According to Heavenly, Tea won't even want Greg anymore once she and the others get done with her. She said this to Carlos King on YouTube recently.
The treatment of Lateasha has resulted in a lot of conversations on social media. Quad's supporters feel she deserves harsh treatment for stepping on a show they feel is Quad's territory. Others have expressed it's uncomfortable to watch a group of women attack another woman's body, relationship, and position on the show on one person's behalf.
A common comment about Tea that appears often is she knows what she signed up for because she watched the show. And since she is a fan of the show, she doesn't deserve any empathy. However, Lateasha told an Instagram user that this was not the case.
The person wrote, "Being grown here, you've watched this show, you know how these ladies roll. They are heavy hitters so you gotta hit back Sweet Tea."
Sweet Tea responded, "You're wrong, I did not watch the show… I knew of the show and had to be convinced to come on the show."